My mom was an American Sign Language teacher while I was growing up, and learning how to sign and fingerspell was just a part of my childhood. Even today, it's not unusual for Mom to start finger spelling and signing to me in public places. My wife and kids also know some sign language and we can all fingerspell.
It occurred to me that every family or close-knit group of friends should have at least one way to convey information and messages to each other secretly.
American Sign Language/Fingerspelling
American Sign Language has become very commonplace over the years. High schools and colleges accept it as a foreign language credit. It's not quite the rarity that it was when I was growing up. Start signing to someone while sitting at a restaurant or in a store, and you may very well see at least one pair of eyes "eavesdropping".
Now, my family mostly fingerspells. My young daughter is very nearly fluent in ASL but the rest of us, not so much. What we've developed over the years, though, are "secret" signs known only to us. For example, we have a sign that means, "I'm going to the restroom", and we use it when we're out in public. It's super simple, doesn't interrupt conversations, but I know where one of my kids has gone if I look around and don't see them. Finger spelling is very, very easy, and this chart shows all the letters and numbers.
While ASL is definitely worth learning, it can also be a tool for anyone who just wants to invent family-only signs to convey important messages, such as:
Let's go NOW!
Be careful.
Get away from that person/place.
I need to talk with you.
What other vital, survival type messages might you want to create signs for?
The easiest way to do this is to select one letter from this fingerspelling chart, and that sign conveys the whole message. Another option is to learn random, quick signs and then assign them to messages. For example, the sign for "question" is just bending the first finger up and down a couple of times. That sign could be assigned any message at all — "Are you okay?" or "Let's leave." The important concept is to choose a simple to remember sign or ASL letter that everyone can learn, assign it to a message, practice, and then use it when you're out and about.
This ASL dictionary could help you decide what signs to use.
Learning how to fingerspell is really easy. This video gives very clear instructions. Hint: Precise finger and hand positions will help you avoid "misspellings" and miscommunication.

Gregg Shorthand
Boy, you don't see this around much anymore, but that is precisely why you should learn it! For many, many years, "taking shorthand" was commonplace in offices where one person would dictate a memo, note, or some other document while another person jotted it down, word for word, in shorthand. A really good stenographer can take dictation at well over 100 words per minute.
I learned some shorthand from a retired teacher who taught it in high school in the 1960s and 70s. There are also videos on YouTube that teach the entire course, and it's a brilliant way to leave written messages anywhere — on paper, on a dirty windshield, in dirt or sand, you name it.
This is what shorthand looks like, if you've never seen it before! (Born after 1980 or so, you probably haven't.)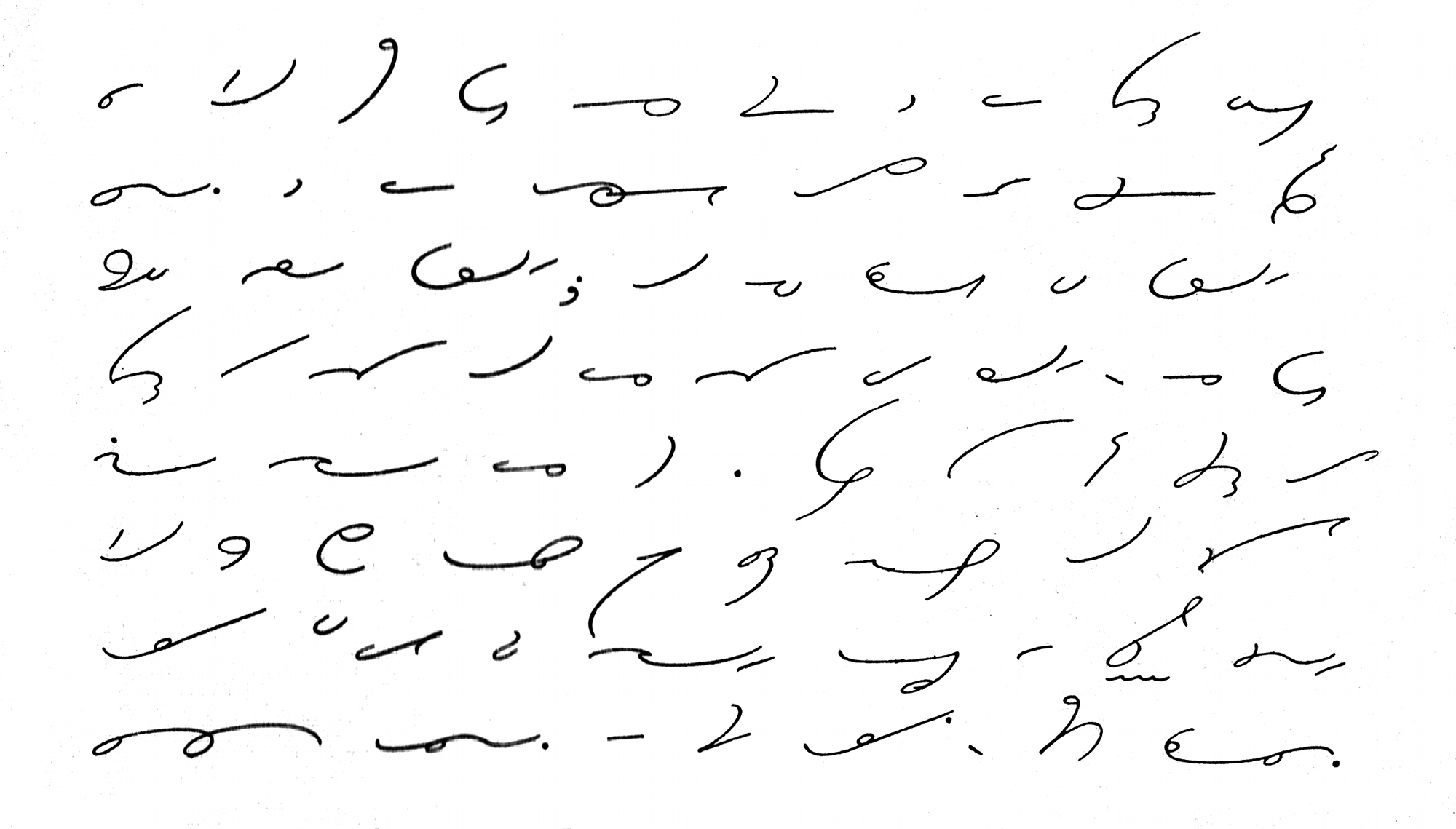 Again, if you're concerned that others might recognize shorthand and then decipher your message, you can always create phrases that only you and your family know. It's important to not only learn how to WRITE shorthand but READ it! For me, that was the hardest part, but when I got used to it, I could read it rather fluently. Here is a link to a pdf of a beginner's handbook to learn shorthand.
By the way, aside from writing secret notes, or note in a family code, shorthand is awesome for students to learn in order to quickly take lecture notes.
This lesson gives some basic instruction for getting started but you may want to work with a well-organized lesson book like this one.

Learn an obscure language
At one time, if you wanted to learn a foreign language, you either had to sign up for a class or buy Rosetta Stone. Right now, I'm using an excellent online program, Mango Languages, to learn German and expand my Spanish vocabulary. My wife has been working on learning Hungarian, and her lessons gave me the idea of our family learning an obscure language that no one around us would ever recognize.
With this criteria in mind, Mango Languages offers online courses in:
Armenian
Bengali
Cherokee
Icelandic
Scottish Gaelic
Tamil
There are many other languages on their list of 71 that would be great to use as a secret, family second language. There's no need to become completely fluent, either. Just learn words and phrases that might come in handy in an emergency or the type of things you'd like to communicate in public but wouldn't want others to overhear and understand.
Learning a foreign language together as a family or group would be fun and practical.
Mango also has a phone app that is great for practicing anywhere. Duo Lingo is another website and phone app that is helpful, but for solid instruction, Mango is by far the better.
Of course, if you want to go low-tech, there are outstanding language instruction series you can buy. I prefer being able to read AND hear when it comes to learning a language. I noticed that Audible has Armenian language lessons and they probably have other languages as well.
Spruce up on Morse code
I've been taking the Advanced Prepping Intensive with Preppers University, and one of the assigned DIY projects was to create a Morse code key and begin using it to practice the code. It's likely that the only people alive who know and use Morse code are ham radio operators, and old-timers, at that. When the FCC dropped the requirement to learn Morse code as part of the ham radio license in 2007, I'm sure a lot of people breathed a sigh of relief! However, this code is a practical way to communicate when you're visually separated from other people or just want to tap out a few words in code that will likely not be noticed, much less understood, by the people around you.

This would be a fun project, either as a family or as an individual. Learn Morse code and then communicate with each other using the code. The author of this page says you can learn it in one minute! I'm not so sure about that but, for sure, you'll want to follow some type of organized lessons.
You'll be able to tap messages with your fingertips, click messages by snapping your fingers, tap with a pencil. Visually, you can send messages with Morse code using a flashlight, laser, or signalling mirror, and, if you can touch someone, pass along messages by using finger pressure. There have been cases of miners communicating via Morse by tugging on a rope. It's a versatile language to learn.
An official Morse code practice key runs around $45. My little DIY key looks something like the one in the video and was quite easy to construct. Either way, do work with a key in order to build muscle memory with this tactile language.
One last secret language, sort of
Our family jokes that our secret family code phrase is, "The black cat crows at dawn." In reality, we have a handful of codes that are more versatile than a sentence. I have a certain phrase/nickname for my handgun, and my kids know that if they ever hear me use that nickname, they are to immediately pay attention and follow instructions.
We have another phrase, the name of a foreign candy, and, again, if I ever use that phrase in conversation or writing, as in an email or postcard, for example, they know something is going on and it's vital to pay attention. It's kind of like, "Alas, Babyon!" in the book, Alas, Babylon. (Well worth reading.)
I strongly encourage you to create some sort of secret language for your own family or group, preferably more than one. Work towards having coded messages that can be communicated visually, verbally, or audibly.
Is there another type of secret language you can suggest?