I have wanted to write an article on boots and shoes for some time now, but I see and hear so many different opinions that I have not been sure of exactly what to say. After thinking about it for a while, I have come to the conclusion that there is no one brand or type of boot that I can recommend over every other. There are many good shoes and boots for TEOTWAWKI, so I am going to give you some general guidelines.
Because of where I live, I have good military style boots, but also snow boots and several pairs of running/hiking shoes. My wife has a good selection of boots, snow boots and running/hiking shoes.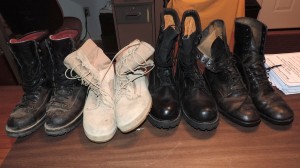 In addition, we both have our everyday shoes.
When it comes to boots, I look for several things:
Good ankle support. I like at least an 8-inch boot that will keep me from twisting an ankle when in the mountains.
Comfort. A boot needs to fit you well; they should not cause blisters or hot spots. They need to be well broken in. Put some miles on them and learn what type of socks work best for you in different types of weather. Generally, wool socks will be best, although nowadays, even athletic socks are hi-tech, with breathability and wicking technology. Smartwool is one brand that is highly recommended.
Warm and dry. You should have boots that are suitable for the weather and terrain in which you live. I have not yet found one pair of boots that will work for winter and summer in the mountains. The best compromise that I have found is a good pair of insulated leather boots similar to my Danners. They are comfortable most of the year, although in the middle of summer they can be a bit warm and in the deep snow not as warm as I'd like. When shopping for boots, buying a waterproof pair is generally the best way to go, regardless of the season.
Long lasting. First, buy good quality leather boots, and avoid boots from China and the cheaper discount houses. Second, you have to take care of them. Here is a link to a post I wrote on Preserving your Leather Boots.
I keep several pairs of boots for different weather, terrain, and comfort. I have four pairs of leather boots and a couple of pairs of snow boots. Three pairs of my leather boots came from garage sales, which are a great source for finding prepping treasures.
The only ones I bought new were the Danners. The other three pair cost a couple of bucks each. One is a pair of Wellco lightweight boots, a second pair came from a returning serviceman and are good, well-insulated boots that were brand new when I got them. The third pair is older non-insulated military issue boots. This lets me wear boots that are appropriate to the weather and to rotate them.
If you live in snow country, get boots that are suitable for where you live and travel. I always take a good pair of snow boots when going up into the mountains in the winter.
Beyond boots, you should have several pairs of good serviceable running/hiking shoes, what we used to call "tennis shoes". For everyday use around your home, these are comfortable. If you have to travel cross county you can carry a lightweight pair of these for extra shoes. These are good for sneaking around in the brush; they make less noise than heavy leather boots.
If you are thinking about picking up inexpensive shoes in garage sales for future trade stock, concentrate on women's shoes. Most men have at least one pair of boots and tennis shoes. When I look in a women's closet all I see are high heels and little light shoes that would wear out very fast.
Buy the best shoes and boots for TEOTWAWKI that you can afford and wear them enough to know that they are comfortable and are well broken in. A few extra accessories to have on hand are Shoe-Goo, inserts to help with arch support and overall comfort, extra shoelaces in the necessary lengths, and, always, a few extra pairs of good quality socks.
Howard
UPDATED July 28, 2016