Now when you go to choose  guard animals, the first and most important thing that you have to decide is what do you want the animals to do.  If you live in an apartment or house in an urban area your needs will be entirely different that someone who lives in the country and raises animals.
If you live in an apartment you may want a small dog that will give you early warning of a threat.  A good example would be one of the smaller terriers. They can be trained and are fairly alert.  With a bit of training they make a good watchdog.  One advantage to them is that they do not consume a large amount of food.
If you live in a single family home in either a rural or an urban area and have a decent size yard, you may want to consider a large watchdog that will also attack.  There are some advantages to a large dog that will bite.  However, there are also some disadvantages.  One you had better train the dog well, so you don't have it attack the wrong person and end up in a lawsuit.  A large dog takes more exercise and consumes more food.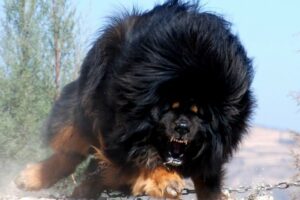 Now if you live in the country and are raising stock, you may want a guardian dog.  They are generally large breeds that can intimidate a predator on looks alone.  These dogs are often vocal and bark when anything appears suspicious or out of the ordinary. As a last resort, good guardian dogs will attack the predator.  Both males and females can protect equally well against bears, mountain lions, other dogs, coyotes, bobcats and wolves. They intimidate raccoons, skunks, possums, weasels and foxes.  One dog can guard a fairly large herd, but you probably want two or more, as some predators will split the herd or flock to confuse the guardian dogs.
The dog to food ratio brings up an interesting point.  Are you better off to have a small dog that provides plenty of warning and eats little versus a large dog that will give warning and bites, but eats lots of food.  This is a decision you will have to make for yourself.
If you are choosing a dog for one of the above purposes, spent some time researching the breeds in which you are interested.  Make sure that you understand what the dog is capable of doing.  Many people overestimate the attack capabilities of their dogs.  You have to spend time with the dog and make sure it is correctly trained.
Depending on where you live there are other choices in guard animals
Watchdogs can be a great way to protect your home or property from intruders.  However, many people aren't aware there are other options when looking for guard animals.  There are several other animals that, when trained, can help to prevent intruders from being able to enter your home and property.  These animals are usually fairly easy to keep, requiring little to no maintenance.  In addition to this, they also have a strong territorial instinct that will help motivate them to defend against any potential intruders.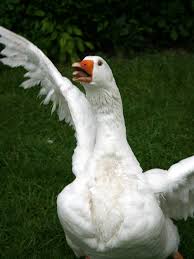 A small flock of geese can be effective guard animals.  Geese are territorial, and will defend their domain.  In addition to this, geese are alert to any sign of danger and will make a lot of noise. This danger could be intruders, potential burglars, or even predatory animals.  When searching for guard geese that are right for your home's security, you may want a flock that consists of three to five females and one male. Try to keep only one male goose in your flock, since this will mean that you will not have to deal with fights between the males in your flock during mating season. Geese are good in farmyard type setting and can provide eggs and extra meat.
If you have flocks of goats, sheep etc, you may want to consider a guard donkey or llama; both make surprisingly good guard animals.  Due to problems with predators, sheep herders were the first to begin training donkeys to guard their flocks.  In terms of success, it is said that over 70% of donkeys are able to effectively and completely protect a flock of goats or sheep from dangerous predators.  A donkey's primary method of guarding involves a combination of braying, kicking, stomping and chasing off intruders.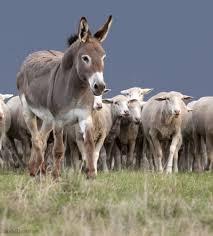 Many people believe llamas to be docile, slow-learning, slightly eccentric animals that are able to projectile vomit on command. Llamas are also fairly territorial, and will defend their domain with aggressive behavior.  In South America llamas, like donkeys, are often used by sheep herders in order to protect livestock from dangerous predators. As a guard animal for your home, it's possible to train a llama to defend your property from any potential intruders.
Donkeys and llamas can consume the same food as the goats or sheep, but will require other care to remain healthy.  The following are links to further information on Donkeys and llamas.
llama's
Whatever guard animals you are interested in you need to spend some time learning about them and making sure that they will met you expectations.
Howard