Now I love knives and have many different kinds, but do I know the best survival knife for you.  I don't, I can make some suggestion, but you have to make the final choice. I see experts recommending all different types and sizes of knives, and all of them are good in some ways. However, the bottom line is that the best survival knife is the one you have with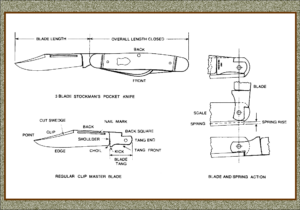 you when you need it.  You can own the best survival knife in the world and if it is in a drawer at home it doesn't do you a bit of good.
Now to me survival knives are more tools than weapons.  They have literally thousands of different uses from procuring food, building a shelter to protecting yourself.  Now I carry a Benchmade folding knife everyday and it's most common use is opening packages from Amazon.  But because it has a decent size blade and is kept sharp, it can be used for many other things.  I have used it for many different types of woodcrafts.  But it is too small to use like a hatchet or for batoning.
So what is the answer, I always have at least one folding knife on my person and I keep a fixed bladed knife handy in my home, in my car and in all my packs.  But the only one I can really count on is the one I have in my hand.
So how should you choose a survival knife, first decide why you want it.  Are you using it to build shelters and chop down small trees or are you using it to build snares.  The purpose that you intend to use the knife for and the type of terrain you live in will affect your choice.
Here are a few thoughts to help you choose a Survival knife.
Do you want a fixed blade or folding knife?
Fixed-blade knives are sturdier than folders, but folding knives are more compact and more convenient.  Ideally, you should have both.  But for an everyday carry you are more likely to carry a folder.
What type of steel.
The type of steel determines how well the blade holds an edge, how easy it is to sharpen, and how it holds up to use and abuse.  There are limitations to every tool, but if you have to do a little batoning, prying or tough carving and scraping with your knife you want to know it'll be up to the task, and not snap off in the middle of the job.  You also need a blade that holds and edge, so you don't spend your life sharpening it.
You mainly have two choices of steel carbon steel and alloy steel.  Carbon steel will rust if not properly maintained, and will be easier to sharpen.  I like carbon steel blades.  Alloy, or stainless steel, has the advantage of being corrosion resistant.  Alloy steel can also be stronger and more durable than carbon steel, and is very popular today.  But they are often harder to sharpen, unless you have good stones available.  Most American made knives will have good steel blades.  Avoid many of the cheaper third world blades, especially the ones from Pakistan and China.
Tang Design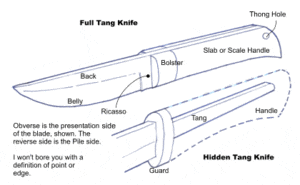 An important feature of every fixed blade knife is the tang.  This is what connects the handle to the blade, and should be as strong as possible.  Many of the better made fixed bladed knives have a full tang.
Almost as strong is the hidden tang which is imbedded within the handle. The sturdiest hidden tangs run the length of the handle and are secured at the end, usually by threading into a pommel or end cap.
Blade Design
It's important to pay attention to the blade design.  If you're looking for a multi use bush craft knife for fine work like making snare triggers, a heavy blade profile can get in the way.  If you are batoning or chopping heavy branches you want a larger knife.
The Grip
You want a knife that feels good in your hands. You don't want a knife that will easily slip through your fingers if it is wet or bloody.  For this reason I would recommend that you always try out the knife you want to buy in person. You need to know how it feels in your hand. Is it too large or too small?  Do the finger grooves fit you nicely?
I have probably left you with about as many questions as I have answered and maybe this is how it should be.  You need to find out what works best for you by trying out different knives. In the meantime if you are just starting out and need a fixed bladed knife, buy a inexpensive Mora Knife from Sweden Mora, Your Best Choice For a Reasonably Price Knife, you can get them for under $20 and you may find you don't need to buy another.
But always remember the best survival knife is the one you have with you, so you probably want a folder for everyday carry and a fixed bladed knife for other purposes
Howard