Every year about this time, my wife and I plan what we are going to plant in our summer garden.  Now one of the things that we take into consideration is how easy it is to preserve any extra food that we grow.  Dehydrating vegetables is one of our favorite methods.  It is easy to do and doesn't take a lot of effort.  We always plan to dehydrate vegetables and properly packaged it can last for years in our storage.  So we plant extras of the vegetables that are easy to dehydrate.
The following list shows the best-dehydrated vegetables.
Probably the easiest to dehydrate are
Onions
Peppers, hot/chili.
These vegetables all dehydrate well
Artichokes
Asparagus
Beans, both green and wax
Beans, lima
Broccoli
Beets
Cabbage
Carrots
Corn
Eggplant
Kohlrabi
Mushrooms
Okra
Parsnips
Peas
Peas, black eyed
Peppers, green or red
Potatoes
Pumpkin
Rutabagas
Squash, summer
Sweet potatoes
Tomatoes
Turnips
Zucchini
Now the following list of vegetables can be dehydrated, but they don't rehydrate well.  But they are good when you crumble them up and use them dried for seasoning.  The leafy ones in particular become soggy and limp when rehydrated.
Brussels sprouts
Cauliflower
Celery
Cucumber
Greens, this includes collard, mustard, greens , watercress, turnips greens, wild mustard and other similar plants.
Kale
Lettuce
Radishes
Spinach
Squash, winter
Swiss chard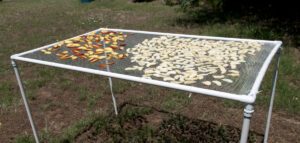 If you are going to  start to dehydrate vegetables, I recommend that you get a good quality dehydrator.  The one we use is a Excalibur.  After using it many times since then I still have nothing but good to say about it.
If you can't afford a dehydrator, make a drying rack and use the sun.  It is a good idea to have one anyway for backup if the power fails.  An Easy to Make Drying Rack.
If you haven't already, start dehydrating fruit and vegetables this summer you will be glad you did.
Howard