[/caption]
Yesterday, I build my wife a drying rack, she has been wanting.  She intends to start drying fruit, vegetables and maybe meat outdoors.  A friend who dries fruit and vegetables on a similar rack says he can dry most things in one day if they are cut thin.
The rack was easy to make and once I had the materials took less than an hour.  The one I built measures 3 X 5 feet.  The materials list is shown below.
2 – 5ft. lengths of ¾" PVC
6 – 3ft. lengths of ¾" PVC
4 – ¾ to ½ in male adapters
4 – ¾" 90 degree side outlet elbows, to take ½" male adapter.
a 3 x 5ft. section of ¼" hardware cloth
20 6" cable ties
I can of PVC cement
This is enough material to provide you with a finished 3 x 5 rack that is 3 ft high.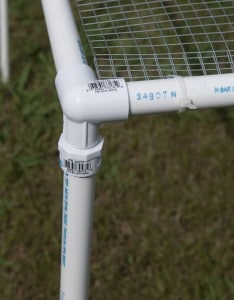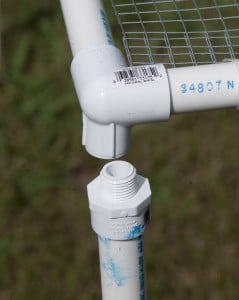 Fit the 2 – 5 ft. lengths of PVC together with 2 – 3 ft lengths using the 4 – 90 degree side outlet elbows. This will make a 3 x 5 rectangle.  Glue the corners together.
Take the remaining 4 – 3 ft lengths of PVC and glue a 3/4″ male adapter,  one to each length..
Screw the male adapters into the 90 degree side outlet elbows.  This gives you the 4 legs.
The frame is now finished.  Now lay the hardware cloth on top and attach it with the plastic cable ties.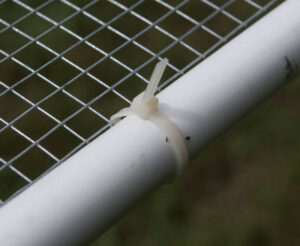 Your rack should now be finished and ready to use.
We will let you know the results of our drying efforts in a few days.
Howard