[/caption]
Today I opened the container, in which I have been making fermented vegetables.  This was a mixture of carrots, cabbage and cauliflower along with a small amount of onions, garlic and green pepper for seasoning.  They had been fermenting for about 2 ½ weeks.
They are delicious, the carrots are crisp and have the texture of fresh carrots.  The seasoning mix worked well.  The more I experiment with making fermenting vegetables the more I see it as a viable option after TEOTWAWKI.  Up to this point, the mixtures that I have fermented have all used salt.  I have used approximately 3 tablespoons of salt per five pounds of vegetables.  While this may seem like a lot of salt in your diet, because you will be fixing your own food from scratch, many of your other sources of salt will be reduced.
Making fermented vegetables without salt.
To ferment food without salt you need to introduce living bacteria.  There are several ways to accomplish this:
Add 1 tablespoon of whey to each pint of food you want to ferment.  Cover the food with water.  If you don't have whey, you can use yogurt.  Just strain yogurt through a cloth.  The liquid that is separated is the whey.  Instead of whey, you can also substitute celery juice or seaweed.
A second method is to add 1 tablespoon of brine from a previous ferment to each new pint of food you want to ferment.  Use the unheated brine from previous batches.  If you have water bath canned it, it has been heated and will not work.
One downside to making fermented vegetables salt free is that they will not store as long as brine mixtures.  The more salt the slower the fermentation and the longer it will store.  The less salt the faster the fermentation and the shorter the storage life.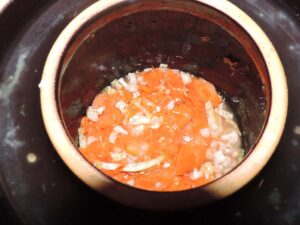 A second downside to not using salt is that salt hardens pectin's in the vegetables, rendering them crunchier.  Salt less fermentation will be mushy.
Historically since preservation was one of the important motivations for making fermented vegetables, ferments have tended to be quite salty
If you intend to preserve whole vegetables such as cabbage heads, cucumbers, green tomatoes, string beans, okra, zucchini, eggplant, peppers, the vegetables should be submerged in salt brine.
Making fermented vegetables provides a good source of probiotics as long as they are not heated.  While we can a lot of ours, fermented vegetables can be kept in crocks and eaten fresh.
The more I experiment with fermentation; I am really beginning to understand why our ancestor used it so extensively.  It is an easy way to preserve food and tastes good.
Howard