Christmas is coming and I love to bake.  The last few days a couple of my granddaughters and have spent most of our time in the kitchen.  We have baked a couple of hundred cookies, apple strudel, chocolate turtles, cupcakes and other things.  It has been fun; we love to share with our friends and family and it gives us time to share last years good and bad baking experiences.  Since we consider our reader's friends we wish we could give each of you some baked goods or candy.
Well since we can't, the next best thing is to send you one of my husband's favorite recipes.  It is for making pecan turtles.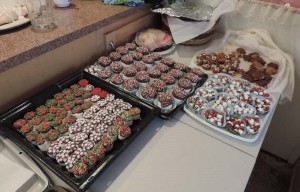 Ingredients
Pecans one-pound bag or enough to have four pecans per turtle
2 bags of caramels
1 pound of melting chocolate
Place the pecans on a cookie sheet and toast in the oven at 350° F for 10 minutes.  They burn easy so keep a good eye on them.  Let them cool.
In the mean time unwrap the caramels and place them in a microwavable bowl and melt in 30 second intervals, stir after each one.  You can add ½ tsp at a time of water to make them spreadable enough to fall off the spoon.  Not to loose or it will run.
Arrange 4 pecans on parchment paper so they will look like turtle legs.  Put ½ teaspoon of caramel on them, right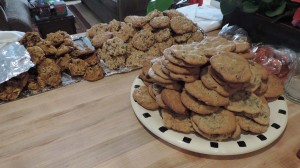 in the middle.  If you really like caramel, add a bit more.
Melt the chocolate of your choice, and spoon it on top of the caramel.  We prefer milk chocolate, but have melted a peppermint bar and covered some.  (Dark chocolate and chocolate chips also)
Put them in the refrigerator or freezer and let them set.
When they are set, eat and enjoy them.
Have a Merry Christmas and a Happy New Year
Preparedness Mom