[/caption]
Securing your garage doors will cut your odds of being burglarized.  Yesterday, I wrote about the Zombie Bar Use the Zombie Bar to Secure Your Doors Against Burglaries and Home Invasions and how you could use one to secure your side or rear garage main doors.  This is the main way that burglars enter a home.  When they are inside your garage, they can take their time working on the door into the house, plus they have your tools to use.  But what about securing your vehicle access doors?
The first problem is that many of us use garage door openers.  The new garage door openers use a rolling-code technology, where the remote will transmit a brand new security code each time you press your remote.  There are over 100 billion codes. This is the best type of garage door opener.
The older models came in two types, first the really old ones all came with basically the same codes.  In other words, one code worked all.  These are all over 40 years old or so.  If you have one of these get rid of it.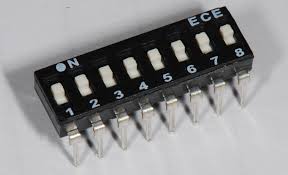 The next generation, came with dipswitches that you reset to make your own code.  These worked ok, but many people just left them on the default code.  You need to have your own code and change it if you have let anyone else have access to the opener.  If yours have dipswitches, the back will open and you can see the switches. The manufacturer's instructions will show you how.
Don't leave garage door openers where they are visible in a parked car, especially in your yard.  They will break into the car and use the opener to gain access.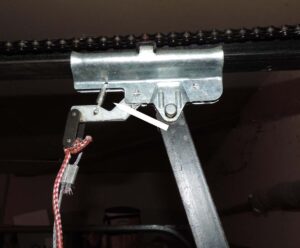 Overhead doors with door openers come with a built in security problem.  They have a release handle on the chain between the door and the opener.  Burglars can take a coat hanger and reach in at the top of the door and trip it.  Then all they have to do it lift up the door.  Take a small cable tie and secure the release as shown in the attached picture.
Another method of securing your garage doors is to take a look at the track that the overheard door rolls.  Often you will see holes located directly about the rollers. You can stick a screw drive through these holes and this will disables the door.  Just be sure the screwdriver is above the closest roller.
Another simple trick, if you are going on vacation, unplug the garage door opener.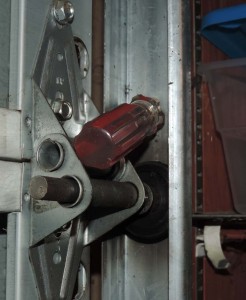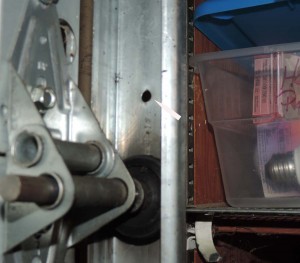 But none of these things matter if you don't do your part.  Securing your garage doors requires action on your part.  Everyday I see garage doors that are left open to provide easy access for a burglar or even worst.  Security starts with you.
Howard