All of these books have been in my library at one time or another. Some are well-worn and I'll never give them away. Others were helpful, I learned something, and then I passed them along to someone else. All are recommended for your prepper library.
Notable Prepper Fiction
Day of Wrath by William Forstchen – Terrorists attack an elementary school. A scenario I don't want to consider.
The Jakarta Pandemic by Steve Konkoly – Excellent writer. Realistic scenario.
Lights Out by David Crawford – Excellent depiction of post-TEOTWAWKI life.
Locker Nine by Franklin Horton – l like this one because it depicts a scenario with a college-age girl and her prepper dad.
One Second After by William Forstchen – Post-EMP life. Every American should read this one.
Patriots by James Wesley Rawles – This is the one that got us started prepping. Good survival lessons, too.
World War Z by Max Brooks – One zombie book. Indulge me.
*There are really too many great prepper/survival novels out there, but these few caught my attention.

Mental Preparedness
Deep Survival by Laurence Gonzalez – In a crisis, only 10% of us stay focused. This book answers the question, "How do I become part of that 10%?"
The Gift of Fear by Gavin de Becker – Anti-second amendment but everything else is right on. Good info about being aware and detecting danger signals.
Left of Bang by Patrick Van Horne and Jason A. Riley – Situational awareness. Know what, when, and where evil lurks.
The Survivors Club by Ben Sherwood – More about mental and emotional survival. If you think you're a survivor, you'll be one.
The Unthinkable by Amanda Ripley — If you read one book from this category, it should be this one. It's a study of who survives and why.
Wilderness and Outdoor Survival
Bug Out: The Complete Plan for Escaping a Catastrophic Disaster Before it's too Late by Scott B. Williams
Bushcraft 101 by Dave Canterbury
Survive! Essential Skills and Tactics to Get You Out of Anywhere – Alive by Les Stroud
Will to Live by Les Stroud – Real-life tales with survival lessons. Very readable.
TEOTWAWKI Survival
The Backyard Homestead by Carleen Madigan
Build the Perfect Bug Out Bag by Creek Stewart – Surprisingly excellent book.
Crisis Preparedness Handbook by Jack A. Spigarelli – A classic.
Dirt-Cheap Survival Retreat by M.D. Creekmore – For the VERY tight-budget prepper.
The Doom and Bloom Survival Medicine Handbook by Joseph and Amy Alton, 3rd edition
The Encyclopedia of Country Living by Carla Emery
Gardening When it Counts by Steve Solomon
How to Survive the End of the World as we Know it by James Wesley Rawles – Classic information. More rural focused.
LDS Preparedness Manual (free download)
The Modern Survival Manual by Fernando Aguirre – Author is FerFAL of Argentina's economic collapse fame.
Nuclear War Survival Skills by Cresson Kearney
The Prepper's Pocket Guide by Bernie Carr
Prescription for Herbal Healing by Phyllis A. Balch
The Survival Doctor's Complete Handbook by James Hubbard
Survival Mom: How to Prepare Your Family for Everyday Disasters and Worst Case Scenarios by Lisa Bedford – Complete family-friendly survival manual. Very readable.
When There is no Doctor by David Werner
Where There is no Dentist by Murray Dickson
Food Storage and Preservation
Ball Complete Book of Home Preserving by Judi Kingry
Cookin with Home Storage by Peggy Layton & Vicki Tate
Food Storage 101 by Peggy Layton
Mary Bell's Complete Dehydrator Cookbook by Mary Bell
The Prepper's Canning Guide by Daisy Luther
Books by Preparedness Advice founder, Howard Godfrey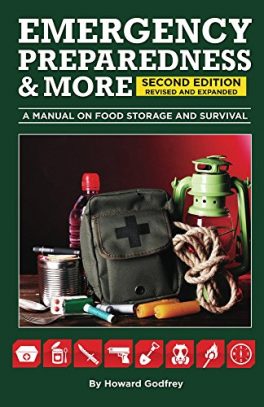 EMERGENCY PREPAREDNESS AND MORE: 2016 EDITION: This manual on Food Storage and Survival is a comprehensive book designed to provide preparedness information to the average family in America today. It consists of 19 chapters covering: Amounts and types of foods you need to store to be self-sufficient; learning how to package your food for long-term storage; knowing what to do when the power grid fails. How do you cook food and light your home without electricity? What type of medical supplies should you have on hand if you're on your own? If the water system fails, do you know how to purify your drinking water? Learn about communication and precious metal trading. All this and more is included in this easy to read book.
---