[/caption]
While I was arranging for hoses for my tri fuel generators, I ran across what could be a problem for some people.  As many of you know as of April 1, 2002, federal law mandated all portable vertical propane tanks of 4- to 40-pound capacity be equipped with a new "quick-closing coupler" overflow protection valve.  The new QCC-style valve replaces the older style "Prest-O-Lite" valves to ensure propane tanks are not accidentally overfilled.
Because gas expands as air temperature rises, this is supposed to limit the filling of the tanks to 80%.  This is to allow for the propane to expand when exposed to heat.  These new valves use a different fitting than the older ones.  Now I have some of both and I am sure some of you have the older tanks.  It is estimated that there may be as many as 40 million on them in the U.S.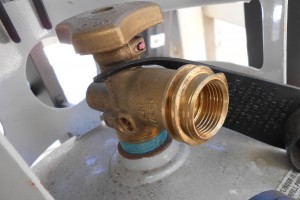 The new propane cylinders have a triangle shaped valve knob.  Older models had a five-prong, circular knob.  If you have the triangle knob, then you're fine. If you still have the older five-prong circular knob you are suppose to get rid of the tank.  Now I know that some suppliers are still filling older tanks and there are many sitting in backyards that still have propane in them.
If you have a newer gas barbecue or other appliance (heater, lights, generators, etc.) that operates off these tanks, the new connector will not work with the older tanks.  However, the connector on older appliances will work with both.  When I had the hose made up for my generator, I had them make it with the older fitting and it will work in both styles of tanks.
If you have an appliance that has the new style fittings, you can still purchase an adapter that will work with the old style propane bottles.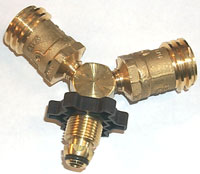 I keep thinking about how frustrating in an emergency to have propane tanks and a gas appliance and not be able to hook them up.
Howard