Native Americans and Mormon pioneers of the southwest drank a tea called Brigham tea, Mormon Tea or Squaw tea.  This is a common plant that grows in the desert areas of the southwest, but is also found in the inter-mountain regions of Oregon south extending into California, Wyoming, Colorado, Nevada, Texas, Utah and New Mexico.
It is a medium-sized shrub that grows up to 4 feet high and appears to have no leaves.  It looks like a thicket of numerous green, jointed, leafless branches with conspicuous nodes at the joints.  It actually does have small, scale-like leaves and tiny male and female  flowers   which bloom February through April.
Tea made from the plant was commonly drunk by Indians and early Mormon settlers.  In addition, it was used to treat a variety of ailments.  This included colds, allergies, kidney and stomach problems as well lung problems including asthma
It is claimed that  compounds  in the tea stimulate the brain, increase heart rate, constrict blood vessels (increasing blood pressure), and expand bronchial tubes (making breathing easier and helping with asthma).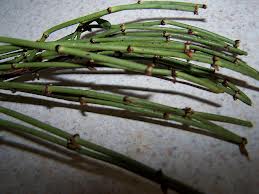 To grow this herb you need a loamy soil with good drainage and a lot of sunlight.  Once the plants are established, they can endure drought.  If you desire to obtain the viable seeds from this herb, you need to grow the male and female plants close together.
While I am no Doctor and claim no special medical knowledge, I can tell you this.  I have seasonal asthma that often affects me in the spring and summer; I normally have to take medication for this condition.  At times, I have taken Brigham tea instead of my meds for significant periods of time and it kept my symptoms under control.  Now I cannot recommend this to others and do not recommend you take this tea for medicinal purposes without consulting with a medical professional.  But for me I intend to grow some in my yard for grid down emergency situations.
Howard