When the SHTF, it's time to bug out – take what you need, take your important family members, and get the hell out of the warpath.
Out of harm's way. It's not a clear decision for a lot of people, because they fail to have emergency essentials at the ready.
But that's not you, and that's not me. We understand the potential threats that face our lives, and want to be prepared to face them no matter what the situation calls for.
We've outlined the best bug out bags, and best bug out bag kits, so you can always be prepared when disaster strikes.
Bug out bags can be used for intense scenarios, such as an EMP or invasion on our soil, but most commonly they are used when you don't have a way to get out of the path of a hurricane, tornado, or inbound flood.
You need to hit the ground running, and you need survival essentials on our back. We've done the legwork here so that you can pick from the best of the best.
Best Bug Out Bag – Reviews & Buying guide for 2021
Best Large Bug Out Bag: AmazonBasics Internal Frame Hiking Backpack
You might be as surprised as we were, but AmazonBasics really came through here and stole the top spot on our list, no questions asked. They must have done their research, because they hit just about every single pain point that survivalists and preppers have.
As the best bug out bag backpack, it comes with a lot of features. First of all, you can choose between a 55L, 65L, and 75L backpack.
Typically, 65L is the sweet spot between weight and performance for the wearer, which is what we've chosen to review here. With that capacity, there needs to be a lot of fortification on the bag itself. AmazonBasics did an excellent job at weight distribution, which is a major issue in many bug out backpacks.
From the top compartment to the sides, and the extended bottom pouch, everything flows pretty nicely together. Provided that you pack your items correctly, you'll be able to enjoy an even weight distribution here.
You don't have to specifically pack heavier items in the sides to counter-balance anything; it does a good job on its own.
The water resistant exterior works as intended. Small bits of rain bead up and roll off pretty well, but the bottom isn't as protected. Don't put this backpack down on the wet ground; always make sure to hang it up.
While that's usually backpacker information 101, it's important to point out if you want your backpack to last. There's also a waterproof rainfly to help with torrential downpour, which is built into a zippered pouch.
Interior organization is fair, but nowhere near as extensive as Sandpiper, our second pick in this list. AmazonBasics gives you more bulk storage than organizational storage, but with the use of additional pouches throughout this backpack, you just have to use some ingenuity to sort everything out.
AmazonBasics has a blanket warranty that they use on just about all of their products, and this backpack is no different. You get a one-year limited warranty, which basically translates to covering against manufacturing defects.
Shipping issues are a bit harder to pinpoint and get fixed, but since Amazon ships their own products and rely on having positive customer service feedback, you shouldn't have too hard of a time.
Size: Large
Weight: 4.5 lbs
Capacity: 65L
Best Small Bug Out Bag: Sandpiper of California Bugout Backpack
Having a choice in how you bug out is what this list is all about. Sandpiper made this fantastic backpack with so many different options to tailor it to your needs.
To start, you can get something small like a 10L backpack (excellent for EDC), or up to a 60L backpack for heavy duty bugging out. It's all up to you.
The one major problem with most backpacks is that they pull on your shoulders and dig into them. It's not very user friendly. Sandpiper took a different approach with aluminum back stays.
These shoulder a lot of the burden; you're still going to feel the weight of the backpack, but it won't be so abrasive. These backs tays make everything feel more manageable.
With an abrasion-resistant exterior, you can walk through the woods without having to worry about stray branches scraping and tearing the surface of your bag. Apart from that, you'll also be able to hang this from tree branches or leave it on the ground as needed without facing a penalty.
In addition to those back stays, the backpack straps are also padded. You'll have comfort on your side while you trek through the unknown, although the padding does run short towards the bottom of the backpack, so be sure you're standing straight to actually feel those benefits.
In the straps, you have four D-rings to connect EDC pouches, your two-way emergency radio, or whatever else you need.
Getting to the inside of the backpack, you have a plethora of pouches and organizational options to toy around with.
Main compartments offer plenty of bulk storage, but the pouch closest to the rear has organizational slats so that you can keep your wallet, essentials, phone, and smaller items stored properly.
The only issue is that this organization pouch can encounter some issues from an overstuffed main compartment, so be careful with that.
With an area for a hydration bladder (bladder sold separately), MOLLE support along the back for over a dozen items, and detachable straps, there's a ton of utility throughout this entire backpack.
It took some digging to find the warranty information, but Sandpiper of California actually offers a fairly comprehensive warranty on this backpack.
It covers all manufacturing defects (and zippers) for the duration of the backpack's life. That life only ends when this is so torn to shreds that it doesn't even function as a backpack anymore.
You'll find that they don't cover normal wear and tear (nobody does, really), but that their customer service team is very responsive and helpful if you do run into an issue.
Size: Large
Weight: 4.9 lbs
Capacity: 60L
Best Bug Out Bag Backpack: Reebow Gear Military Tactical Assault Backpack
The best backpack for bug out bag uses comes to a close three-way tie, with Reebow Gear sitting closely behind.
This backpack boasts an absolute ton of features, and comes in with a ridiculously low price point for the amount of space that you get. There are some trade-offs, so let's get into them.
First and foremost, this is a list for the best bag for bug out situations, so there are certain things we have to keep in mind. Reebow Gear made a great pack with the lowest weight out of our top three.
At just 4.2 lbs, you're packing lighter just by using this backpack. All three of our top bags are within a pound of each other, but still, every ounce counts.
For that weight you are limited to a 40L capacity. For a one- or two-person emergency bag, this will do fine, but it may not be suited to larger parties. This backpack comes with military grade construction, as well as a MOLLE system.
Despite the inexpensive price tag, Reebow Gear really hits the nail on the head with a lot of these features.
You have extremely durable, tactical zippers, as well as a hydration bladder pouch. Just to clarify, it's just the pouch that you place a bladder in; you don't actually get the bladder pack with this purchase.
If we're going to talk about features, we have to discuss water resistance… or the lack thereof. Reebow Gear states that this is water resistant, but a short walk in some light rain will show that there's room for improvements.
I would recommend waterproofing this backpack with some simple spray before you set it aside as a ready-to-go bug out bag.
The compartments are great, and the size is fantastic, but Reebow Gear does not include a warranty with your purchase. Once you decide on this backpack, you're basically on your own.
Though Amazon has good customer service, they aren't obligated to do anything about it apart from maybe deal with shipping damages.
For some closing notes on this backpack, the backing has a comfortable mesh that aerates you throughout your trek and wicks away sweat.
Useful D-rings are located on the front of each strap for securing quick-access items, and a chest strap helps to keep this close to you so that you can walk without it jingling around on your back. Overall, it's the best cheap bug out bag you're going to find.
Size: Medium
Weight: 4.2 lbs
Capacity: 40L
Best Bug Out Bag Kit: Emergency Zone Two-Person Bug Out Bag
Emergency Zone is the number one pick for an all-in-one bug out bag that prepares you for an emergency right out of the package. For a party of two, this bag has three days worth of provisions to keep you hydrated and fed for the duration.
One common thread you'll find in these all-in-one backpacks and bug out bag supply kits is that the backpacks are very unassuming. That's by design, and although the bags themselves are only designed to hold what you get in the kit, they help you maintain a low profile.
In this case, it's a basic white and black with no logos or lettering, so there's no reason for others to assume you have high-end equipment on your person.
That being said, the backpack has some stealth features that you'll be able to utilize to maintain a low profile. There's a flint striker buckle, built-in waterproof cover, molle system, hidden pocket, and fortified carry strap.
Overall, the bag has decent quality to it, but it's nothing that I would buy on its own to then fill with items. Emergency Zone made it for this purpose only.
The bag itself weighs just 3.5 lbs when empty. If you include the supplies that come with it, everything comes out to around 25 lbs, which all things considered is pretty good for this amount of provisions. While it doesn't look like it from the pictures, this bag has a surprising 53L capacity.
Now let's talk about the cost, because it's far from cheap. All-in-one bags like this where they give you a quality backpack and the supplies to go in it are where the prices spike.
Compared to the AmazonBasics backpack-only purchase we reviewed at the top of this list, you're looking at an inflated price here.
It's the cost of convenience. This is worth it if you don't have the time to inspect and research every individual item that goes into a traditional small-disaster bug out bag.
Otherwise, you would do better assembling it on your own and sourcing the individual components as you see fit. It's the best premade bug out bag you can get.
Size: Medium
Weight: 3.5 lbs
Capacity: 53L
RUNNER UP: Ready America Three-Day Essentials Backpack
Last but not least on our list is the Ready America kit, which isn't just a bug out bag – it's the whole damn kit and kaboodle. This k kit comes with so much more than you would expect, giving a four-person party full 72 hours worth of provisions.
While it's not the best bug out bag for seasoned survivalists (since you'll likely want to assemble it on your own), this comes in as the best ready-to-go bag for newcomers to the prepping world. US Coast Guard-approved and ready to go, this bag has an excellent spread of survival equipment.
Let's start with the bag itself. It's very basic since it's just designed to hold what already comes in it, so unless you end up taking out the supplies to put into another bag, there's not much extra room for provisions.
I would say you might be able to fit a pre-made survival kit somewhere in here if you try.
Including ponchos, water, first aid, glow sticks, and emergency food rations, this kit is designed to help you withstand short-term, small-scale disasters.
As Ready America suggests, you should have this as an emergency bug out bag for earthquakes, weather-related disasters, and anything that you can see yourself coming back from.
While this is a four-person kit, keep in mind that this is the bare minimum of what you need to survive during that time. After three days, you should be able to reach safety in some way or another.
To be safe, especially in a party of two or more people, it's recommended to get two of these kits to err on the side of caution. That and you can keep them in different spaces in case one is inaccessible.
This kit is excellent if you're just getting into prepping and haven't done the research or figured out the budget to assemble your own bug out bag yet. This works in the meantime, and on its own, this is a really great kit for disasters. Keeping one in the car from now on might be a good move as well.
Size: Small
Weight: 19.4 lbs (remember it's a full kit)
Capacity: 25L
Best Bug Out Bag Buying Guide and FAQ
What to Look for in a Bug Out Bag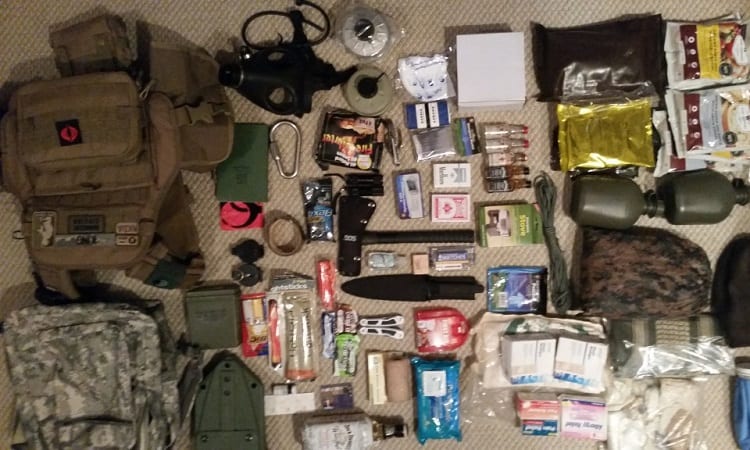 Bug out bags need to be reliable more than anything else. If you're putting an entire second life into a backpack, it had better hold out through the journey and be up to the test. These are a few things you can look for when deciding on a bug out bag.
Material
What is the actual bag made out of?
Ideally, you want high denier count fabrics like nylon and polyester for ultimate durability. Pay attention to every material. How durable is the mesh in your valuables pocket? What zippers are being used?
Try to find out every little detail you can.
Empty Weight
How much does your backpack weigh while it's empty?
This sounds irrelevant since you won't be carrying an empty bag around, but either way you'll be bringing more weight around with you than just your items. You'd might as well make sure the bag is as lightweight as possible to save your back those extra pounds of carry weight.
Weight Capacity
Apart from how much it weighs, we need to know how much it can take before the materials are poised to rip.
The good thing is that as long as you see a reasonably high weight limit, you're good to go. You're experienced: you know that you need to pack as light as possible, and with that in mind, you're not going to hit that maximum weight cap while packing.
Pockets
This sounds pretty simple, but some backpacks only come with a single compartment. While this can be useful, it's not ideal.
You want pockets or dividers to store valuables, small items that you need quick access to (wallet, ID, things of that sort), otherwise the utility value of your backpack isn't very good. It's not just about storing items; it's about organizing them so you can pull them out in a pinch if needed.
Water Resistance
You'd be hard-pressed to find a completely waterproof backpack that's actually good for bugging out, but you can look for water resistance ratings to help repel rainwater and keep your possessions dry.
Alternatively, you can buy a waterproofing spray and apply a coating of it to your backpack for extra protection.
What is a Bug Out Bag?
A bug out bag is the testament of a good prepper. It's the bag you grab and take with you when you leave your home with no expectation of returning. It includes survival tools such as knives, hatchets, fire starters and SOS gear, as well as short-term provisions of food and MRE foods.
From there, the best tactical bug out bag should have enough to help you sustain yourself once you get far away from civilization, and plan out your base.
Your bug out bag is a pre-packed backpack filled with everything you need to survive in the wilderness, off the grid and away from people. If you don't have a solid bug out bag
Is a Bug Out Bag Necessary?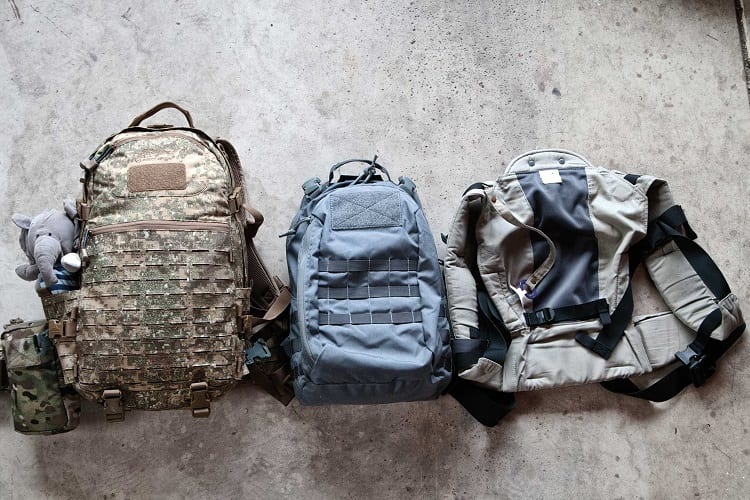 It's the most essential thing you could ever use in a survival, SHTF situation. Yes, a bug out bag is absolutely necessary.
For natural disasters or man made emergencies, you need access to essentials. If the power goes out, a hurricane rolls in, or wildfires threaten your home, you need a few key items to help you survive.
The main excuse for not getting a bug out bag is, "I'm not leaving my home, I'll just hunker down," but that's not always a viable option. Look at any recent disaster in the last ten years (many of which are hurricanes in Florida), and you'll find tons of people talking about how they wish they left when things got bad.
Most casualties in natural disasters are due to people not being prepared or refusing to leave their homes. Our weather detection capabilities are fantastic in this day and age, so there's no reason for any fatalities in these situations. A bug out bag could be the difference between life and death.
How to Pick a Bug Out Bag?
Whether you go with the best small bug out bag or a gargantuan, oversized backpack, it's all up to you. In the end, you have to mentally picture walking through every individual mile, uphill and in the rain, and having that weight on your back.
There's something called Parkinson's Law, which refers to time. It states that if you give yourself ten hours to do a task, that task will take you ten hours, when in reality it may only take thirty minutes to complete. The task fills the time allotted.
Well, the same goes for your bug out bag. If you buy a 55L, you're going to end up finding a way to stash 55L worth of items inside, and it may end up being too heavy for you based on the information we talked about earlier.
Don't get a bigger bag for the sake of it. Have a reason for getting whatever it is that you need for prepping. If you have a large family, a bigger bag makes sense, but if it's just you then you don't need all that extra space.
How to Pack a Bug Out Bag by Weight
You grab the best budget bug out bag, some inexpensive survival kit, and some relatively low-cost provisions. That's a start. You have to pack by weight if you want to keep your carry capacity favorable. These are some quick tips to make sure you're packing light.
Kits Over Dedicated Tools: Instead of going for dedicated, individual tools that you source yourself, consider going for a survival kit. Sometimes the quality isn't spot-on, but it's cheaper and lighter than packing with dedicated tools.
Dense Food, Not Heavy Food: Pack your three-day provisions with lightweight protein bars. You can't really get around the water weight apart from the packaging, but try to keep food compact when possible.
Does it Help You Survive?: Ask yourself that question. If it doesn't help you survive, consider getting rid of it. I'm all for packing a few morale-boosting items, but not everything is considered to be essential. Be critical with your decisions.
How Much Should a Bug Out Bag Weigh?
It depends on your weight, first and foremost. There's a basic formula you can use to either pack light and stay hot on your feet, or pack a bit heavier and have provisions, but trade it out for slower travel speeds.
Basically, the way you want to do this is first by weighing yourself completely naked. Weigh yourself first thing in the morning with absolutely no extra ounces to weigh down the scale, we're trying to get a critical number here.
After this point, you're going to take that number you get, and pull 10% from it – just chop off the third digit, and that's what you're left with. This is what you should shoot for. If you weigh 165 lbs, 16.5 lbs of bug out gear is all you should have.
However, as you'll come to find from assembling your own bag, that's highly unrealistic. When you really bug out, you need to be able to stay on the move but also have everything you need in case this becomes a permanent situation.
The second way to do this is by capping it at 20%. Of that same figure I gave before, a 165 lb person shouldn't pack more than 33 lbs of supplies.
Now, 33 lbs is a lot more reasonable, but it comes with trade-offs. You're not going to have the same mobility as you normally would. I would recommend trying to aim for somewhere in the middle. If you have the time, you should hit the gym and see some gains.
Even if you bodyweight doesn't go up by more than 5% of muscle mass, you'll be able to assess your limitations more clearly. You might even be able to push it up to 25% or 30% if you're carrying most of the supplies for a party of two or more.
What to Never Put in a Bug Out Bag
If you know how to pack a bag effectively, that's great. However, I'm willing to bet that there are a few bag "essentials" that you don't really need to bring along with you. If we're bugging out to survive, you don't have to bring certain pleasantries like these along with you.
Uncanned/Fresh Food
This is nothing but a predatory animal attractor. Bears have ridiculous senses of smell, and wolves even more so. Make sure your food is packaged and stored in your backpack safely.
If possible, wipe down your food containers before placing them in your bug out bag just to be certain that no external scents get attached to the packaging.
Camping Cookware and Utensils
For camping, this is great. These tools take a bit of the work out most of what you're doing.
However, they're bulky (even the ones that fold up super small), and unnecessary for survival. It's not about luxury or convenience; it's about keeping it lightweight.
Sleeping Bags
This might be an unpopular opinion, but you don't need a sleeping bag. Even if you're going to bug out all year long, you can get by with a sleeping pad and a good shelter with decent insulation.
Sleeping pads can weigh as little as 20% of what a sleeping bag does, and the sheer volume of space that sleeping bags take up is immense.
Plastic Multi Tools
You'll notice that in all of my buying guides, I've outlined what multi tools are worth your time.
They're always made of steel, rugged, and have a specific build to them. Never waste your money on plastic multi tools, because they will absolutely break on you.
Grappling Hooks
No offense, but I don't think that either of us are about to go James Bond on a mountain and scale our way up with a grappling hook. They have uses, but mostly in rock climbing, not for any practical survival purpose.
Packing a Bug Out Bag Right
If you pack a bug out bag, make sure you do it right. You need to start with the right bag, pack it appropriately, and never include nonessential items that don't pose any immediate benefit in the wilderness, or in any SHTF scenario.
We've found the best bags for you that hold up against the test of time, are rugged enough to sustain you in endgame situations, and will keep your personal belongings right where they belong.
We've taken everything into account; all that's left to do is make your selection. If you aren't ready to bug out at a moment's notice, you aren't prepared for anything.
---