It is wise to have a bug-out bag ready no matter where you live. You may need to leave at a moment's notice. Suppose a natural disaster is about to strike. In that case, you may not have time to pack critical possessions before you run for safety. Social unrest may drive you from your home unexpectedly and for a prolonged period. If quickly leaving your home is necessary, a bug-out bag can make the difference between making it out safely and being stuck unprepared.
What's In a Name?
Don't let names confuse you. We use many terms for the practice of preparing to make a quick getaway in case of an emergency. Most of the terms are synonymous.
72-Hour Bag
Go Bag
Bail Out Bag
There are some names with colorful metaphors that we will not list. No matter what you call your bag, its purpose is to get you on the go quickly when danger strikes. A few, like the INCH Bag, refer to a more severe emergency that may result in being off the grid for a prolonged period. Even if you never have to use it, having a bag ready can provide peace of mind knowing that you are prepared to go at a moment's notice.
What Should Be in Your Bug Out Bag?
Before putting together or buying a ready-made BOB, it is essential to consider your situation. There is no exact formula for the perfect bag. A bag for natural disaster readiness will provide for a few hours or days without utilities or a prolonged stay in a public shelter. Suppose your concern is social unrest and the loss of social or governmental organizations. In that case, your bag will be much more involved. Kits for both of these scenarios will share many essentials. Your kit may have items no one else has. Usually, a backpack will contain the components of a BOB.
There are two philosophies when it comes to planning a BOB. One says, "Plan for the most likely event." The 72-Hour Bag is an example of this philosophy. You plan for the event you are most likely to experience. The other perspective says, "You have no idea what may happen tomorrow. Plan for everything." Both points of view are valid. We could argue all day about which is the wiser choice. In the end, it is your kit. Decide which type of kit you feel is appropriate for your situation. No one will blame you if you change your mind in the future.
The 72-Hour Bag
The 72-Hour Bag is a basic Bug Out Bag. It should support you in the event of a natural or man-made disaster that forces you out of your home for two or three days. Then, you should be able to return. Natural disasters and industrial accidents tend to be pretty localized events. Your city may be affected. With an hour or two drive, you can be in a safe area. In such a case, you only need to prepare items you would need to have for an unexpected trip.
Making a List of Items
The list below represents items you could include in a 72-Hour Bag. The articles should be limited in size to enable ease of transport and to take up minimal storage space. This list is based on information from the US Emergency Readiness program. If you have multiple people in your family, each person will need their own nutritional, personal, clothing, and toiletry items. Some items require only one per group. Split up group items between members. If you purchase a pre-packed BOB that does not have some things you need, add them.
Required items
These items are the basics of a kit. They are essential for the best bug out bags.
The links provided are for reference only. Some of these items may be unfamiliar.
Nutrition:
Water
Approximately 1 liter (32 oz) per day per person
Store purchased water in the original package
Store home-prepared water in rigid, food-grade water bottles
Water purification tablets
Personal water filtration system
Water is the most critical item in your kit. You can survive a few days without food. A few days without water will leave you in critical condition. If you live in a hot climate, more water may be necessary.
You can only carry so much water. When the water in your pack runs out, filters or purification tablets will be necessary. Filters are preferred, but they only can filter a limited amount of water. In a pinch, tablets or powder can be used. They are chemicals, so try to avoid them. Water with a chemical is better than contaminated water or no water.
Food
High-calorie dry food and snacks (enough for two or three days on the move)
MREs
Protein bars
Protein shake mix
Special dietary food if necessary (baby food, gluten-free, etc.)
Include as much nutrition as you can handle. An adult person requires about 1200 calories a day. If you will be walking and carrying a pack, you will need to consume more calories. Most pre-packaged kits only provide enough food bars for one day. You may want to purchase your favorite protein bars and add them to your pack. Some kits provide freeze-dried meals. The calories can vary. Read the packages and make sure your kit has sufficient calories for two or three days.
Warmth and Shelter
Mylar thermal blankets
Sleeping bags
Tarp
Duct tape
Paracord (50 ft)
These items are helpful if you are required to spend extended periods in your vehicle. Bad road conditions or adverse weather may result in closed or impassable roads. If you must sleep in your car, warmth retaining items may be necessary. Other items may enable you to turn your vehicle into a small camp if necessary.
Health and Hygiene
Required Medication
Prescription glasses in a hard case
Basic toiletries (soap, toothbrush, toothpaste, floss, moist towelettes)
Basic first aid kit
Nail clippers
Toilet paper
Feminine products
Lip Balm
Sunblock
Sunglasses
Hand sanitizer
Some of these items may seem unnecessary or mundane. The main goal of your emergency kit is to provide health and some comfort in a stressful situation. Maintaining personal hygiene will contribute to overall health and help keep positive attitudes.
Clothing
One complete change of clothes (long pants, long sleeve shirt, socks, underwear)
Rugged, closed-toe shoes or boots
Coat or poncho (waterproof and adequate for climate)
Tough work gloves
Hat
A change of clothes will enable you to stay clean and dry. If you need to spend time in a shelter, a change of clothes will allow you to clean one set while wearing the other. Long pants and shirts, coats, and hats will shelter you from adverse weather if you need to spend time outside. Select items that are suited to the climate in your area. It may be wise to review these items seasonally and make adjustments.
Survival Gear: Light and Tools
Cell phone charger (solar)
Small LED Flashlight (rechargeable, solar, dynamo)
Small Emergency Radio (rechargeable, dynamo, solar)
Maps of the region
Compass
Multi-tool or small tool kit (pliers, screwdrivers, scissors, knife, etc.)
Writing Kit (paper, pencil, pen, in a waterproof container)
You may find yourself off of your planned course. Some roads may be closed. Power, cell service, or the internet may be out of service. It may be necessary to navigate a circuitous route to safety manually. Learn to read a map and compass. Being lost will not contribute to your safety.
Small tools come in handy in odd situations. A small tool kit will always be welcome in an emergency.
Optional Items
Financial Items
Copies of personal documents (insurance cards, driver's license, social security card)
Cash – in small bills
Credit card
When you reach safety, these items will enable you to acquire assistance and additional supplies. It will be easier to receive government assistance and medical care if you have proper identification.
Fuel
Not to carry, but to fuel your vehicle if you intend to drive to safety. Whenever natural disasters occur, fuel is always in short supply. If you have a safe place to store it, keep a 5-gallon can of gas for emergencies. Gas does not keep for extended periods. Use the gas in the can and refill it with fresh gas every six months.
Entertainment
Books, games, and toys will provide a welcome distraction for children. Non-electric items will be easier to work with. If you have a solar charger, tablets or other electronic devices work well.
Selecting a Bug Out Bag
Pre-made Bug Out Bags
There are dozens of brands of emergency preparedness bags on the market. They all claim to provide the best products to support you and your family for up to three days. There are two issues with these claims.
One is that every family has different needs. The bag that is best for me is not best for you. The other issue is that pre-made bag companies are interested in making a profit on their products. The profit margin can cause suppliers to provide insufficient or dubious quality items.
So, how do you choose the best BOB for you and your family? You must establish your needs and find the bag that best suits those needs.
Prices of PrePackaged 72-Hour Bags
The price of 72-Hour kits varies greatly. Basic kits for an individual can cost under $100. More complete kits intended to support a family of four can exceed $1,000. With some planning and research, you can find a kit that will provide the level of support you need at a price you can afford. Of course, you can always add items to your gear as you see fit. Over time, a basic kit can evolve and grow into a complete package. We will look at an assortment of kits of various sizes and prices.
Researching 72-Hour Bags
Buying a pre-packaged bag is a quick and easy way to start your emergency kit. Such bags tend to provide the basics. You will still need to add personal items. If you do not have the time or inclination to assemble your own BOB, a good-quality purchased emergency bag is a good option.
We have researched 72-Hour Bags of various price ranges. These highly rated kits are just an example of those available for purchase. You will note that all bags share certain characteristics. Each brand of BOB provides items the others do not. Your needs will dictate which brand and model of bag you purchase.
Kits Under $100
Kits in this category are very minimal. They are single-use kits. Some utilize sacks rather than backpacks.
Ready America 70280 72-Hour Emergency Kit, 2-Person, 3-Day backpack
Ready America kits are generally well-reviewed. They are basic, single-use kits. This 2-person kit includes 30 items. Ready America markets kits of various sizes.
2 x 2400 calorie food bars
12 x 4 oz water packets
33-piece first aid kit
12-hour glow stick
2 x emergency ponchos
Safety whistle
2 x dust masks
Nitrile gloves
Pack of tissues
Backpack (20"x12"x12")
Weight is 8 pounds
5-year shelf life
PROS:
Inexpensive
Light Weight
Good variety of items
CONS:
Probably not enough water for three days
Not expandable
Single-use
Not renewable
No tools or outdoor gear
Blue Cooler 72-Hour Emergency Backpack Survival Kit for 1 Person
This well-reviewed kit includes 36 items. It provides basic nutrition and safety needs for one person. The small backpack does allow room for additional items. Blue Cooler markets similar kits of various sizes.
1 x 2400 calorie food bar pack
5 x 4 oz water packets
39-piece first aid kit
Antiseptic wipes
N95 dust mask
Tissue pack
Hand Crank flashlight
Mylar blanket
Rain poncho
Pocket-sized multi-tool = whistle, flint, mirror, compass, dry storage
Water-resistant backpack, three compartments, reinforced handle, and shoulder straps
5-year shelf life
PROS:
Inexpensive
Good variety of items
Some tools and outdoor items
CONS:
Not enough water
Small backpack
Single-use
Not expandable or renewable
This is a single-person kit. It includes more survival tools than the previous kits in this price range.
9 x food bars. 3600 calories
6 x 4 oz water packets
First aid kit – 36 pieces
Flashlight – Dynamo powered
Emergency blanket
Safety whistle
Multi-Tool
Hand sanitizer
Rain poncho
Vinyl gloves
Dust mask
Safety candles
Stick matches in a waterproof container
16" x 13" sack with drawstring, the sack has room for additional items
5-year shelf life
PROS:
Inexpensive
Some tools
Flashlight
Some outdoor items
CONS:
Sack, not backpack
Generic dust mask
Bags Under $200
Kits in this price range start to look more serious. They include some tools and outdoor emergency gear.
Emergency Zone 2 Person Family Prep 72-Hour Survival Kit
The kit includes 132 pieces housed in a backpack. Emergency Zone also offers additional items that you can add to your kit. The company receives many positive comments about customer support.
2 x 3600 calorie food packs
12 x 4 oz water packets
118-piece first aid kit
2 x emergency sleeping bags
2 x ponchos
1 x emergency tent
2 x chemical hand warmers
2 x glow sticks
Flashlight with batteries
Emergency radio with batteries
20-piece sanitation and hygiene kit (soap, shampoo, washcloth, tooth care, toilet paper, etc.)
10-piece water purification kit
8-piece emergency tool kit
18″ x 12″ x 8″ water-resistant backpack, 12 pockets, padded shoulder straps, chest strap
15 pounds
5-year shelf life
PROS:
Some outdoor gear
Sanitation / Hygiene kit
Small tool kit
Water purification kit
More calories
Customer support
CONS:
EVERLIT Complete 72 Hours 2 Person Bug Out Bag Emergency Survival Kit
Everlit Survival is a well-reviewed company with a wide variety of survival products. Customer support and supply replacement receive raves.
24 x 125 ml Emergency Drinking Water approved by US Coast Guard and Made in the USA
2 x 3600 Calorie Food Ration approved by US Coast Guard and made in the USA
50 x Drinking-Water Germicidal Tablets treats up to 25 quarts
200 Pieces Advanced First Aid Kit
1 x Tactical Military-Grade Backpack: 22" X 11" X 10" water-resistant molle tactical backpack
2 x Emergency Shelter
2 x Emergency Poncho
2 x Emergency Blanket
2 x Two Tune High Pitch Whistle
2 x Safety Goggles
2 x Wire Saw
2 x Pair of Heavy Duty Gloves
1 x Multi-Function Wallet Card
1 x 100 Ft Paracord
1 x Multi-function Pliers
1 x Hand Crank Flashlight, Radio, Charger
1 x Fire Starter
4 x Glow Stick (Up to 12 Hours Per Single Use)
1 x Multi-function Tactical Knife: tooth saw, can opener, and glass breaker
1 x Compass
1 x Carabiner
5-year shelf life
21 pounds
PROS:
Good variety of items
Outdoor Items
Some Tools
Water Treatment
CONS:
Kits over $300
Kits in this price range provide more basic supplies and many additional outdoor tools. Prices from here climb quickly. The kits tend to become pretty heavy as well. You will notice that backpacks are larger and of higher quality.
Sustain supply receives positive reviews everywhere they are evaluated. Customer support and additional/replacement components are nice features—good quality at reasonable prices. Sustain produces a wide variety of packs and additional items.
1 x 20″ x 16″x 13″backpack, water-resistant, adjustable, padded straps, chest strap.=
Food = 24 Wise Company food servings
Water = 4 Aqua Literz 33.8oz
4 x Sustain Supply water straws
8 x Cyalume SnapLights
1 x LED lantern
1 x fully stocked First Aid Kit
4 x emergency blankets
2 x bath wipes
1 x portable stove
4 x bowls and utensils
1 x MoraKniv knife
1 x Ferrocerium rod
2 x InstaFire tinder
2 x whistles
4 x emergency blankets
5-year shelf life
27 pounds
PROS:
Good variety of items
Freeze-dried food packs
Cooking/eating utensils
Outdoor / camping tools
Nice Backpack, some room for extras
Good customer support
Expandable
CONS:
The Uncharted Supply Co. receives good reviews everywhere. Sturdy, good-quality components are their main feature. Price tends to be the only complaint.
1 x Water Filtration System
1 x Includes Sawyer Mini water filter
2 x Datrex 1200 Calorie Survival Bars.
1 x 48 oz. Stainless steel water bottle
1 x Survival Tent
1 x First aid kit
2 x Survival blankets
2 x Acrylic beanies
2 x Gloves – Water-resistant, cold weather
2 x Goggles
1 x SEVENTY2 Pro Insert organization kit
1 x Knife
1 x Flint kit
1 x 50-foot paracord
2 x Glow sticks
2 x 0.1-micron dust masks
2 x 20-hour heat packs
1 x Waterproof match kit
1 x Multi-tool
1 x Hand Crank radio / flashlight / USB charger
1 x Duct tape pack
1 x Collapsible convertible shovel
1 x Sunscreen
1 x LED Flashlight
1 x Wet wipes pack
1 x Backpack, highly water-resistant, padded shoulder straps, chest strap 20″ x 13″ x 8″
16 pounds
5-year shelf life
PROS:
Lots of outdoor tools
Tough backpack
Well organized
High-quality components
CONS:
Not much food
No water, filter kit only
Expensive
Review of Pre-Packaged Bug Out Bags
Any of these packs would be a good start to a complete 72- Hour Emergency program. Each provides the basics required to survive for a few days. Customization of any of these packs would be required. It will be necessary to add clothes, personal items, and medications to any purchased pack. Use these packs as a base for a two (or more) person evacuation kit. Add other backpacks to carry personal items the group may require. Another option is to build your entire 72-Hour Emergency pack independently.
DIY BOB
Building your own BOB ensures you will have every item you feel you need in the event of an emergency. Including high-quality items that you are familiar with will add extra peace of mind. Building a kit will take some time. Start with the critical items and move to the less important pieces. Add items that you feel you will need. The DIY kit is totally customizable. Start with the bag and fill it up, or collect items first and purchase a bag that will hold them. The challenge is getting everything you need into a pack you can carry on your back. It is a rather fun project.
Things to Consider About Your 72-Hour Bag
What Goes In the Bag and What Does Not
Put everything possible in the bag. Items like shoes, boots, jackets, and hats can be stacked with the pack and worn when you bug out. The benefit of stacking outerwear with your bag is that you will not have to hunt for anything if you need to run in a hurry. If you are woken in the middle of the night by an emergency, you will miss things if you have to hunt for them.
The idea is for you and your family to be able to spend a few days away from home with no notice. You may spend several hours in a vehicle getting to a safe location. Then, you will have support organizations, businesses, and even friends and family to help. This bag only needs to include items you must have for an unplanned road trip. Remember, there is a disaster. Cell phones and the internet may be down. Things will move slowly. You may have to walk or stand for long periods. Select comfortable and suitable items for walking while carrying a backpack for prolonged periods.
Selecting the Backpack
A pre-packaged BOB will come in whatever backpack the supplier uses. If you decide to build your kit, selecting the backpack will be as important as choosing the items that go in it. The best container for a 72 Hour Bag is a water-resistant, frame-less backpack. They are designed to carry items safely while providing freedom of movement and free hands. We will review backpack selection later in the article.
The INCH Bag (I'm Not Coming Home)
An Extreme Bug Out Bag is not something you can buy. This is the bag you will build if you plan to walk away and perhaps not come home for quite a while. The kit will provide enough equipment to allow you to live a camp-style life for an extended period. The water and food you carry will determine your time to establish a camp. The total time you can spend will rely on your ability to collect and treat water and collect food. You can only carry enough food and water for a few days. The rest will have to be collected. Your backwoods skill will be tested.
Selecting The Components
The items you add to your INCH bag will vary significantly based on your abilities and the area in which you will be establishing camp. Most of the items in the 72-Hour bag are repeated here. This list is not absolute. You will add or delete items as you see fit. The list indicates the types of items you need to consider.
Create a list of items you will need. Organize the list from MOST CRITICAL to Least Critical. Collect the items that order. Your pack is complete when you reach your weight limit (what you can carry with relative ease). Many sites provide lists and lists of items you need. They don't seem to consider that you have to carry the stuff! Think critically. Choose items carefully. You will not be on a picnic. It is survival.
Critical Components
These are the items you MUST have. Without them, your trip will be difficult at best. Some items on the list are redundant. Choose those items that best suit your needs or conditions.
Water and Water-Related
Most Critical
Drinking water. One liter per day per person. More if you can carry it. Store water in reusable containers. Don't haul anything that is not reusable.
Water filtration and purification system. Additional filter elements if applicable.
Water purification tablets
Less Critical
Rigid plastic water bottle
Stainless steel water bottle
Collapsible water bottle
Steel cup – Collapsible cup.
Food and Food-Related
Critical
Dry or dehydrated meals. Enough for three days. More if you can carry it.
Protein bars. As many as you can carry.
Less Critical
Small stainless cook pot.
Cooking and eating utensils. Small, stainless steel items are best.
Pot scrubber.
Portable cookstove and fuel. Remember, you have to carry it, and fuel will become scarce. Relying on a campfire may be a better choice.
Campfire cooking grate. 12″ or less.
Can opener if you pack any canned goods.
Clothing
Two complete sets of clothing in addition to what you are wearing. Clothes must be the proper weight for the climate you will be in. Poly or poly-blend fabrics are best. They are more rugged than cotton and easier to clean.
Critical
Long-sleeve shirts
Long pants – convertible pants if you like
Rugged shoes or boots
Heavy socks
Less Critical
Underwear
Full brim hat
Work gloves
Rainproof coat with hood
Poncho
Shelter and Sleeping
Keeping out of bad weather and having a safe place to sleep make roughing it much more comfortable. Purchase the best quality items you can. These are the base of your camp. If they are not up to the task, your stay will become frustrating.
Critical
Tent
Mylar emergency blankets
Sleeping bag
Less Critical
Tarp. 8'x 8′. More than one, if possible.
Ground pad
Paracord, 50 feet or more
Tent stakes
Duct tape
Heat
As mentioned in the cooking section, liquid fuel will become an issue. Brush up on your fire-building skills.
Critical
Ferrocerium rod kit or flint sparker. (These items are listed as critical because they will last much longer than the others.)
Less Critical
Lighter
Stick matches in a waterproof container
Firestarter blocks – tinder
Hygiene and First Aid
Staying clean and free of injuries helps keep spirits up. It also helps avoid illness or complications from minor injuries. Attitude is a major component of survival in the wilderness. Maintaining good health contributes to a positive outlook.
These are all critical. Health is a significant concern.
Prescription and non-prescription medications
Prescription glasses in a hard case
Bar soap (for washing people and cookware)
Wash towels (to wash and dry)
Toothbrush
Toothpaste or powder
Toilet paper
Women's hygiene products as needed
Other hygiene items as needed
Small camp mirror
First aid kit
Insect repellent – preferably cream or liquid
Sunblock
Equipment
Some people say, "Tools make the man." Others say, "It's not the size of the tool, but how you use it." For a Bug Out Bag, we will use the second saying. Tools are big and heavy. You will need some tools. Choose the few with which you can do the most work.
Critical
Knife w/ sheath. Some sort of survival knife or multi-purpose knife is probably best. 8"- 10".
Small axe. Single Edge. The back of the head can act as a hammer.
Multi-tool
Less Critical
Sharpening stone or sharpening kit
Collapsible / convertible shovel
Electronic devices
Lights and radios are great. The problem is they require power. Solar phone chargers are small, lightweight, and work well. Some will charge a LED flashlight or power a small radio via USB cables. Some radios and flashlights charge with a dynamo. If you plan to use any electronics, they must be rechargeable. If you decide to use a solar charger, have plugs that fit all your gadgets.
None are critical
Cell phone
Small LED flashlight
Emergency Radio with dynamo charger
Solar phone charger
Solar general purpose charger
Weapons
Whether for hunting or self-defense, some form of weapon should be part of your INCH Bag. The options and personal philosophies here are almost infinite. A rifle or handgun can help provide food. It can also protect both four-legged and two-legged predators. A can of mace or bear spray can give some of the same protection. No matter which path you choose, be familiar with the weapon you include in your kit. Know how to use it and how to maintain it.
Rifle or handgun
Ammunition for the weapon
Weapon maintenance materials (cleaner, oil, tools)
Mace or bear spray
Knives
Optional Items
Any of these would come in handy out in the wilderness. Depending on your location, some may not be useful at all. It is just a list of miscellaneous items you could consider if you have room or a specific need.
Cash in small bills
Maps
Compass
Dust masks (N95, KN95, general-purpose)
Sewing kit
Fishing kit
Cotton bandana
Sunglasses
Writing utensils and paper in a waterproof container
Booze, cigarettes, or other barter items
Choosing the Container
An INCH bag will be larger than a 72-Hour kit. The backpack may include an external frame. Most backpacks are waterproof these days, but be sure. You can not submerge them in water, but rain and incidental moisture will not penetrate a good backpack. Tactical packs have multiple pockets and pouches that enable you to segregate items.
See the guide below for some tips on selecting a backpack for an INCH bag. Comfort, free hands use, and freedom of movement is still essential.
Bags To Avoid
Any bag you have to carry by hand. Hands-free use is best.
Wheels. As soon as you have to leave the sidewalk, they are detrimental.
Over-the-shoulder bags. They are cumbersome and awkward.
Choosing a Backpack
There are dozens of backpacks on the market. Backpacks you find at most discount or department stores are inadequate for a Bug Out Bag. They do not provide the capacity, support, or rugged construction required for serious use. If you are not an avid outdoors person, you may wonder how much backpacks can vary. Like clothes, every brand of backpack will fit differently. Different bag features add weight, change the center of gravity, and add or detract from the support the backpack provides. If possible, go to a hiking shop or sporting goods store to test different-sized packs from different manufacturers for fit and function.
Things To Consider When Selecting a Backpack
There are three basic considerations when selecting a backpack. The capacity, fit, and features of a backpack will contribute to your selection. As with selecting the items to include in your BOB, you must determine the aspects of the backpack that are most important to you before you begin your search. While capacity is important, poor fit and support will make a large bag impractical. The same is true with additional features. No matter what a backpack can hold or carry, if you can not wear it comfortably and safely, it is not useful. Err on the side of support and comfort as much as possible.
Backpack Type – Size
The type of backpack you select will be determined by the time you expect to be using it, and the amount of material you expect to carry. The backpacking community has grouped bags into three categories: Short Trip or Weekenders, Multi-Day Packs, and Extended or Long Term packs. You may come across other terms. Some brands just use Small, Medium, and Large. The dimensions are the important factor.
Approximate size of backpack categories.
Weekender Pack
Multi-Day Pack
Extended Trip Pack
2 or 3-day trips.
30 – 50 liter capacity.
16 – 20 inches tall
12 – 15 inches wide
5 – 7 inches deep
3 to 5-day trips.
50 – 80 liter capacity.
23 – 30 inches tall
12 – 15 inches wide
8 – 10 inches deep
5-day trips or longer.
70 liters or more.
25 inches tall or more
15 – 16 inches wide
10 – 12 inches deep
From a capacity perspective, a Weekender or Multi-Day pack would be best suited for a 72-Hour Bug Out Bag. Extended Trip Packs would be preferable for an INCH Bag. However, capacity is not the only important element of backpack size. Fit and weight must also be considered.
Backpack Fit
How the backpack sits on a body is critical in the selection process. A majority of the pack weight should sit on the carrier's hips, not their shoulders. Better backpacks have a waist belt that places the pack's weight in the proper position on the body.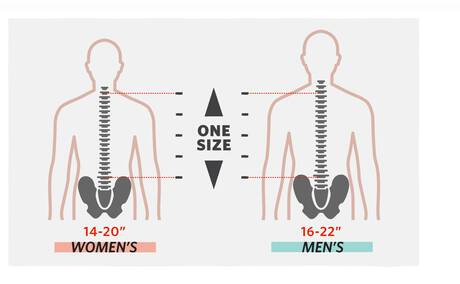 The torso length and waist dimensions of the pack must match the dimensions of the carrier for the correct weight distribution. Your torso length is the dimension from the top of your shoulder (approximately the C7 vertebrae) to the top of your hip bone. A quality pack's spec tag should provide a torso length range and perhaps a chest and waist dimension.
Adjustments
Most better backpacks have adjustable shoulder straps and waist belts. Some, especially larger packs, have chest straps as well. In the event that your body dimensions cannot be accommodated by the available adjustments of the pack you are considering, it may be necessary to purchase straps that do accommodate you. Often, other brands of packs will fit differently and provide other adjustments that may work better for you. Do not fixate on a brand. Fit and function are more important.
Specialized Backpacks
It is important to be aware of specialty backpacks. Some manufacturers do market women's and children's backpacks. These are fairly rare, but they do exist. In general, they include smaller waist belts and shorter shoulder straps. You may pay a little more for such packs. If you are having trouble finding a pack that fits you properly, they may be a good option.
Backpack Weight
The amount of weight in a backpack is determined by the individual who will be carrying it. Even a small backpack can be overloaded. The general rule of thumb for the weight of a pack is that it should not exceed 20% of the bodyweight of the person who will carry it. These weights are all contingent on the fitness of the person. An older individual who weighs 200 pounds may not be able to manage a 40-pound backpack. On the other hand, a very fit person who weighs 160 pounds may carry a 40-pound pack with no trouble at all.
Examples of maximum backpack weights are:
200 lbs person carries 40 lbs
100 lbs person carries 20 lbs
50 lbs person carries 10 lbs
Find a properly fitting pack that you can wear comfortably for several hours. Balance, freedom of movement, support, and comfort are essential. Don't go overboard on the price of the backpack. The pack should be large enough to hold your items. It should also have padded, adjustable straps. You may never use the pack. You may only ever use it once. The best backpack on the market is not required. A reasonable quality, moderately priced backpack will suffice.
Other Key Features to Consider
There are a wide variety of features available on modern backpacks. Some features are contingent on the size of the pack. Keep these items in mind when shopping for a backpack.
Straps
Most high-quality packs will generally come standard with padded, fully adjustable shoulder straps and waist belts. The suspension properties of the pack can be altered with these adjustments. Depending on the carrier's body geometry, straps can be adjusted in various combinations to maximize support and comfort. Larger packs may also include Load Shifter straps. These straps will allow you to adjust the pack's center of gravity in relation to your body and keep the bulk of the weight positioned properly over your hips. Medium and smaller packs will have various adjustments as well, though the scope of adjustment may not be as extensive.
Frames
Medium and large packs will tend to have internal or external frames. Frames are necessary to support the greater weight of a larger pack. Smaller packs may only have a light internal frame or no frame at all. Frame structure, materials, and function will vary by pack size and manufacturer. External frames, in particular, often provide extra attachment points for carrying additional items.
Mesh or Vented Back Panel
This semi-rigid panel helps protect your back from items inside the pack. It will also help lend structural stability to the pack. A drawback of such panels is that they form a barrier against your back. Heat buildup and a sweaty back may result. Some manufacturers build in airflow channels or mesh sections to provide ventilation between your back and the panel.
Compartments and External Pockets
Every backpack has a main compartment. The number of divisions and sub-compartments within are subject to personal preference. However, most agree that external compartments are always beneficial. Anything you may need while on the move can be stored in an external compartment for easy access. The size, number, and location of those pockets can make them more or less functional. More may not be better if they are all too small.
Backpack Fabrics
Nylon and polyester are the most common fabrics for modern backpacks. Their high strength and light weight make them ideal for carrying equipment. The strength of the backpack fabric is indicated by the denier number. The higher the number, the denser and tougher the fabric. Remember, backpack fabrics may be water-resistant, but very few are waterproof. Some packs do come with a rain cover. If the pack you like does not come with a cover, be sure to add one.
Molle Attachment
Having places to attach additional items is always handy. Molle attachment points are reinforced points or straps that allow you to clip or tie items to the pack. Some packs come with molle straps, clips, or carabiners.
Backpack Examples
We have included a few examples of highly rated backpacks that are currently available. As we have discussed, there is no perfect backpack. Not every pack is right for everyone. These are examples of high-quality packs for comparison purposes.
Tactical backpack featuring 30 individual inner and outer compartments
Roomy main storage area
Hydration pocket
Padded laptop compartment
Large sunglass pouch compartment
1050D nylon
Water-resistant
Features self-repairing YKK zippers
Adjustable height sternum strap
Two external compression straps
Contour yoke shoulder strap system
Main Compartment 23″ x 13.5″ x 8.5″
Front Admin Pocket 15.5″ x 11.5″ x 2″
Hydration Pocket 21″ x 13.5″
Total Capacity 3342 cubic inch / 55 liter total
Weight: 5.5 lbs
Aluminum Stay bar
Integrated waist belt
PROS:
High-quality materials and construction
Many useful pockets
Expandability
CONS:
A little expensive
No Load Shift feature
The bag is a little heavy. 5 LBS
Highly ventilated and comfortable AirSpeed back panel with intuitive torso adjustment system
Fixed top lid with zippered pocket
Dual upper and lower side compression straps
Zippered sleeping bag compartment with floating divider
Removable sleeping pad straps
Dual mesh side pockets
Integrated removable rain cover
Zippered hip belt pockets
Capacity = 50 Liters
Bag Weight = 3.3 Pounds
Load Range = 25 – 35 Pounds
Torso Size = 14 – 19 Inches
Hip Belt Size = 27 – 49 Inches
PROS:
Easy to use and figure out.
Women-specific frame
Good torso adjustment
CONS:
No external zippered pockets
Polyester – 600D.
Imported.
Polyester lining.
YKK Zipper closure.
11.4″ shoulder drop.
Hand Wash Only.
11.4″ x 7.1″ x 35.4″.
Rain Cover Included.
2 big detachable side pockets(13.8″ x 6.3″ x 3.9″)
Padded waist belt can fit up to a 49″ waist.
Multi-position torso adjustment.
Breathable bearing system.
Suitable for men, women, and youth of different body types.
Molle webbing throughout.
5.2 pounds
PROS:
Molle attachment points
Sub-divisions within the main compartment.
Rain cover.
CONS:
Lighter-weight fabric.
Not very rugged construction.
Backpack Comments
There are several variables in selecting a backpack. Do not make the mistake of buying a cheap or generic backpack. Take the time to do research, evaluate, and even test some packs before you spend your money on something that will not do the job. Hopefully, the information we have provided will help you find the right packs for you and your family.
It is also important to be realistic about your abilities. Do not assume you can haul a 40-pound pack just because you are a guy. Better to be conservative with your load than be out on the trail and unable to go on. A well-fitting, properly packed backpack will contribute to your success.
A Comment On Items We Have Selected
The kits and items selected in this article are based on the author's experiences, research, and lifestyle. If you disagree with any or even most of these items, good. That means you are thinking critically. It takes some serious thought to create an effective escape plan and accumulate the tools to help you succeed. Don't listen to any single source of information, and don't ignore any, either. A lot of people know a lot of survival information. None of them know it all.
Be Ready
As the climate changes and society becomes more volatile, being forced from your home becomes more likely. Whether for a few days or several weeks, you can survive and thrive if you are prepared. Have the knowledge and tools to support and defend yourself and your family if the need arises.
This article is not the end-all and be-all in emergency preparedness. It is merely a starting point in a process. We hope the information we have provided will help you start the process.
We look forward to providing more preparedness information in the future.