Compact & collapsible shovels are perfect for survivalists, campers, and useful to have around the house. It's a necessary piece of survival gear.
Creating shelters, sawing lumber, self-defense – there are far more survival situations that a tool like this would be pefect for, and to get the best utility out of your survival shovel, you have to start with one of the best models on the market.
We've taken a hard look at what goes into these shovels, and found the best multi-purpose survival shovels that fit the exact needs of most survivalists.
Compared to determine material rating, durability, sharpness, carry weight, total length and more, these are the five best survival shovel units that you can add to your survival kit immediately.
Keeping price in mind, but prioritizing reliability and durability above all else, you're not going to find a more comprehensive, well-thought-out list anywhere else.
Best Survival Shovel – Reviews & Buying guide for 2022
Best Overall: Tyger Auto Shovel for Heavy Duty Use
Your survival shovel is basically an extension of your own skills, and nobody gives you the power you need ilke Tyger.
Regardless of what task you need to tackle, their heavy duty military-grade shovel is here for the task. This shovel comes with sixteen different functions, so let's cut the chatter and start taking a look at them.
As the best survival shovel on our list, you get a fire starter built right into the handle, which is also part of a whistle.
Many of these tools sit inside of the carbon steel tubing, which can be accessed by unscrewing or unfastening certain sections of this shovel to reveal them. Further down the handle, you'll find a knife/hacksaw combination tool built on the same handle.
There's a disgorger for fishing, screwdriver, miniature ice pick, wire cutter, shovel axe head, ruler, serrated saw edge, and more all built into this shovel. But how does each tool hold up to the test?
Well, two of these uses just tell you to use the shovel head as a hammer, or close most of the shovel head and lock it into place for a hook to hang off of. These two uses are pretty standard, although this isn't the most viable hammer you could bring with you.
We didn't have a chance to test the ice pick on actual ice, but based on how sharp it was, we were able to fletch a few arrow shafts with it and notice a retained sharp edge on the pick. It held up nicely.
Despite being made of carbon steel and having all those tool parts inside, this shovel remains fairly lightweight. It's not going to weigh down your pack all to much at just three pounds total.
There are plenty of positives here, although I will say that the lanyard on the end is fairly basic, and the handle itself is rough. If you remember what it felt like to leave a scooter outside and touch the sun-dried foam handle, that's what you're going to get after a few camping trips with this shovel.
It still works well and the grip is great, you'll just notice wear and tear. Tyger includes a carry bag so that you can pack up your shovel, that way you don't have to use that dangly lanyard to hang it off of your backpack.
The bag keeps everything in a nice compact 7.7" wide by 12.2" tall compartment, perfect for 40L bug out bags and beyond.
If you have the time to put this to the test, do so. Tyger is going to give you a one-year manufacturer warranty.
As long as you use it for its intended purpose, you can claim your warranty, meaning any use outside of this sixteen-in-one combination and it doesn't count. If a manufacturer defect exists (we couldn't find any), simply call their customer service and you're good to go.
Size: 10" x 6" x 2"
Material: Carbon steel
Weight: 3.0 lbs
Runner Up: Rhino USA Foldable Survival Shovel Multitool
Less expensive, but still a solid choice. Rhino USA is a direct comparison to our top pick from Tyger, although you will notice striking differences the closer you look.
Rhino USA doesn't provide as many uses for their shovel as Tyger, so before we dive into the features, let's discuss that.
The military is known to use Rhino USA shovels despite the lower number of uses. That's because while a multitool is good to have, especially in a bug out bag, most members of the military have other tools that are dedicated, and often more powerful than the smaller tools you get in a multi-tool.
That doesn't diminish what Tyger has done; this is just a reminder that we're focusing on this being a shovel above everything else.
As the second best tactical survival shovel, Rhino USA gives you the ability to turn the shovel head a particular way and make it into a wide pickaxe.
Pickaxes are often overlooked as features, but when you need it, it's there. Rhino USA's shovel is compact enough to keep one in your car at all times, which will help out if you get stuck in the sleet in the middle of winter.
As for the construction of the shovel itself, they paid excellent attention to detail. The gap from the handle to the pole is powerful; it gives you leverage thanks to the wide angle sides that come down into the pole, so you can apply pressure from multiple angles for whatever your desired result is.
It may not have 16+ uses, but the Rhino USA shovel does come with particularly good craftsmanship. Created out of powder coated carbon steel, the sharp edge will cut through just about anything.
Retaining that edge can be difficult, but you won't have to sharpen it nearly as often as an uncoated steel edge. You also have a serrated side edge to use in self-defense, or to sever tree roots while using this in the backyard during digging.
Rhino USA guarantees this shovel for life. They extend a lifetime warranty to you without going through a third-party warranty/insurance provider, so despite being sold through Amazon, you don't have to go toe-to-toe with Asurion to get a straight answer.
On top of that warranty, there's a 100% money-back guarantee, even if it's just because you don't like the shovel.
Size: 23" (max, or) 8" x 6"
Material: Carbon steel
Weight: 2.0 lbs
Alternative: Mosfiata Camping and Survival Shovel
As the best cheap portable shovel and multitool combination, Mosfiata packs in a fair few multitools in this 16-in-1 design. Created out of manganese steel, this shovel weighs just 2.5 lbs, and folds up to a nice compact size to store wherever you see fit.
So what is manganese steel?
It's known as Hadfield steel, which contains around 14% manganese in its total alloy design. The reason it's particularly good for survival shovels is because it ensures a high impact resistance. You can put so much pressure on manganese steel without it even coming close to breaking.
We know the material is good to go, but it's not just about what the shovel is made out of—its about what it can do. There's sixteen different uses in this Mosfiata camping shovel, and they all have varying levels of utility.
You have an emergency whistle, fire starter, safety hammer, bolt driver, survival knife, sawtooth edge, axe head, bottle opener, and more. There's relatively nothing that you can't do with this shovel.
The number one thing that we wondered was how they put this level of quality into such a small price, so we started doing some digging.
You cannot find a warranty for this from a credible source. It's not on the Amazon sales page, it's not on the official Mosfiata website—it doesn't have a credible way to find it. When you order this shovel, you don't get a warranty with it despite Mosfiata being a reliable, customer-oriented brand.
That being said, the shovel holds up on its own so you won't likely need a warranty, but it's always good to have something for extra measure.
Mosfiata made this with a super grippy material around the handle for those times that you need to keep your hands steady while applying pressure for leverage.
The handle and tubing are made out of a highly dense aluminum, giving you plenty of power and durability while you work through heavy lifting. One major benefit here is the rugged design, but it doesn't fold up quite as small as some of the other shovels on this list. That's a bit of a trade-off.
One of the reasons it doesn't it doesn't fold up as well is because of how thick the pole is. This isn't really a problem for usage, because we want that extra durability and guarantee that the pole isn't going to bend or break under immense pressure.
Most survival shovels already fold up extremely small, and while the Mosfiata can still fold up, it's slightly bulkier – although still super compact from an objective standpoint—than the other models on this list.
So what's the bottom line here?
Excellent performance, super hard steel, sixteen uses, but slightly bulkier storage. It's an excellent shovel: if you go with this, it may be the last survival shovel you ever need.
Size: 29.9" x 5" x 0.4"
Material: Manganese steel
Weight: 2.5 lbs
Alternative: Zune Lotoo F-A3 Tactical Military Shovel
I have to say, when we started doing this, I thought the Zune Lotoo would end up being the best survival shovel. It's a contender for sure, but this is just one of those times that show you the "You get what you pay for" motto can be wrong from time to time.
For full transparency, you should know that this is the most expensive shovel on this list, and generally speaking we should expect more performance from tools that we pay more money for.
The Zune Lotoo is an expensive, high-end folding shovel multitool that comes with a grand total of twenty-three separate multifunctional tools, which is more than we've seen across this entire list so far.
Designed for off-roading, camping, survival and more, you get access to a ton of functions. A fire starter, camping knife, bottle opener, wire saw, survival whistle, camera supporting mount, and rope – those are just some of the excellent benefits you get with this shovel.
It's difficult to find any downsides to really report to you here, because this serves such a wide purpose. Ironically, the only thing that Zune Lotoo doesn't carry out with exceptional attention to detail is the shovel itself.
It's sharp, it's durable, it holds an edge, but there isn't much room to actually use it as a shovel. Slats in the blade head let direct fall through, and the jagged design in the middle (the outlined dagger-looking portion) doesn't really hold onto dirt.
At the end of the day, it's not just a shovel, though. It's a multitool that's designed to help you survive in just about every situation imaginable.
You get a carrying case included with your purchase, as well as some of the most supportive grips that I've ever used on a shovel. With multiple ribs throughout the dual handles, you have traction at every point in the shovel.
It's expensive. If you're trying to design a survival plan on a budget, I can find a dozen things that you can do with the money you'd spend on the Zune Lotoo F-A3 shovel.
That being said, this is made of quality materials that you can't beat, so if you'd rather gain high-end gear piece-by-piece (which isn't a bad strategy at all, by the way), the F-A3 should be your first choice.
Last but not least, it would be a crying shame to not mention the lifetime warranty that Zune Lotoo offers directly as the manufacturer. No third-party warranty providers or dodgy customer support: you get direct access to them, and their customer service team has an answer to every one of your questions.
Size: 8" x 5.9"
Material: Martensitic stainless steel
Weight: 3.2 lbs
Alternative: Iunio Folding Survival Shovel
You've seen four excellent options, but now you're trying to decide on what you should seriously go with. Iunio comes in the middle of the road on price and performance, giving you the perfect budgeter option while still keeping quality in mind.
It very well could be the best shovel for digging on this list. With a razor sharp edge and plenty of power behind that lengthy handle, you're able to use every multifunctional tool to its full ability.
Some of the multitool functions include a safety hammer, axe blade, three-mode flashlight, fish scaler, screwdriver, and more.
Just like the other models we've seen, this disassembles into multiple working parts of the handle, giving you the ability to shorten your shovel to fit your needs. Either way, it folds up small and gives you a nice compact way to store your shovel.
I will say this: the grip on the handle is unreal. You're able to control so much leverage on this shovel while using it, which comes in handy when you're using it for preparing firewood, fletching, or cutting down trees with the hatchet side.
The only gripe with the multitools included is that the wire saw doesn't last too long. It's sharp, it gets the job done, but it has a short amount of uses before it outlives its purpose.
Carry weight is a big deal. When you rely on your tools, you can't exactly count them out of your bug out bag. Unfortunately, Iunio comes in at just under five pounds in total for this shovel, which is a bit on the high side compared to the Tyger and Rhino USA shovels we've seen.
With a heavier weight, you generally get longer-lasting durability, but even if Iunio wanted to make the poles slightly thinner, it wouldn't impact performance. This thing is built to last through the apocalypse and back.
If your survival tool is expected to last a lifetime, then the warranty should cover it. Iunio does just that with a lifetime warranty where they'll grant you a replacement, but there are some caveats.
You have to go through Amazon to talk to them (not direct email or phone), and they only have a 24-hour money-back guarantee, and since most of us don't have two-hour drone deliveries, it seems useless to even mention it on their part.
Size: 38.0" x 6.2" x 1.9"
Material: High carbon steel
Weight: 4.8 lbs
Survival Shovel Buying Guide and FAQ
What to Look for in a Survival Shovel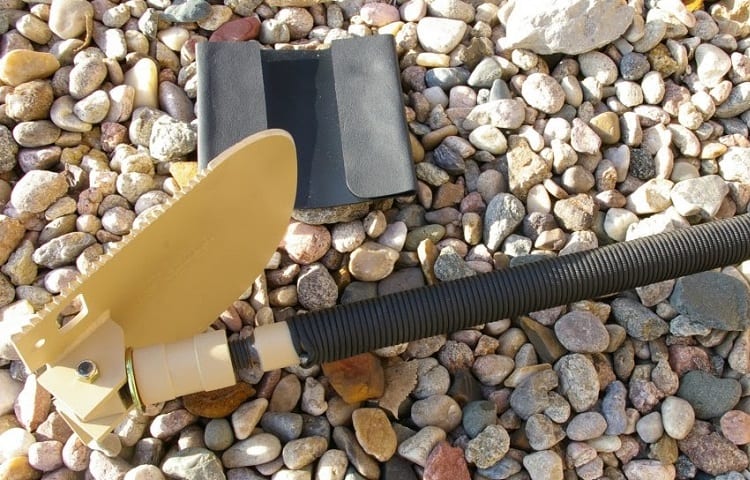 It can be for survival, or it can be the best camping shovel – either way, you're going to see some common themes in a lot of excellent shovels.
Length (Adjustable)
Most survival shovels are either designed to be stubby for weight and dimensions sake, but you will encounter some of them that are designed with telescopic shafts. You can extend the shovel length to help out with lower lumbar support, but keep it compact for travel.
One of the most common issues people face when they buy a survival shovel is having it arrive, and assuming it was going to be longer. Pay attention to the dimensions.
Material
You're going to see a lot of durable aluminum and high carbon steel. Unlike many gadgets and devices we use, this shovel is going to take a beating; it was designed for it. When you stomp this shovel blade into the ground, it goes through stress.
High carbon steel is the primary material because it retains its sharp edge and takes more wear and tear to dull. This is a common theme in a lot of survival shovels, but to be safe, always pay attention to the material before making a decision.
Multiple Uses
Survival shovels are primarily for digging (who would have thought?), but many of them come with multitools built right into the shovel blade.
Survival shovels can also come with handle pieces that screw on and store other tools inside of it. Just be sure that if you're using a survival shovel with the same utility as a multitool that you don't overpack with another multitool.
Carry Weight
Every single ounce in your bug out bag matters, and your survival shovel will likely be stored there. Even if it's hanging off the back of your backpack, you still have to account for every bit of weight.
Most survival shovels come in between two and five pounds, giving you plenty of wiggle room to decide which weight range best represents what you need for your carry weight.
Price
I'm just going to tell you right now: quality over quantity. This is a survival tool, and while you'll find a lot of different prices, you have to account for spending more if you want a specific shovel.
This isn't something you should cheap out on, so if you need to wait a while and save for a higher quality shovel, that's exactly what you should do. We chose the best of the best for this list in multiple price ranges so you can get a high-quality shovel no matter what.
What Shovel Does the Military Use?
Having the best military shovel in an objective sense is not necessarily the same as having the most-used military shovel. Sure, the military knows when they're doing when they select equipment, but it's not a ride-or-die thing.
There are hundreds of quality brands that make survival shovels that the military doesn't use, because they can only choose from so many.
If you want to check it out, the United States military favors two shovels: the NATO Entrenching Tool by Coleman, and the Rhino USA folding shovel on our top five list. While that Coleman shovel is good, it does come with a few issues here and there, so you
Can a Shovel be Used as a Weapon?
The best tactical shovel can also be the best survival weapon in the right hands. It has everything you need.
Sturdy, grippy handle for excellent dexterity and traction
Sharpened carbon steel edge that rivals saw blades
Enough weight and length to do momentous damage from range
Depending on how ingenuitive you are, this could be the ultimate self-defense weapon out there in the wilderness.
One reason that a lot of preppers idolize tactical shovels as weapons is because if you're spotted or approached while in the middle of digging a fire pit or covering your tracks, you don't have to reach for a weapon.
You already have one in your hands. You go from harmlessly digging holes to swinging a sharpened high carbon steel blade through the air.
Does that sound threatening to you?
Because it does to me. You shouldn't aim to hurt anyone with your tactical shovel unless you absolutely have to, but in the event that you encounter hostile wildlife or assailants, you have an unsuspecting weapon on-hand.
If you hang your shovel from your backpack or waist on a lanyard (they're incredibly lightweight), you're never caught off-guard.
Can Survival Shovels Fit in a Bug Out Bag?
Most of them can. The handles fold down to the plate of the shovel and bend over to keep things compact. While there's no way for you to make the plate any smaller or fold it in half (apart from a few very specialized models), you can make it as compact as possible.
Your survival shovel may come with a pouch that's designed to hang on the outside of your backpack. This will be shaped like the shovel's plate (square with an angled point in the bottom center of the bag). Fold up the shovel, stow it in here, and have this stored externally on your backpack.
If that isn't an option or the shovel you want doesn't come with a storage pouch, you can fold it up and store it inside of the backpack.
If your shovel doesn't fold up, it can be attached to the outside of your backpack. Just be careful that if it dangles off of your bag, it has some sort of cover to prevent accidents with the shovel's edge.
How to Sharpen a Shovel
Consider what your shovel is made of before you jump the gun and start sharpening it. Do you have a high carbon steel edge, or is the steel actually comprised of a high carbon steel?
A carbon coating will wear off from sharpening, and while that's not ideal, you still need to know about it so you know what to use for sharpening.
As a general rule, you can't sharpen something with an object that is softer than it. There are ways around this, such as friction and speed that assist you while sharpening, but you don't want to sharpen steel with a softer metal.
You have two main options for sharpening your shovel as far as I see it. Let's go over both of them.
Japanese Water Stone
These are traditionally used to sharpen Japanese cutlery. Does it seem like a bit of overkill for something as simple as a shovel?
Perhaps, but this is a survival tool we're talking about. These stones may be natural or artificial, but they are designed to sharpen Japanese steel (one of the hardest steels out there for blades). A water stone will help you get a nice fine edge to your shovel and keep it sharp.
There are different grades of stones that you can use which are commonly referred to as grits. The lower a grit, such as #200, the more abrasive it's going to be. You use a lower grit rating to fix chipped or majorly damaged edges.
Higher grits will be used for finishing, creating a sharper blade. For shovels, avoid grits that are too high. Japanese cutlery can be as sharp as 11°, which is something you don't want in your shovel. Don't go over #2000 grit if you can help it.
Whetstone
You read that right: a whetstone, just like the blacksmiths used to use. Modern blacksmithing is a hobby that's gotten so popular it even earned a television show, and since then, more and more people are getting into it.
That opened up the market and made whetstones more accessible and more affordable than ever before. A whetstone may be natural or synthetic. It uses foot pedal power more often than not, where you will bring the edge of your shovel against rapidly moving stone to shave off part of the edge.
Angles and Edges
You want a low angle. The lower the angle, the sharper the blade will be. You want to avoid extreme angles that would make your edge too thin, because it could snap when it meets too much resistance (usually while pulling soil out of the ground).
You can use a simple steel file, but these take time. The first time you use a file to sharpen your shovel, it could take anywhere from fifteen to thirty minutes.
You'll be able to change this as time goes on and your experience increases, but with files, there's a lot of room for error. Whetstones and waterstones take a lot of the guesswork ou of what you're doing.
Utility Beyond Compare
Tools that offer utility, but also offer versatility, are the most important tools that you can have in your bug out bag. Survival shovels rae necessary for digging out tires stuck in the mud when you're trying to drive to safety, digging fire pits, covering up your tracks, and more.
You know what it takes to make the best survival shovel on the market, and now you're able to make a sound decision on which one is the right fit for you.
Keep in mind that the military doesn't choose products on as whim; they know the value of carbon steel, they know how important a sharp shovel is. They're a good indicator of what to go with.