Camping, outdoor excursions, and last-ditch effort situations.
These are all different reasons you can use a portable stove (affectionately nicknamed a camping stove in most cases), but you and I know their real utility.
You want to have a way to cook fresh-caught food in a survival-based situation, one that tears you away from the grid and forces you to camp it out in the wilderness while civilization is on the brink.
The best portable stove is one that will help you in every situation, from staying warm in frigid environments, to keeping your family fed if you were forced to flee your home unexpectedly at the drop of a hat.
We've accounted for total carry weight, dimensions, how they'll fit in your bug out bag, and everything in between. We did the work so that you don't have to, and we'll explain the benefits, setbacks, and every little picadillo of each portable stove on this list right now.
Best Portable Stove – Reviews & Buying guide for 2022
Best Overall: Gas ONE GS-1000 Portable Butane Gas Stove
If you're looking for the best portable gas stove that packs everything possible into one little package, Gas ONE managed to do it without charging you an arm and a leg.
This little wonder essentially packs in everything you need, although there are a few trade-offs along the way.
It's the best portable camping stove because it uses such a small amount of butane while providing an impressive 7,650 BTUs of heat (which is a lot for a small single-burner stove like this).
The controls give you the ability to slide down a fuel lock for when this isn't being used (prevents leaks in bug out bags and containers), and unlock it once the line is settled and upright.
All you have to do is turn the dial on the right to the ignition setting, and you're good to go.
It's a very fast startup, which is one of the reasons that it's perfect for preppers. You're on the go: you don't have time to waste getting this thing to click to life. Gas ONE did a great job at making this responsive.
However, the electric starter has been known to go out. I would consider buying a separate electric starter and being familiar with changing one out, otherwise you might end up with a click and no flame.
Either that, or if you have a lighter handy, you won't have to rely on the electric starter.
It lasts for a while, mind you, it's just the weakest component of this portable stove. With your purchase, you get an owner's manual with some basic information, but you also get a carrying case, which comes in handy.
You don't want that burner to just be exposed to everything in your backpack, so this helps provide that barrier.
Gas ONE included an automatic shutoff feature that activates when there's an irregular flow of butane being supplied to the burner.
If the valve malfunctions, it shuts off so you don't get blasted with a huge pillar of fire rising out of your portable stove. It works quite well, but do be careful that you don't damage the fuel lines when you're switching out your butane cartridge.
You open the side and flap down the metal corner to access the interior of the stove, where you can swap out those cartridges. This locks in place when you flip it back up, it's just not perfectly designed, so you should treat it gently so the locking mechanism doesn't bend or break.
Gas ONE included these small rubber legs on the bottom of your stove, but honestly, they don't do much at all. The legs are basically flush with the bottom of the stove unit, so there's not much of a need for this extra bit of traction.
A few last-minute mentions are the powerful wind guard that help keep your flame alive, as well as the lightweight 3.1 lb overall size. For a metal portable stove, that's pretty darn good. Gas ONE wins the top spot for a lot of reasons, and the grievances are negligible for the most part.
Type: Butane, gas
Weight: 3.1 lbs
Size: 13.5" x 11.2" x 4.4"
Runner Up: MSR PocketRocket Ultralight Camping Stove
MSR nearly won the top spot for the best portable electric stove, but came in a close second instead. I want to start off by saying that this is in a different league than Gas ONE's metal portable camping stove, but comes with plenty of strengths.
This single burner butane/propane stove can hook up to the tank and screw right on top, and then use the fuel inside right away. This is the most direct fuel-to-fire portable stove on our list. That being said, you don't have a starter with this, so you have to ignite the flame yourself.
There is an alternative model available, but it jacks the price up by a sizable amount just to include a piezo-style ignition source with the unit. Honestly, if you're going for the bare minimum as it is, this is more than enough to suit your needs.
One of the most attractive aspects of this system is that it's just 2.6 oz without the case, and only 4.2 oz with the case, so you win either way.
Compare that to Gas ONE's size that's basically 11x heavier. I know they're designed differently, but every ounce counts in the wilderness, and if you can rough it with MSR then you should.
It's easy to set up and operate, which gets brownie points. One surprising feature is the three fold-out metal pegs that hold onto a soup pot or a frying pan, because they're actually quite strong all things considered.
I feel comfortable placing a steel 10" frying pan on top, although I don't know how they would fare against a cast iron skillet or something of the sort.
One serious improvement from this to the last Pocket Rocket model (which MSR did a great job with) is the wind screen protection.
The burner is separated into three separate parts, so if wind comes along in one angle and blows out two of them, the third area will reignite those put-out sections in no time. It's extremely wind resistant.
It's light, it's powerful, and that's all well and good, but it's not cheap. For what you get, it's worth it, but it's more than Gas ONE is charging for their fully metal housing and larger burner.
Keeping that in mind, the Pocket Rocket 2 can still boil a liter of water in under four minutes, which equates to about fourteen minutes for a full gallon of water.
I don't know who's making pasta out in the wilderness, but you won't need a full gallon anyway, so this suits most needs perfectly.
For the ultralight prepper who wants to keep their bug out bag compact, this is a great tool. Its trade-offs aren't bad at all, and the additional cost is worth the lowered total carry weight. It's one of the best portable butane stove models out there.
Type: Butane, propane
Weight: 4.2 oz (w/ case)
Size: 4.8" x 4.8" x 3.6"
Best for Bug Out Bag: Ohuhu Stainless Steel Camping Stove
Keen on building your own fire and making it broiling hot?
Ohuhu makes one of the most recommended, longest-lasting camping stoves out there, and it's lightweight enough to be viable for prepping. At just 14.2 oz, this has a 5.3" diameter, and allows you to pack a great amount of fuel inside for longer fires.
This is wood-burning, but it can also be used with the included alcohol plate to keep low, simmering fires going through the night (if you know how to effectively return alcohol to the plate). This multilayer system comes with a few components that make it viable in tons of scenarios.
You have six pieces, from top to bottom: bottom vents, a stove chamber, stove base plate, solidified alcohol plate, pot supporter ring, and a grill grid.
They can all be used at once if that's what you want to do, or you can leave a few components at home to make this even lighter if achieving an ultralight bug out bag is what you're all about.
Turning the bottom vents to control fire is simple, which is why this won our spot for the best wood-burning camping stove out there. You simply fill the stove chamber with kindling, light it up, and watch it burn.
The vents control the oxygen flow to either burn through your fuel quickly and make a tall, hot fire, or slower to keep things on the down-low while you rest for the night (kind of like a portable fire pit).
When it comes to cleaning, it's not too shabby. The steel retains its luster, but the problem is that sometimes the pieces can sort of get stuck together from soot. They'll be a little tricky to pull apart after an all-day burn fest if you're settling down during a rainstorm or something like that.
The pot support ring is decent, but if you don't have this perfectly level, then your pot is going to slide rather quickly. It has dulled serrated edges to try and grip the underside of your frying pan or pot, but it doesn't do the best job here.
One misconception that I just want to clear up is that the stove chamber is not an impeccable catch tray for all ashes.
Hot ashes can still fall around the edges and get underneath your Ohuhu, so you need to clear out flammable debris from the area you plan to place it on. Most people overlook this, but it's important. Ohuhu lists information about this in the manual.
There is no protection here against pitch, which is a black tar-looking sap that gets stuck to the underside of pans.
There's no filter here like a windshield, so whatever fuel you use, it could end up getting some pitch on the bottom of your pans. It would have been nice if they included something here, but it's just something we have to deal with.
Type: Wood burning, alcohol plate
Weight: 14.2 oz
Size: 5.3" x 5.3" x 5.3"
Best Portable Wood Stove: Tomshoo Foldable Wood Burning Camping Stove
Tomshoo is very similar to Ohuhu in many ways, in more than just aesthetics, but it does fall short on a few different things.
To start, it's a wood-burning stove that can also utilize the inclusive alcohol plate. If you want to bring alcohol along for the ride, it'll do well on this deep plate. It's pretty hard to spill this even if you're pouring it in over the top.
The bottom chamber for wood burning has plenty of capacity, although it's important to know that the material appears thinner than Ohuhu, so do not test how hot the fire is getting by even tapping the sides. If there's fire inside, the edges will heat up rapidly.
So what does that thinner material mean for quality?
There are a few areas that it lacks. For one, the edges where the pot mount sticks to are rigidly cut, and you can see just how thin the steel is. This section has some imperfections, and while you can use some pliers or a hammer to knock it into shape, you shouldn't have to.
Now let's talk about those pot mounts in particular, because they really knocked it out of the park here. A camping stove is useless if you can't properly hold a pot or pan above it, which is why Tomshoo made the pot mount rigid and very tactile.
It holds onto the bottom of your pots and pans with ease. On top of that, it's a single piece, and doesn't consist of separate pieces along the edge of a ring or plate.
This means it's easy to put a stainless steel pot on top of it to heat up some cowboy coffee, or a single cup of water if you need to purify it and you're a solo camper/survivalist. This has much more utility than most other camping stoves we've seen.
The weight isn't bad, but it drops the ball a bit when you look at other similar models. It's 16.6 oz, so just over a pound. This is still compact enough at just 5.4" in diameter to fit in your bug out bag with ease, or you could assemble it and hang it off your backpack to save space.
In the package, you get one alcohol tray, one BBQ grilling grate, a mesh storage sack to keep everything in, and the pieces of the stove itself. Tomshoo also offers a one-year warranty, although it's not likely you'll need it.
If you get rigid cuts on that wind screen on top that holds your pot mount, you can file it down with a dremel in about a minute, so it's not something I would bother pulling in that warranty for.
So how solid is it?
At the time of writing this, it matches Ohuhu penny-for-penny, but it's definitely the secondary option. Ohuhu is just slightly better, making Tomshoo second fiddle, but still a great choice for a camping stove.
Type: Wood burning
Weight: 1 lb
Size: 13.8" x 5.4" (assembled)
Runner Up: REDCAMP Wood Burning Camp Stove
Last but not least on the list is this nifty little box-shaped camping stove.
It comes with a decent weight of 1.9 lbs, putting it right in the middle of everything we've looked at so far, but some surprising features that put it a cut above the other dozen-or-so items I considered for this list.
It's one of the best portable survival stove models because it's built to be better. Crafted out of 430# stainless steel, this durable stove handles high heats without warping, and retains a rust-resistant finish no matter how many times you use it.
Stainless steel includes chromium to prevent rusting, and in this grade, there's plenty of it.
While you can use an alcohol burner in here if you want to, it's best suited for wood burning or coal burning. There's a large capacity in the bottom to store your fuel source, but keep in mind, this isn't designed with pot stands and all that stuff included.
It's box-shaped with a grate on top, so you can just let your pot or pan rest on the grate and intake all that heat burning below.
WIth handles on either side, it's easy to maneuver before you light the fire, but since the steel is fairly thin you will burn yourself if you try to move this after some twigs or coals are burning in the bottom.
One of the reasons this really stood out is that it folds up super small, and fits like a flat(ish) square that you can slip into the included case, and then fit it in your backpack with relative ease.
For the decent size you get (8.3" across, 5.9" deep), the weight and packaged size are pretty good. You have to consider the fact that this stores flat unlike circular components of the Ohuhu or Tomshoo.
While this product was updated, their sales page was not. They changed this from 304# stainless steel a while back, so don't be worried about that.
The only thing you have to keep in mind is that there's a plastic film on the inside of the steel plating, and if you leave that on when you go to start a fire, it's going to smell like you're burning tar. It's a pain, but go through this and remove any film you see on the metal before you use it.
Redcamp includes a one-year warranty with this, which is pretty standard, and they keep the price pretty low as well. The only grievance I have that can be really irritating is the door on the stove bottom.
The hinges need to be greased right out of the package, and if you don't place this folded-up in the carrying case, that grease will get on other items in your backpack. Just be wary of that.
Type: Wood burning, coal
Weight: 1.9 lbs
Size: 8.3" x 5.9" x 5.5" (assembled)
Portable Stove Buying Guide and FAQ
What Type of Stove is the Best in Survival Situations?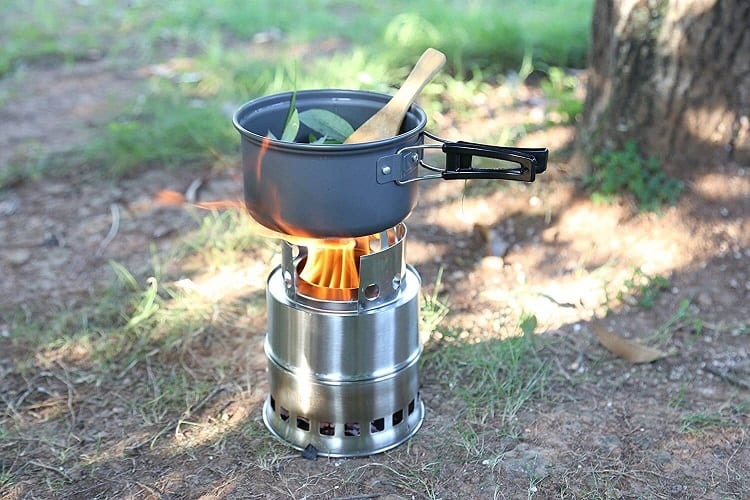 The lightest one you can carry, if you have the probable utility for it. I'm not trying to be mean here, but more people always bite off more than they can chew, and that's especially true with bug out bags.
Every ounce counts. I don't say that lightly, I mean it: every single ounce in your bug out bag, including the actual weight of the bag, is going to impact you. It's one more ounce you have to drag across tens of miles on a long trek.
The best type of stove is one that's lightweight and provides excellent utility.
The Pocket Rocket 2 on this list is one of the best because you can just fold it up and pop it in a camping mug or in an EDC pouch and call it a day, so if you're not exactly cut out to haul a huge and heavy bug out bag with you, that might be your best option.
Go light, know how to use it, and if it's something that vibes well with your survival/camping style, then go for it.
Wood vs. Gas: What Are the Pros and Cons?
That all depends on you. Do you homestead and have plenty of firewood available? Are you near a wooded area where you can use tinder for the best portable wood stove? If not, a wood-burning stove isn't exactly going to be useful.
The best portable stove for survival is situational, because a gas stove is going to be useless once you run out of gas, but a wood-burning stove is going to be useful if there's a seemingly endless supply of kindling around you. Let's break this down piece by piece.
Utility
Both are great if you can provide the fuel source. The one pro that wood-burning stoves have is that there's nature just about everywhere you go, and where there's not nature, there's newspaper, paper-based trash, and other items that you can burn in one of these stoves.
There's that level of utility. Natural gas is one of the first things that people are going to try and hoard when an endgame-type scenario happens, so you'll need to either have a stockpile of it (which can be expensive), or go with a wood stove.
As a heads up, these aren't expensive, so there's no reason that you can't have the best of both worlds.
Usability
With gas-burning stoves, you just flick on an electric starter, and the fire is going. Voila. That serves excellent utility because it gives you time, which is of the essence when you're in a SHTF situation, especially if you're backpacking away from harm and danger.
It's fast, it packs up fast, and you don't have to worry about black smoke rising from your wood-burning stove, or letting the metal cool down to be able to clean it out and store it. Gas-burning portable stoves serve a faster, more agile function.
Ease of Use
Some people struggle to get a fire going. If you didn't bring matches, and you don't know much about friction being used to build a fire, a wood burning stove is going to be a nightmare for you.
Not all of us have the time to learn to build a primitive fire before disaster could strike, so a gas stove definitely takes away that skill ceiling and ensures a more productive and time-conserving time when we need to cook.
Is it Safe to Use Wood or Gas Portable Stoves Indoors?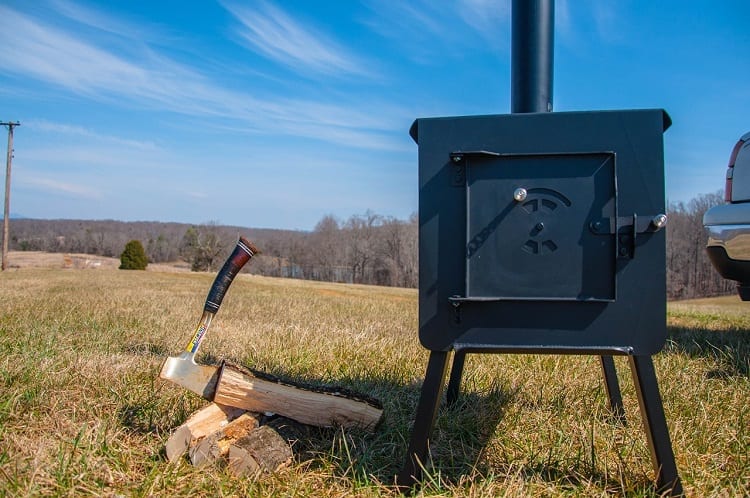 Most portable stoves will tell you to not use them indoors. Even the best electric portable stove, one that is arguably like a stovetop griddle, will tell you not to cook indoors. There's a worry about smoke inhalation, especially when it's wood-burning.
With butane/gas stoves, there's a fear of inhaling extra fumes. These aren't made with the precision of a chef's six-burner gas range; they're just trying to get you through and cook your food for you.
As a result, wind barriers and burners aren't made to be used in enclosed spaces. You could end up inhaling fumes or accidentally turning the burner up too high and causing something to catch on fire.
Apart from a fireplace, I don't know many instances where people are burning wood inside, except for wood-burning stoves used in New England homes during blackouts in the winter.
It's best to keep them to outside use only.
Are Portable Electric Stoves an Option for Survival?
Not particularly. If you're talking about survival, and I mean true survival out in the wilderness, what utility is an electric stove going to provide?
They use up so many watts that you would have to hook up a portable generator to run one, or a mess of 5W solar panels to an inverter and a power bank. It sounds like a mess and I'm just typing about it.
In a survival situation, you want something lightweight, easy to use, and quick to cook.
Electric units have interior inverters that turn 110V currents into usable electricity as it disperses it to coils within the electric stove, and that takes a while to heat up. The metal coils are heavy. No matter what way you look at it, it's just not a good idea.
The reason that you've only seen gas-burning, wood-burning, or alcohol-burning stoves on this list are because they're useful, quick, and truly portable.
Nothing on this list is above 3.1 lbs. You don't want to be lugging around a heavy, bulky electric camping stove with you and take up all that valuable bug out bag room.
How to Cook on a Portable Stove
First, identify your fuel source. Is it butane/gas, or is it wood/coal-burning?
Ensure your butane is full, or your stove chamber is about ⅔ full of your fuel source.
Use an ignition source. This could be an electric starter, which is what a butane burner is going to use, or you might need matches, a lighter, or friction to start a wood-burning stove's fuel source.
Once the fire is going, use either the burner knob to control the height of the flame (and how quickly you burn through your fuel supply), or use the vents on the bottom of your wood-burning stove to control oxygen intake.
The more oxygen that gets in, the faster you will burn through your wood, but the hotter your flames will be.
Keep an eye on your fuel source the entire time you're cooking. For butane, you want to get by with using as little as possible while still effectively cooking, since butane canisters are a very finite resource during survival situations.
Have extra kindling nearby for a wood-burning stove as well. You don't want to take too much time gathering it and leaving a trace behind if you're on the move, but you still want a small amount nearby in case you need to feed the flames.
Portable Cooking, Survival on the Move
You know what it takes to survive, now you just need a portable stove that's going to help you put that knowledge to good use.
We took a look at everything from seemingly innocuous specifications to practical applications and more, and now you know everything important about portable stoves.
To ready yourself (and your family) for the ultimate survival situation, you have to think of every step along the way.
Made-for-you, pre-packaged foods are only going to cut it for so long. When you have to live off the land and keep moving at the same time, these portable stoves will pay for themselves.