Everyday carry!
It's a concept that most people don't even think about, even in smaller situations. If you had a flashlight on hand, the power going out wouldn't be that scary. If you had a pry tool, locking your keys in the car wouldn't be the end of the world.
Most people are not prepared for simple, everyday situations that could easily be avoided, but most of them are seriously not prepared for endgame-style scenarios. SHTF problems.
These EDC bags for men are designed to carry everyday essential items, ones that help you in just about every niche situation. What you decide to actually carry is entirely up to you, but if you don't have a durable bag that's compact enough to fit in small spaces, it's not going to matter.
We've looked at the best materials, designs, and all the little details in between on all these EDC bags. It's time to take a pick, and consistently carry useful tools and items on you from here on out.
Best EDC Bags – Reviews & Buying guide for 2022
Best Overall: OZUKO Anti-Theft Sling Backpack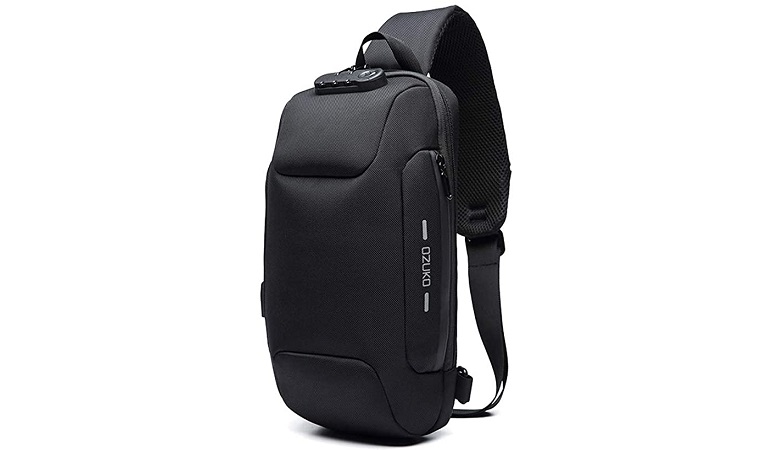 Ever heard of OZUKO before?
Many of us haven't, but after hearing about this bag, you won't be able to forget them. OZUKO designed this to be multi versatile.
You're not going to find standard prepper patterns, colors, or an abundance of pockets, but that's exactly why these work wonders for EDC use: they're completely unsuspecting.
For our lineup of EDC bags small to medium size, OZUKO fits the bill. Starting with the materials, you get a polyester lining to help cradle anything and everything that you put into it, as well as a somewhat rugged woven exterior.
This isn't designed to withstand knife from piercing through, but it will hold up nicely to everyday bumps and abrasions.
Moving on to the strap, you get a single sling-style strap on the back, which has a more than generous shoulder pad. The padding runs through about half of the strap before it narrows to your basic nylon backpack strap and connects to the bottom of the bag.
I can't overestimate the strap comfort, especially since this bag isn't going to be very heavy (even at full capacity), so they really put an emphasis on comfort. As an added note, the bottom nylon strap can be flipped to either side depending on your carry preference.
Empty, this bag weighs a staggering 0.6 pounds. Crazy, right?
It feels lighter than a pillow in your hands (because it is), and you'll be able to move it around with ease.
Many of us like to have electronics in our EDC bags or pouches, so you'll be pleased to know that OZUKO makes the main compartment compatible with a 9.7" or smaller tablet, such as an iPad or Microsoft Surface.
No full-size laptop storage here, but then again, we're not looking at collegiate backpacks or anything like that.
If you need to charge your phone or smart watch while you're on the go, there's a USB charging dock attached to the backpack itself, which comes in handy more often than you'd think.
The reason that we chose this as the number one EDC bag isn't just the size and comfort, but the fact that it comes with a three-part combination lock to enter the main compartment at the top.
This is a major boost in security, especially when you're stuck in public and don't want people with prying eyes to look at what you have.
It's inexpensive, it has that high-density oxford fabric exterior, it's fitted with the perfect amount of storage for EDC. Bottom line: it's enough, not too much, and for that OZUKO takes the top spot on this list.
Type: Sling bag
Size: 6.7" x 3.2" x 13.4"
Weight: 0.6 lbs
Runner Up: Helikon-Tex EDC Sling Backpack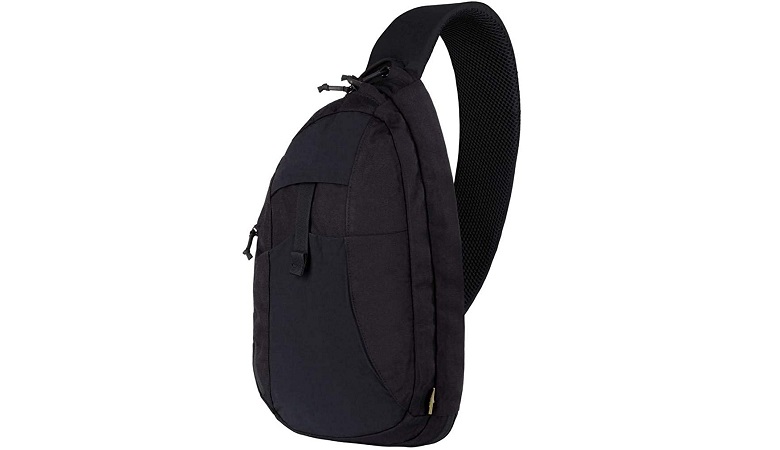 Next for our top EDC bags, Helikon-Tex comes in with this similar design, albeit it with a few trade-offs compared to OZUKO.
You still have a sling-style straps, and if they've learned anything from their competitors, it wasn't versatility. You cannot swap the bottom half of the strap to another size, so let's hope you enjoy the sling being on one side.
That being said, the padding on the strap runs nearly the entire length of this thing, and the strap itself even has a small zippered pocket.
You could use this for train fare cards or tickets, or keep your debit card handy if you're going somewhere that you're expecting to make a purchase or payment. All in all, it works pretty well. The only issue is that the strap padding does lessen the further you go down.
Based on the way the strap is designed, you can flip this in another direction have an under-the-arm satchel if you wish, but it's not the most comfortable.
Moving on from the strap, you have durable zippers, a minimalist carry loop on the top (warning: low clearance), as well as a pull loop to secure your bag shut. Overall, it works pretty well for just about everything.
When you open it up, you'll find a comfortable and soft material on the inside. This can be used to hold onto pistols and/or knives, as the marketing materials suggests, but the interior is anti-static which allows you to store a phone and maybe a tablet inside.
There's no clear specification for how big of a tablet you could fit, so that's up to your discretion.
The back has excellent breathability. You can wear an EDC bag for too long and then it feels like there's a puddle near your shoulders, but I have to say that Helikon-Tex really made this comfortable to wear for extended periods of time. It's not perfect, but there's clearly a lot of ventilation in the back.
Last but not least, you should know that regardless of which of their five colors you choose (which happen to be very nice colors), you're paying the same price.
It's good that there's no disparity based on design, but you could get two OZUKO bags for this price, and still have enough money to get Starbucks three days in a row. It's durable, it'll hold up, but it is more costly.
Type: Sling bag
Size: 6.5L
Weight: 1.1 lbs
Best EDC Small Bag: OneTigris Tactical Molle EDC Pouch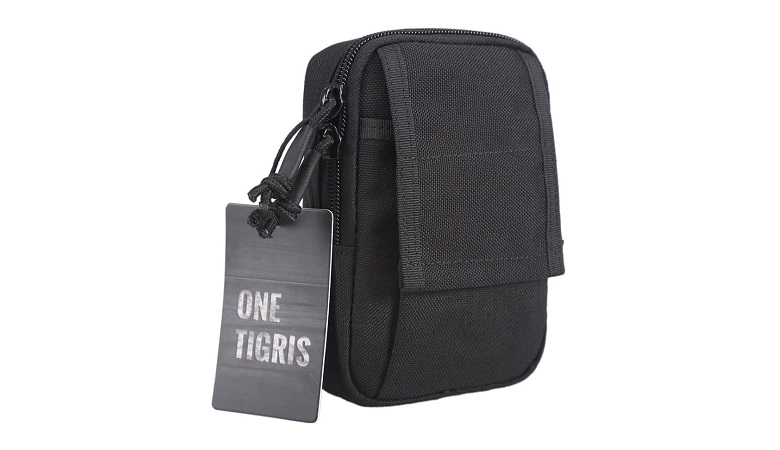 In terms of small EDC bags, OneTigris knocked this out of the park. They really went compact and made this for the type of guy with multiple EDC types, so long as the items are fairly small or medium-sized.
To kick it off, you get a highly durable 1000D nylon exterior, which feels rough and stiff at first, but it still has enough bendability to not be uncomfortable when it's on your side.
You're built tough, and you're going to be doing a lot of prepping (not to mention your daily activities like work), which is what OneTigris was meant to handle.
To capitalize on that durability, you get excellently rough and rigid zippers that make everything feel really well put together.
There's also a MOLLE strap system on the back of the bag, allowing you to hook it onto your belt easily. The weirdest thing here is that it's actually almost twice the weight of our OZUKO bag that we reviewed earlier.
Yes, 1000D nylon is tough and durable, but you really do feel this weigh down on your belt. Even if you just look at the photos they display in the marketing material, you can see the poor guy's belt coming down just a wee bit.
You can fit an iPhone in here up to the series 8, and with the way that Apple advances, I don't know how useful that's going to be. At the least, you could find a similarly-sized emergency radio and bring that with you depending on where you're going.
It's durable, it's designed to last, nd it's not ridiculously expensive.
OneTigris has a track record of providing fantastic bags with little to no issues, and their customer support is also extremely helpful. This isn't an EDC pack to protect you from the apocalypse, but it will allow you to have quintessential items within arms' reach at all times.
Type: Molle bag
Size: 3.7" x 2.2" x 6.3"
Weight: 11.2 oz
Best CCW EDC Bag: TRU-SPEC Trek Sling Backpack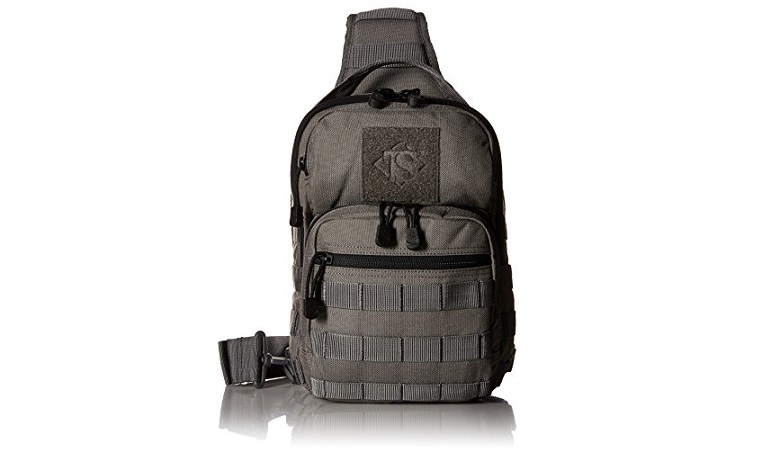 You can't talk about the top EDC sling bags without bringing TRU-SPEC into the mix. Not only do they conjure up some seriously fashionable bags, but they make them ultra functional as well.
TRU-SPEC borders between most of the other prices you see on this list, so it's a great middle-of-the-road option if budgeting is an issue, but you're not quite ready to sacrifice storage and carrying capacity just yet.
Starting on the strap, you have a thick pad that extends from the bag itself, giving you all that fortified surface space where extra stitches keep the strap in place.
The number one thing to go on any backpack is the strap, which is why TRU-SPEC took care of that little issue. The strap narrows where it crosses your shoulder, then widens again for chest support.
From there, eventually narrows into a standard nylon strap, which can be adjusted to either side.
Built out of 100% nylon, this bag is admittedly less durable than the others we've reviewed, yet it holds on for years without issues. The interior is also lined with nylon, except this one is a bit softer to help cradle semi-fragile objects you might be carrying around.
Where's the trade-off?
Well, the shoulder drop caps out at 24", and for some of us that's not just enough. The 1.3 lb empty weight isn't bad, but when you compare it to some of the bags we've seen so far, it's not exactly keeping up either.
Now, depending on how you like to rock your EDC, there is a special feature here. There are three different compartments designed to hold a standard issue 9mm pistol, as well as some sections that include magazine holsters.
This isn't the focal point behind getting this bag, but it's a nice added touch. If you don't want to let those around you know that you're packing (provided you have CC licensing), this will help you out.
When it comes time to wash this bag, it's hand wash only. Do not throw this in the dryer or you'll ruin it to bits and pieces. This pack can be arranged to go around your back like a huge fanny pack if you wish, but it's primarily useful as a sling bag.
Overall, it gets the job done and accommodates concealed carry folk, making it a much more viable option than some of the other bags we've seen so far depending on your preferences. It's the top EDC bags pistol carriers need.
Type: Sling bag
Size: 11L
Weight: 1.3 lbs
Runner Up: Maxpedition Fatboy Versipack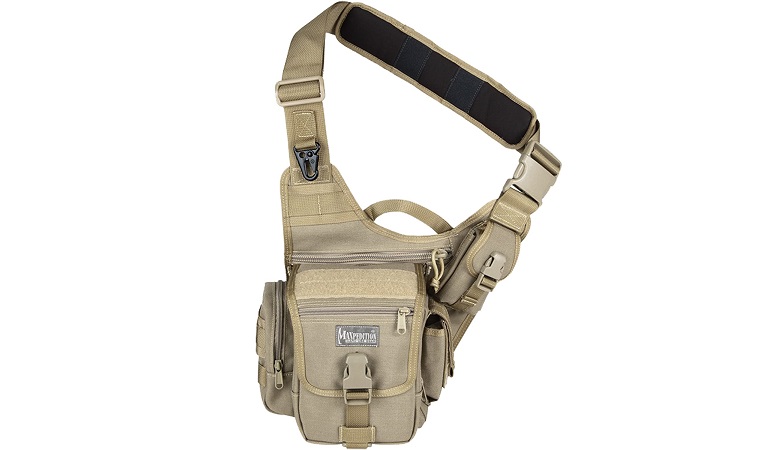 We've gone over the top 5 small EDC bags, and it's brought us here: the Maxpedition Fatboy pack.
These bags come finished with a triple layer coating of polyurethane across the top of every piece of fabric to give you a nice waterproof finish. There's even a layer of teflon on top to help repel dirt and bugs from entering your bag through the material.
That's a pretty high note to start on, but keep in mind that those coatings don't last forever. After enough trips out of the house and in direct sunlight, you may have to apply another coating yourself.
It should last for about two to three years out of the package, though, so if it runs its course by then that's okay.
Crafted out of a durable military-grade nylon, the Maxpedition Fatboy pack has a 1000 denier rating, and reinforced stress points that are designed to take all the worry out of using these bags. YKK zippers also help keep this fortified and assist in keeping the elements out like we talked about earlier.
Now for the pain points, because you knew there were going to be some: the strap isn't a winner.
It's better than the others that we reviewed for the fifth spot on our list, but we've seen some pretty fantastic straps today across a lot of these bags, and the Maxpedition Fatboy pack just doesn't hit the same highs.
t's comfortable enough, and provides you with sturdy coverage at the time time, but it cuts down on comfort.
It should also be noted that this is technically the heaviest bag on our list, coming in at 1.5 pounds while being empty. Every ounce of carry weight counts, so consider that before you finalize your decision.
Available in khaki and black, the Maxpedition Fatboy is a mid-range bag that has multiple pockets, but hits the high end of the price point. Not the best, not the worst you could get.
Type: Sling bag
Size: 14" x 6" x 14"
Weight: 1.5 lbs
Best EDC Bag Buying Guide and FAQ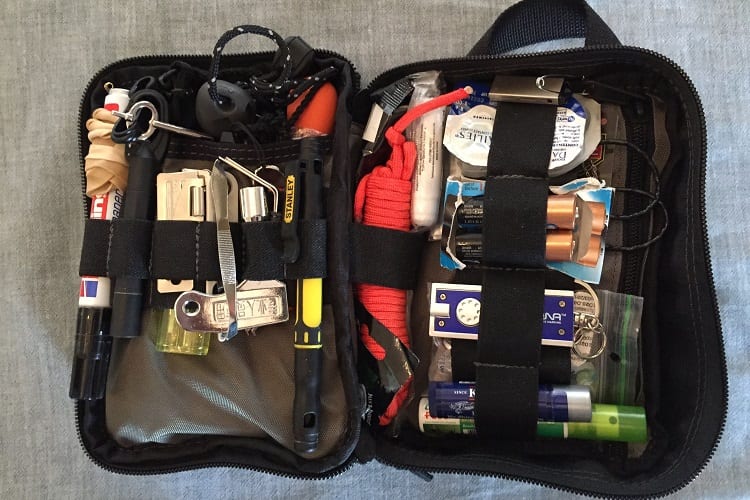 Often referred to as a minimalist EDC bag, these bags are designed to be small and ultralight. This isn't a full-sized backpack, it's not a bug out bag: it's a bag that's large enough to carry essentials that you could see yourself using every single day.
Typically, these bags are under about 2.5 lbs, and often come with sling-style harnesses instead of a dual strap design. They may also be small enough to simply hang over one shoulder, or have no straps at all and fit in the back of your car's seat in the netting.
It's EDC for everyday carry, but honestly, a lot of people will treat these like light versions of bug out bags and keep them in their car. Under the driver's seat or in the back/trunk area all great spots, especially
What Should You Put in an EDC Bag?
Every EDC bag should include a list of essentials (when you're using it for prepping, at least).
EDC bags can differ, so some men will have a tech EDC bag if they work in tech, or a grooming EDC bag (different from a dopp kit or toiletry bag). In our context, we want a survival EDC bag, and this is what it should include.
Flashlight: It's easy to undervalue visibility in SHTF situations. A powerful flashlight to light up your path (without drawing attention) will be invaluable.
Knife: A pocket knife, a Swiss Army Knife, a tactical blade – whatever you want it to be. The tricky part here is that travelling with fixed blades can run into legal issues, so be sure that you know tour local laws before you start carrying a knife around.
Pen: Seriously. Tactical pens can be used for self-defense, but they're also pens, and you never know when you're going to need one. If you need to map out a way to get back to temporary shelter in the middle of nowhere, that pen will come in handy.
Emergency Communication: A small radio or cell phone would work here. This should be on you at all times, but especially in SHTF situations when you need to check in on others.
Compass: Compasses can be extremely compact these days, which fees up other space in your EDC bags for important gear.
Mechanical Watch: Your other party members should have these as well. You need to be able to sync up watches to meet back at certain areas at specific times. This applies to bugging out more than it does hunkering down.
Personal Water FIltration System: Personal is in designed for one person. You can't very well fit a four-gallon gravity-fed system in a small pouch, but in the event that it's just you that gets stranded, a personal water filter will protect you from protozoa and harmful waterborne illnesses.
Is There Any Specific Gear Designed for EDC Bags?
Yes, there absolutely is. Whether it's the best CCW EDC bags or simple one-pouch EDC bags, you have space to fill and compact tools designed for it.
General Multitool
These can be simple rectangular sheets of steel with multiple cut-outs and shapes to them. They look simpel at first, but what they actually do is provide you with a series of different tools to use in various situations.
Some of these sheet-style multitools can have sixteen different uses. These take up little to no room. I can't imagine not having the space available for one of these in your bag.
Swiss Army Knife
This was perhaps the first innovation of EDC as we know it. A Swiss Army Knife gives you steel tools like blades, screwdrivers, bottle openers, and sometimes even firestarters in the handle or built into the rotating slide of tools.
You can find multiple Swiss Army Knives that have different multitools apart from the blade, and they're all useful depending on the situation.
Tactical Flashlight
The more functions that you can jam into a single tool, the more EDC-friendly it is.
Tactical flashlights are shining examples of what you're able to do with a single, simple tool by altering a few of its parts. Breaking pommels to shatter glass, hilt storage, bottle openers, seatbelt cutters – there's a lot you can jam into a tactical flashlight.
Apart from that, they have multiple modes so you don't need a separate self-defense flashlight. SOS modes and temporary blinding modes are extremely useful once you know how to use your tactical flashlight.
Pliers
Similar to the Swiss Army Knife, a quality set of pliers (most notably from Gerber and SOG) can include over a dozen uses tucked away inside of the handles.
With multiple ways to contort the tool to work for you, it's not just a pair of pliers; it's a small toolbox in a compact handle that give you access to utility you otherwise wouldn't have.
Keychain Tools
You might be thinking that this belongs on your keychain, but I would beg to differ.
Some keychain tools are incredibly sharp and do better off in your EDC bag. Designed to be miniature self-defense items, bottle openers, and pry tools, a keychain tool can do some serious damage in the right hands.
Should I Carry the Bag Every Day?
Yes, the point in EDC is right in the name: everyday carry. You should absolutely have this on you at all times, or at least as often as you possibly can.
There are some instances where you wouldn't want to bring your EDC, such as to your sister's baby shower or something along those lines.
But public places?
You should have your EDC on you as long as you have the ability to carry a concealed weapon (more on that later). EDC is meant to help you in the moment, and sometimes that means SHTF while you're doing something, and your tools help get you out.
When you look at our list of items you should carry in an EDC bag, you can imagine dozens of scenarios right off the top of your head where those items would be useful.
You never know what's around the corner, and while that's a scary thought, having EDC will be an excellent way to prepare for that. We cannot control events, we can only control our reactions to them. Being prepared is that reaction.
What Type of Permit do I Need for CCW?
To conceal a carried weapon, which is what CCW stands for, allows you to carry a concealed weapon – weapons can be anything, mind you.
This means that if you have a self-defense weapon of some sort, as long as it's nothing ridiculous like a katana or something, you should have the legal right to keep it and use it when it's absolutely necessary.
Some permits will have a special place that allow you to carry serrated knives or something of the sort, but these are very specific, and always under scrutiny by the police. If you're going to get a permit, make sure you have a copy on you and that everything you have is legal.
You need a CCW permit, which might go under slightly different names depending on what state you're in.
You can go to any city or town hall or police building, and ask them for information. This is the most up-to-date info since government bodies aren't exactly updating their websites all that often.
Do I Need Different Permits for Concealed Carry Knives vs. Pistols?
This is a state-by-state issue. And while I wish they would have a universal law, you're basically at the mercy of whatever area you are in or travelling to. If you aren't familiar with the local laws ,they're likely to bite you in the butt.
Some states and municipalities have strict rules on knife blades being 2.5 inches or shorter, and for survival, that's just not a viable knife.
Half the fight is intimidation, and all that 2.5 incher is going to do is make someone else feel more confident if they're trying to attack you or get something from you. It's a completely reverse situation.
Knife laws are dumb. I'll just say that now, because my geographical location in the same country should not dictate this choice, at least not by the ridiculous parameters that they currently do.
Some states do offer concealed weapon laws, which do include knives instead of just pistols. Then again, some states have permits or licenses that specifically talk about pistols and nothing else.
In no way is a knife more dangerous than a gun, in any objective manner, unless you have malicious intent and the element of surprise. The way that things are currently structured should change, but don't hold your breath.
You do need different permits for different states, so if you plan on travelling between them, see what you can do even as a nonresident to be able to acquire them.
How Long Do Nylon EDC Bags Last?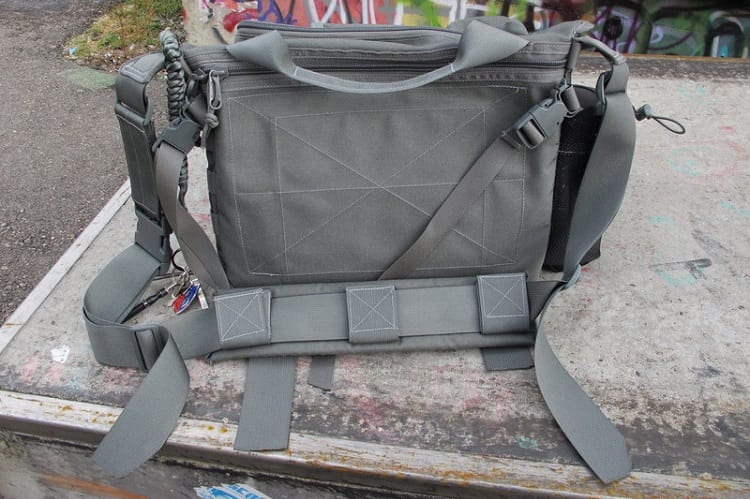 Nylon is a seriously tough material. You can expect a nylon EDC bag to last you for years if you care for it properly. The big contributing factor here isn't just how you use it, but what denier rating it comes in.
When you see an 800D or 1000D nylon bag, the "D" stands for denier, which is a method of measuring how tightly woven the materials are together. The higher the denier count, the stiffer and rougher the nylon will be, but the longer it will last.
You can still make do with lower denier count, you'll just have a slightly easier time puncturing the bag by mistake than you would with a higher denier count.
A nylon EDC bag could last you more than twenty years as long as it's cleaned properly, not subjected to humidity, and there's no obvious and severe damages.
Being an EDC Master
Being a master of everyday carry is taking that prepper mentality that I know you have, and extending it further into the world than just being prepared for natural disasters. You enjoy being prepared; you want to be useful in every single situation.
It's important to be useful. In this instance, you want to be prepared for everything, and you can have utility in every situation with multiple EDC pouches that are designed for different situations.
Have one that you take on your way to work, one that you have with you during out-of-town trips; be prepared no matter what the case is, and plan ahead accordingly with these EDC bags.
---