An EMP could hit, the grid could fail, and an attack could spawn on our own soil – the world is a scary place.
I'm not trying to fill you with dread, I'm just trying to be a realist and assume that anything is possible (because it is). I'm trying to keep you prepared, and hope that you'll never actually need to use your emergency preparedness gear.
The one quintessential piece of gear that you need in every emergency provisions kit, every bug out bag and beyond, is a survival radio communication system.
The best survival radio communications systems will allow you to detect radio signals from dozens of miles away, communicate with other members of your party if you need to split it, and do recon in certain areas before actually bringing your family along for the ride.
Scout out ahead, report over the radio, and ensure everyone's safety, all while receiving important NOAA and emergency broadcast messages.
We've taken a look at the top radios on the market, dug our way through countless products, and brought you this list to choose from.
Best Survival Radio Communications Systems – Reviews & Buying guide for 2022
Best Overall: Midland GMRS Two-Way Walkie Talkie Radio Pair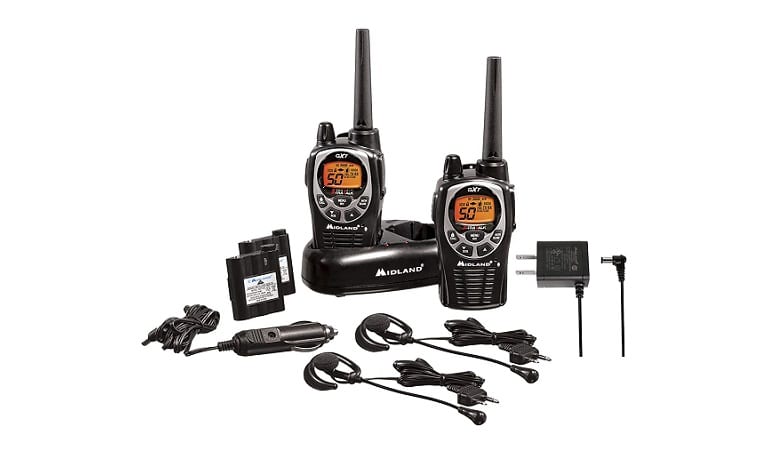 Right out of the gate, Midland really hit the nail on the head in just about every department. Nothing is perfect, but Midland comes close. This two-way portable radio communications system comes with a light-up orange LED screen, and it does that for a reason.
When you're looking at a bright green screen – which we often see with walkie talkies that are designed to be used at night – it can be difficult to see what you're doing in the daylight.
With this orange hue, it's bright even when the sun is peeking over the horizon. They thought of everything.
In your package, you'll get a close earpiece that can't be heard from the outside, so you'll be the only one receiving information. In a SHTF situation, you don't want your radio chatter to be audible to anyone nearby, especially if you're uncertain as to what you're walking into.
Your batteries last for a long time, and come with a charging dock for you to place the fully pieced-together walkie talkies into to charge them. The only thing is that it's really easy to drain the battery if you aren't careful.
If you use optimal settings, you can get about 11 hours of continuous use out of these. There's an included car charger as well, although there's no clear set amount of time for how long this will take to charge one individual walkie talkie.
On the radios themselves, you have a menu scan button, monitor scan button, call/lock button, as well as PTT and SOS buttons. You know a cheap radio when you pick it up, and thankfully, the antenna on each of these are high quality.
The plastic is heavy, it's durable, but the screens are fairly fragile. I don't recommend intentionally dropping your radio on the ground, but if you do it by mistake, you have to know that you're going to still have a readable screen at the end.
One of the most impressive things about this radio set is that you get an insane thirty-six mile range on these bad boys. However, I want to point out that this range is from one radio communicating with the other, so each individual radio technically has an eighteen mile range.
Still, that's more than you get with a lot of radios. There's enough power here to cut out chatter and static in less-than-ideal conditions and terrains at shorter distances as well.
My only other complaint here, and it's a small one, is that the belt clip on the back is pretty basic.
It doesn't hold on for too long, so if you're going to rely on that clip to stick to your backpack or your belt, be careful and test its resistance. Altogether, for a low-cost radio set, it sticks the landing.
Type: Two-way radio
Strength: 36-mile range
Size: 7.9" x 2.4" x 1.5"
Battery Time: Almost 11 hours
Runner Up: Dewalt Two-Watt Heavy Duty Walkie Talkies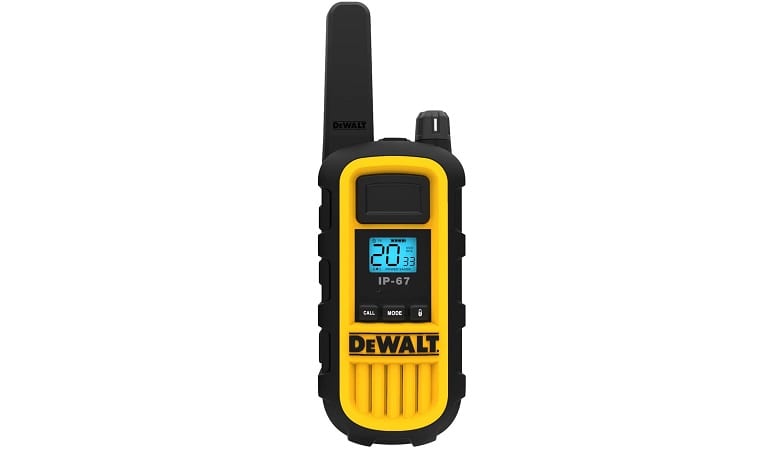 Next in line for the throne is the Dewalt two-way walkie talkie radio. We all know Dewalt, most of us have dewalt tools in our sheds and garages right now, and we know they're a trustworthy brand. They really did something spectacular with these radios.
As one of the best two way radio systems we've seen, it comes with an immense 300,000 square foot range from receiver to receiver. That's an excellent range especially when you're trying to relay information back to your homestead or something along those lines.
To get that range, you only need to use two watts of power, which is pretty decent.
The battery life lasts for twelve hours near mid to high settings, meaning if you use this smart, a battery can last you for a few days if you're only intending to send comms one way and not be on the line to hear others.
Choose from 22 preset channels that Dewalt installed, or explore and find a staggering 2,662 channel combinations, giving you secure and private two-way signals without interference.
While it's still possible to hit one of those frequencies and find someone else on it, the odds are in your favor. It's highly unlikely that your line will be insecure.
The communications are good, but it's also about the build. Dewalt created these with shock resistant cases, allowing you to drop this up to two meters or about six feet, and it should stay intact and operable after the fact.
It doesn't sound like a long distance, but how often are you actually going to drop this? And from what height?
They went further than that. It's also waterproof and dustproof with an IP67 rating. I say waterproof, but it's important to know the IP and IPX ratings. There's a lot of disparity, and while IP67 is agreeable, it's not going to protect against submersion.
If you drop this in a lake or a pot of water by complete accident, it's likely to be completely destroyed. Rain and falling into a little bit of water on a picnic table or on the ground?
You're good to go.
If you click or tap on the sales page, you'll see that it's rated for up to thirty minutes of immersion in one meter or three feet of water, but it's just not that powerful when you really put it to the test.
Dewalt offers a limited time warranty as well, but it's only through verified sellers, so if you get it from anywhere else you're not going to get any warranty at all.
These are built tough and designed to last for a long time, so while I don't even think you'll need to call on that warranty anytime soon, it's still important to have this information.
It's long-range, it's water resistant as best, and it works well with a long battery life. Lastly, they designed the case with an anti-slip design.
Rubber pegs sit all around the edge like a tire, giving you plenty of traction points to grip with your hand. The only way you're going to drop this is if you release your grip entirely.
Type: Two-way radio
Strength: Up to 300,000 square ft
Size: 2.2" x 2.6" x 7.3"
Battery Time: 12 hours
Alternative: Motorola Talkabout Rechargeable Two-Way Radio
Motorola is another brand that's been making walkie talkies and emergency radio communications. You have two models to pick from, the T465, and the T460. We chose the T465 for review for a few extra features.
Motorola makes one of the best survival radios out there with an extensive 35-mile range from your starting point.
That gives you fantasti range if you have two sets of these on the same frequencies. From end-to-end on four radios, that's 105 miles of comms. If you're part of a large family and you have a homestead, these are the go-to radios.
Motorola keeps things rather cheap as well, and considering what you get, that's a big bonus. They're usually on sale and come in at a cheaper price point than Dewalt does on average.
Apart from the killer range, you get up to 8.5 hours worth of battery life. If you're on foot, you might not make it that 35 miles before the battery gives out, but for motorized transportation this gives you a great deal of range before the battery wanes.
If you turn down the maximum range setting, it takes less energy as well, so you can extend that battery life.
The physical radios themselves are built sturdily enough, and have a mildly shockproof chassis. I would have ranked this higher, but it's not quite as shock resistant as Dewalt was.
The only major flaw with the physical radio itself is the lack of grip on the sides. You can purchase rubber sleeves to put these in, but that extends the price and makes it match other radios that do offer better grips built into the case.
You have the option of choosing between 22 different channels and utilizing privacy codes, so that even if you're on the same frequency as someone else, it will be transmitted differently, keeping you nice and secure the entire time.
In total, there's 2,662 channel combinations, just like Dewalt offers.
Included in your purchase, you get a small case with two sets of earpieces. These come with the 3.5mm jack plugin, individual earbuds, and a microphone on the wire so you can be tactical in every step while staying on the line with someone.
When it comes to the warranty, it's a little disappointing. Motorola doesn't really sell their own products directly to people, so instead, you end up with a third-party provider in this case. The warranty is only for one year from the time you purchase it, not the time you receive it or register it.
It isn't all-too extensive, but if you've ever owned anything by Motorola in the past, you know that they're built tough, so hopefully you won't have to call upon the warranty in the first place.
Type: Two-way radio
Strength: 35 miles
Size: 1.4" x 2.3" x 7.6"
Battery Time: 8.5 hours
Best Portable Ham Radio: BaoFeng Dual Band HAM Radio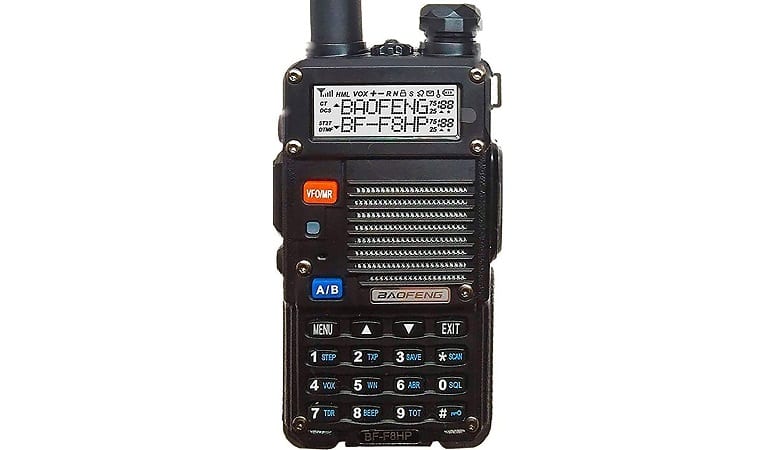 BaoFeng makes this fantastic HAM radio and while it's not the best survival two way radio it does come with plenty of utility to really earn its spot on this list.
Now, I will say this: BaoFeng didn't make this radio for aesthetic points. Not one bit.
You can see that the screen looks like it came from the 90s, and it's not the most visible thing out there. That being said, there is plenty of backlight, so it's not like the information being displayed is going to be invisible or impossible to read.
You have two options here from VHF to UHF, so you can opt for longer ranges on shortwave radios if you don't have a sea of obstacles in your way.
These give you great ranges from 136MHz to 174MHz for WHF, and 400MHz up to 520MHz with UHF. Overall, that's a lot of channels you'll get to toy with and find the perfect frequency for your use.
HAM radios are notoriously expensive, but these costs are coming down over the years. BaoFeng has produced this radio with an attractive price, but they don't compromise on quality or leave anything out.
This comes as a kit and includes the battery, as well as an extended antenna, power brick, dock charger, and an earpiece with an adjustable microphone. When you rope all of that into the price, it's a bit unreal.
The battery is included, but it's also not the most powerful. When you have something that can use a UHF signal, that power boost can seriously drain the heck out of your battery.
BaoFeng gives you a 2100mAh battery, which is an improvement over their previous 1800mAh battery that you used to find in their older models.
What does this mean? It means you'd better be ready to shut this off when you're done using it, or you'll burn through the battery.
I would only recommend this for long-term use when you have some sort of a power supply to hook it up to, even if that's a simple portable charger.
In terms of the physical radio, it's absolutely built to last. It's like holding an electronic brick in your hands, and considering the situations we can get ourselves into when SHTF, it's just good to have this type of durability handy.
The exterior of your dual band radio has enough traction points that it shouldn't slip out of your hand during operation.
Utilize the power settings to ensure you're not killing that battery too fast.
You have three settings: low, medium, and high, and each of those will dictate the frequencies you can reach, so be sure to read the manual that comes with your radio and understand how to use each setting.
This kicks up to a crazy eight watts, which is where all that battery drainage comes in.
It's also worth noting that BaoFeng has a pretty good line of customer support, which I didn't really expect, but it works out. The warranty is about as basic as it gets at just one year worth of coverage, but it gives you enough time to test this out and make sure the battery and radio function as advertised.
Type: HAM radio
Strength: 12 miles
Size: 10.5" x 2" x 2"
Battery Time: Up to 24 hours on ideal settings
Runner Up: BaoFeng High Power Dual Band Radio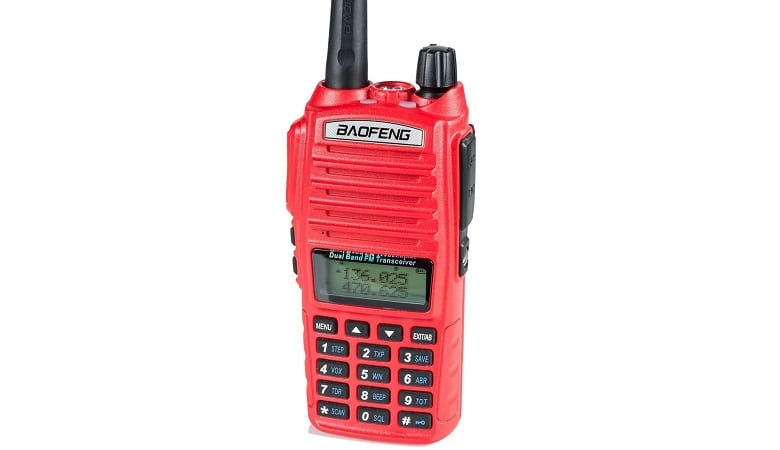 Last but not least, we have another BaoFeng in the works for our HAM radio section of the guide. This is available in five colors, but I don't really think any of us want to carry neon yellow radios with us when we're trying to stay concealed.
Just like with the initial kit we reviewed, this comes with an included battery, a recharging base, power brick, the radio itself, and an excellent microphone and earbud.
Additionally, you'll also receive a small lanyard and a clip to keep the headphone wire secure to the side of your shirt if you'd like.
BaoFeng is the best survival HAM radio brand for sure, and this radio solidifies that fact. You get an 1800mAh battery, which is just a cut below their other model, and that gives you a good amount of power depending on your settings.
Frequencies from 136MHz up to 174MHz are operable, as well as UHF frequencies from 400MHz up to 520MHz.
On top of that, you can reprogram this yourself thanks to the PC03 FTDI cable that's included with your purchase. If you know your way around a bit of computer programming you can enhance your HAM radio experience.
Oddly enough, the screen is clearer and easier to read on this older model. The screen has a green background to it, as opposed to the white LED background, but it actually makes it more visible even in the daylight. The contrast of the lettering against the green really stands out.
In terms of physical durability, it's built like an old Nokia phone – seemingly indestructible, no matter what paces you put it through.
I wouldn't test it and ruin this radio, but it's definitely taken more than its fair share of beatings before I decided to include it in this review. Much like the other BaoFeng radio I covered, this one has that brick-like heaviness to it, partially because of the battery.
In our best survival radio reviews, we wanted to bring you top-tier products only. The first BaoFeng radio was fantastic, and this one works like a charm as well. They commonly go by the name BTECH here in the United States, and I have to say, they pay attention to quality control.
That one-year warranty we talked about on their last HAM radio remains, and their customer support is still excellent, so be sure to give them a shot if you need an inexpensive HAM radio.
Type: HAM, two-way
Strength: 65-108 MHz (undefined mile distance for operations)
Size: 2.5" x 8.1" x 7"
Battery Time: 48+ hours on ideal settings
Survival Radio Communications System Buying Guide and FAQ
HAM Radio vs. Two-Way Radio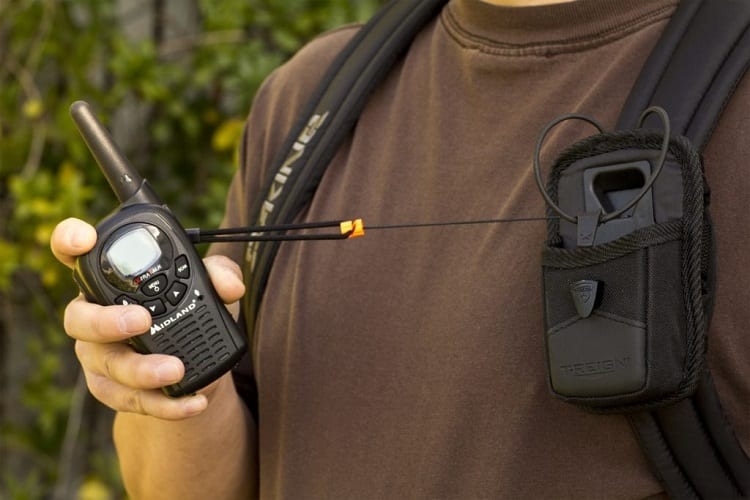 A HAM radio might be the best handheld radio for survival, but it doesn't serve the same utility as a two-way radio, or walkie talkies, as most of us know them.
You can't have two-way communications with a HAM radio. They're designed to have operating radios, where amateru radio users send signals, and the actual HAM radio receivers, which only receive and play those signals.
A two-way radio is unique in its ability to maintain two separate channels at the same time, one for listening, and one for sending out signals.
More often than not, survivalists will opt for both radios. HAM radios generally have better connections with the NOAA and anyone who might be operating their own amaterur radio station. A two-way radio isn't going to tell you what's happening in the world during a SHTF situation.
It's true that some two-way radios do have a weather channel, but if you're not in survival mode because of a hurricane or another natural disaster, then it doesn't serve you much utility at all. This is where a HAM radio would come in handy.
With millions of global operators, HAM radio stations will likely report events that are related to why you had to bug out in the first place. Updates on riots, homeland invasions, and other things that you just don't want to stick around in your house for.
At What Frequencies Do They Work?
First, let's talk about two-way radios. These operate on MHz or megahertz frequencies from 30MHz up to 1,000MHz, which gives you a broad range to work with. These can operate in two categories, VHF (30MHz up to 300MHz) or (UHF 300MHz up to 1,000MHz/1GHz).
HAM radios generally operate on higher frequencies. There is higher strength in higher frequencies, which is why these radio signals can literally be used to bounce off of asteroids like a satellite dish and return to the earth to your radio (some amatuer radio operators do this for fun).
VHF stands for very high frequency, and UHF stands for ultra high frequency. The problem is, UHF actually runs into more barriers. I will leave it up to the experts to better explain the scientific differences effectively.
This is why a UHF radio makes the best survival shortwave radio, which might work depending on your needs and the landscape.
If you have obstacles in your way, physical obstacles, you might run into a serious problem, but on wide open terrains you can get more distance if there's nothing blocking you.
For urban situations, VHF radios work best. You have concrete walls everywhere, trapping and disrupting UHF signals, which is why walkie talkies or two-way radios tend to be better for these types of situations we find ourselves in.
What About CB Radios?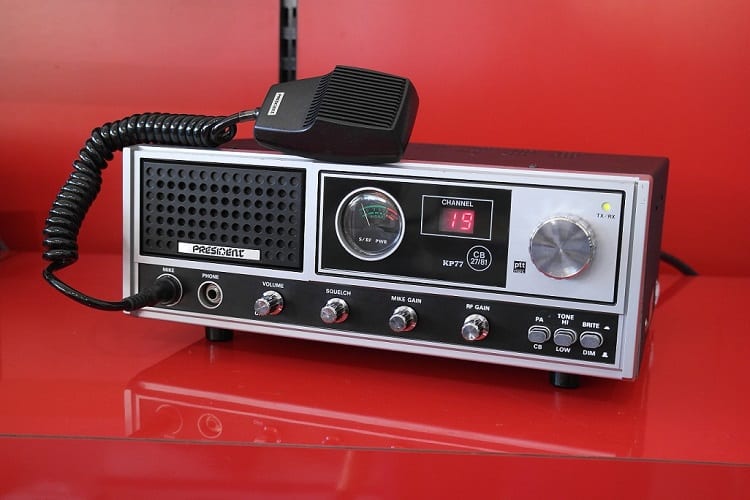 CBs do not generally make the best survival two way radio. They can absolutely be used to communicate with others, and unlike HAM radio operation, they don't require a license, but they're generally used for short-term communications only.
Because they operate on shortwave frequencies starting around 27MHz, you don't really run into too many uses for them. Commonly, they'll be used for taxi drivers if they're very local, although you might have noticed that many cab drivers are switching to cell phone use only.
CB radios tend to have about a five-mile range at most, which is why they might be useful for keeping in touch with nearby relatives or friends during a SHTF situation, but their use as a survival radio is limited.
Can I Freeband on Portable HAM Radios?
Sure, if you want the FCC to get involved (not in a good way). Freebanding is technically illegal. It operates just outside of using a CB radio (which is legal but does not require a license), and operating on higher frequencies on HAM radio, which does require a license.
Freebanding is usually used in illicit activities, and you can bet that these channels are monitored as a result. These stations, which operate between 26.000 MHz and 27.980 MHz.
These channels include FCC channels, coast guard channels, and are used by a laundry list of government agencies. NASA, the US Army, and the Navy all operate within these channels as well.
I don't think I need to spell it out for you, but you should avoid these channels at all costs.
Tuning in to channel 26.945 could result in serious penalties in fines of $5,000 up to $15,000, because that's the FAA frequency (Federal Aviation Administration). If the FCC is going to get you for anything, it will be FAA interference.
How Long do the Batteries Last?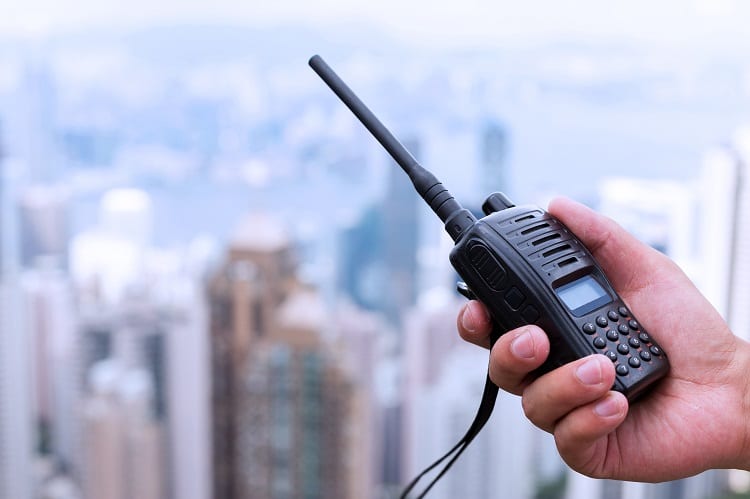 There's a lot of variables here, because the manufacturers are on the line to provide quality batteries in their survival radios. With that in mind, you do have some control over how much the batteries drain when you use your survival radio.
With two-way radios, you can both agree to have check-in times, especially in SHTF situations. This means that as long as your watches are synchronized, you can both flip on your radio about sixty seconds prior to your agreed upon discussion.
You both talk, you agree to another check-in time, and shut the radio off. This is the best way to save battery, because your two-way might only have about eight hours of battery life to it.
The other way is to operate on low frequencies. Yes, these channels can be crowded, but they use less power. The higher the frequency is, the more power it takes to reach it. Keep on low-powered channels to maintain your battery life.
How do I Recharge the Batteries in a Survival Situation?
One of the best options is going to be with personal 5V solar panels or portable power banks that have built-in solar panels. Your survival radio, if it comes with a lithium-ion battery, will also come with a way to recharge it.
While these 5V panels will work better than a portable power bank, you might need both. You would have to set up a solar panel and an inverter, as well as a power supply storage to actually charge your survival radio.
The reason this is important is that if you do a direct connection from the solar panels to the inverter and then to your survival radio, you could easily overload the battery. Power banks take on the brunt of that and can even be smart enough to stop charging a device if it hits a full battery.
Communicate Wherever You Go
Communications are critically important in every situation. You want to have the option to contact other members of your party in the event that you split up, but you also want to receive important updates from emergency systems to know when any potential threat is lifted.
Useful in blackouts, hurricanes, and countless situations that would otherwise leave you in the dark, these emergency radio comms are going to come in handy more than you know.