If you're lucky, you'll never need to turn on your emergency radio.
That's the best-case scenario. But it's 2022, and I want you to take a look around. I'm not exactly feeling confident that life as we know it will continue unaffected by the events of the world.
Whether it's economic, political, or simply because of weather issues, an emergency radio is your lifeline in a SHTF situation. Communication is critical, between members of your party and with the outside world.
The best emergency radio will be able to handle multiple frequencies, have a long battery life, and be useful in just about every situation.
Compact and built to last, we've found some of the best emergency radios on the market, put them to the test against dozens of other emergency radios, and these are the ones that came out on top.
In the event that you have to evacuate, relocate, or abandon your home with the possibility of never returning, you need to stay informed. You need an emergency radio.
Best Emergency Radio – Reviews & Buying guide for 2022
Best Overall: Raynic Solar Hand Crank Emergency Radio
As the best emergency radio on the market, you're going to get a ton of features, and because we like you, we made sure that the budget was completely reasonable.
Yeah, there are overpriced emergency radios out there, but Raynic was able to pack in a ton of those features without performing highway robbery on the price tag.
It's the best weather radio you can get in this price range as well. Fitted with the NOAA weather alert station, you'll have constant contact with the most official weather source in the United States.
There's even a built-in feature by turning to AM/FM/SW/7 (preset) that gives you a designated channel for receiving critical weather alerts.
Chief among all the benefits that you get with Raynic, the five-way power supply comes in handy above all else. Plug this in via USB to charge it, pop in batteries, use the included solar panel, hand crank, or AC power supply.
Whatever you have at your disposal at that time. While the power bank is only around 2000mAh, it's enough to handle what it's designed for. This isn't a portable power bank for multiple devices, mind you; you want to conserve the battery for radio and light use.
Speaking of light use, you have a few options for lighting as well. There's a small bar on the top of the radio, which you can flip out for some basic area lighting. It's designed to be angled as a reading light as well, with just 2.5W of power so you aren't blowing your entire battery just to use a simple light.
On the front of the radio, there's a brighter 3W flashlight to see straight ahead. The beam isn't that narrow, so you'll have a limited span of visibility in front of you, but it still comes in handy regardless.
There's a lot to this radio, but we're not done yet. While it's not the best rating, this is outfitted with an IPX3 waterproof rating. It's hard to waterproof electronics with turning dials and multiple points of entry, not to mention the dozens of holes for audio to escape from the radio.
It's just not a simple task. I would just say that you should be careful not to get this wet. Don't leave it out in the rain, but if a few drops hit it, don't be afraid that it's going to break right away.
Included in the package, you'll get a Raynic lithium-ion battery (not packed inside of the radio), braided belt, carabiner, and compass, which is built into the handle. There's also a user manual and USB charger.
I wouldn't put much stock in the tiny compass built into the handle, because as we all know, these mini compasses are in hundreds of survival items and are mostly novelty.
It's inexpensive, it has a great deal of features, but there is a price trade-off compared to other units. Even our #2 pick is more expensive than this, and that's mostly due to the changes in compatible frequencies.
This is the best in terms of budgeting, value, power, durability, but as a balance; it's not the #1 if you compartmentalize every individual category, which you'll see in this upcoming Kaito KA50 model.
Type: Hand crank, USB, solar
Size: 6.9" x 2.4" x 3.9"
Battery Length: 12 hours of light, 6 radio hours
Runner Up: Kaito KA500 Five-Way Weather Alert Radio
It came in as the second best hand crank radio on our list because it strongly resembles Raynic's model, but with a few twists. First of all, there's an average 20% price increase compared to Raynic, but it is justified (and even then, both of these radios are inexpensive).
This bulky radio comes with 2-band radio, and comes in five colors if the hazard yellow doesn't exactly appeal to you. Out of everything on this list, Kaito comes with the most charging options.
Power it with the hand crank, a solar panel, AA batteries, 5V input, 5V AC adapter, and a rechargeable battery pack. Really, the world's your oyster here.
Kaito's bulky radio has a total weight of 1.4 lbs, which is still fairly lightweight, but nowhere near as light as some models on this list. You're trading enhanced durability for a higher carry weight with Kaito.
When you're actually trying to pull in a signal so you can listen to that NOAA broadcast, you'll be happy to know that the antenna extends up to 14.5" for maximum signal reception strength.
Kaito's emergency radio includes a powerful five-part LED light that's good enough to read by, and it can offer some low-level visibility in dark spaces. If you're trying to maintain a low profile while bugging out, this will serve that purpose.
As a cautionary tale, if you choose any Kaito emergency radio, look at the mAh rating on the battery. This has an industry standard 2000mAh battery, but some of their models (which hover around the same price range) only come with 600mAh, which really isn't even worth your time.
You're getting a high-quality radio with excellent signal strength, and at the end of the day, that's the goal here. Durable, long-lasting, and built with six different energy inputs; that's about as versatile as you're going to get in the middle of nowhere.
Type: Hand crank, solar, wind up
Size: 9.5" x 5.5" x 2.5"
Battery Length: 4+ hours
Alternative: RunningSnail Solar Crank NOAA Weather Radio
You'll see more of RunningSnail later, because they're dedicated to bringing budget-friendly solutions that anyone would flip over. This feels like you're carrying a mobile communication, light, and electricity station with you; it's got a little bit of everything, so let's take a look.
As one of the best survival radios on our list, RunningSnail includes full access to the NOAA weather radio, as well as AM and FM stations for some easy listening during the day (you know, depending on the severity of the disaster at hand). You get about six hours of radio use, which is what I wanted to talk about next.
Despite the very low cost, you get the industry standard 2000mAh lithium-ion battery capacity like we saw on Raynic earlier. However, battery capacity is not an entirely accurate measurement of how power is distributed and used.
Some radios don't use their power properly, so you really should be able to get six to eight hours out of this battery, but apparently the radio uses quite a bit more power.
That could have to do with boosting and the radio frequency power requirements, but since it has similar limitations that other emergency radios have, we're not entirely sure.
What this does have is a few additional features that help you out. For one, there's a solar panel build right into the top of this radio. It's a little more effective than you'll find on most other emergency radios.
There's also a hand crank on the side, and a AAA battery compartment on the bottom to give you that emergency power during long broadcast days.
Overall, this weighs just 0.68 lbs, so it'll remain nice and lightweight in your bug out bag.
This also means that the physical construction is a bit weaker than many other emergency radios – they have to take the weight out of the radio somewhere, and more often than not, that comes from the casing. Treat it carefully and don't drop it, and you'll be fine.
A max of six hours of battery life for your radio, and twelve hours on your lighting isn't bad. It's enough to carry you through most emergency situations in the short term until you can recharge or use batteries in the meantime, at the very least.
You have access to a USB and micro USB charging port, as well as an SOS alarm should the situation call for it.
Overall, RunningSnail made a pretty solid radio. You have plenty of features here, and while the light isn't exactly the brightest, it can work well as a reading light or to simply illuminate small spaces that you might be camping out in during a SHTF situation (maybe in an urban setting).
Because the light is fairly low-powered, it's actually really good to use while travelling at night; it won't draw attention like a self-defense flashlight will.
Type: Hand crank radio, solar, battery-powered
Size: 6.2" x 2.1" x 2.94"
Battery Length: 12 hours of light, 6 hours of radio
Alternative: American Red Cross Emergency NOAA Weather Radio
Out of all the best crank radio models we've seen, American Red Cross easily topped the list with the very best one. It's a bit heavier than the RunningSnail models on our list, and it does look a little bit wonky in comparison, but it has its own unique operation that comes with it.
First of all, you'll notice that this isn't a flesh-out model with all the features of other emergency radios. That's because American Red Cross focused on enhancing the features that matter most, and I believe they're right in assuming you'll have your own other tools.
The hand crank on this radio is by far one of the best. It feels durable, it's wide enough to be used without your hand cramping up, and it's ultra effective.
Apart from that, it can charge via the solar panel built right into it (which has a decent efficiency rating), and has a built-in USB charging port so that you can charge your smartphone.
One thing that they added in that you won't see in many other emergency radios is an onboard alarm clock system, so you don't have to rely on that shoddy smartphone alarm that always lets you down.
While this does weigh more than some others on our list, 0.93 lbs is still considered ultralight. The compact size means that it's easy to store in your bug out bag with little to no issue as well.
So where does American Red Cross fall short?
Not in many areas. This is an extensive 7-band radio with NOAA, AM, FM, and other radio functions, and even comes with an enhanced battery capacity over just about everything else we've seen: an impressive 2600mAh.
The access ports are a little jiggly, but they don't have much room to fall inside of the unit, so it's just a minor nuance of using this. Because of the way the case is built, you have an integrated handle that you can use to carry this around. All in all, it's a solid piece that doesn't cost you an arm and a leg.
Type: Solar, hand crank
Size: 5.8" x 5.9" x 2.6"
Battery Length: One hour
Alternative: RunningSnail Emergency Hand Crank Solar Weather Radio
This prepper radio brand makes its second appearance in our guide, and for good reason.: they simply know how to fit quality features into a low price point.
This hand crank and solar radio has some caveats, as you might expect, but it's a great purchase for low-budget preppers, or anyone who hasn't yet built up a prepping stock and wants to get entry-level devices so that they're at least somewhat prepared if SHTF.
First and foremost, this is lightweight. If you're an ultralight prepper, RunningSnail is about to become your new best friend. At just 0.49 lbs, or just under eight ounces, this radio is so lightweight that you'll wonder if you even packed it.
There are some trade-offs to consider, such as the lightweight build meaning a thinner plastic, so drops from short heights may incur some serious damage.
The casing is still made out of plastic, just like most emergency radios, but you don't have as much durability. Anything to cut that cost down, right?
While the external casing isn't that tough, the dials and radio interface is the highest quality part of this build. It functions just like any other radio without a noticeable quality dip in the actual interface.
You can hand crank it to power it up, or use the built-in solar panel.
Even the best consumer solar panels in the world operate under 30% efficiency (compared to less than 1% when they were first introduced in the 1800s), and while we don't have an efficiency rating for this solar panel, people aren't exactly stringing prepper radios on their roof to power the house, you know?
It's slow, but effective if you leave it out for hours at a time.
Hand crank, solar, and micro USB plug-in are all viable ways to charge this. Keep in mind this radio has a 1000mAh lithium-ion battery supply, meaning you're getting approximately half of the battery capacity of most of the models on our list.
2000mAh is a common battery capacity in emergency radios, so this is a really big trade off. It means half the time spent on the radio before needing to be recharged. If this didn't also have a hand crank to compensate for those down times, this wouldn't have made it onto our list.
To close on a positive note, this is a solid radio. The antenna is sturdy and extends without issues, you get a one-year warranty with your purchase, you get a micro USB cable in your purchase, and RunningSnail customer support that seriously rivals phone support for most survival item brands out there.
Type: Hand crank, solar, micro USB
Size: 5" x 1.8" x 2.4"
Battery Length: About six hours at full charge
Best Emergency Radio Buying Guide and FAQ
What to Look for in Emergency Radios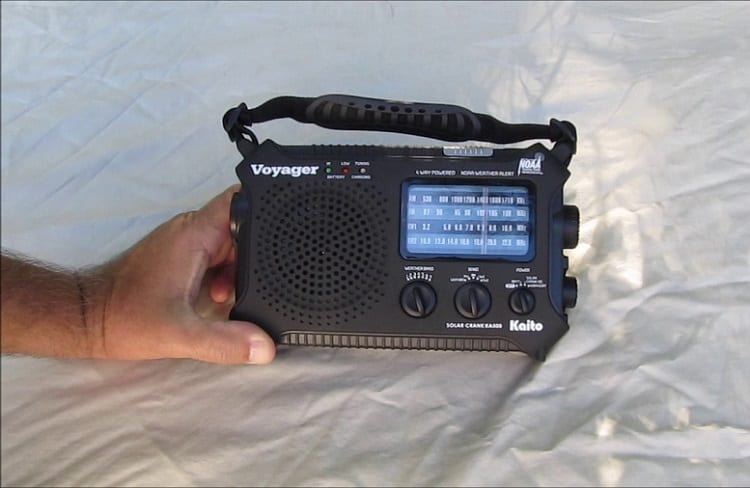 Emergency radios are important pieces of gear, and your decision-making process surrounding them should also be just as important to you. Let's take a look at the main features to watch out for in emergency radios.
Durability: The physical case of the radio needs to be durable. It's going with you everywhere: in your backpack, at the campsite, through miles of travelling on foot. If it can't physically hold up to the test, it's not really worth your time.
Operating Frequencies: These are the different channels you have at your disposal. It's important to find a channel that isn't occupied when trying to communicate with others. While emergency radios are mostly used for receiving information, you should still dedicate a channel to use with other members of your party to maintain communication.
Battery Life: Can you recharge your emergency radio through a USB port/solar panel, or can you use batteries? Either way, you need to know how many batteries to bring, or how long you have to let it charge in the sunlight before you can keep moving. Knowing the battery life will impact how you plan your bug out bag.
How Does an Emergency Radio Work?
Radios work by operating on various frequencies through electromagnetic radiation waves, better known simply as radio waves. Radios work by operating on the electromagnetic spectrum (EM), although there are other spectrums out there that we need to be aware of as well.
You have microwaves, infrared, visible light (what we use to see), ultraviolet rays, gamma ray, and x-rays, then we have radio waves. Among these seven "channels", radio waves are those used for transmitting information.
The lower the frequency, the longer it can travel. The higher the frequency, the shorter the radio signal range. High frequencies have more power, so waves alternate and vibrate faster, causing their energy to essentially slow down more quickly. In this case, slow and steady wins the race.
Emergency radios stick to radio waves (as you might imagine), which are broken up into nine different bands.
These go from low-powered, long distance waves in the extremely low frequency (ELF) category, which operate as low as 3 kHz. These wavelengths can travel well up to 62.1 miles away.
I won't bore you with every single band, but just know that the opposite end of the spectrum is extremely high frequency waves (EHF), which can boast up to 300 GHz of power, but only travel up to one centimeter, which is the equivalent of 0.39 inches. Emergency radios operate on lower frequencies to maintain distance.
How Do I Choose an Emergency Radio?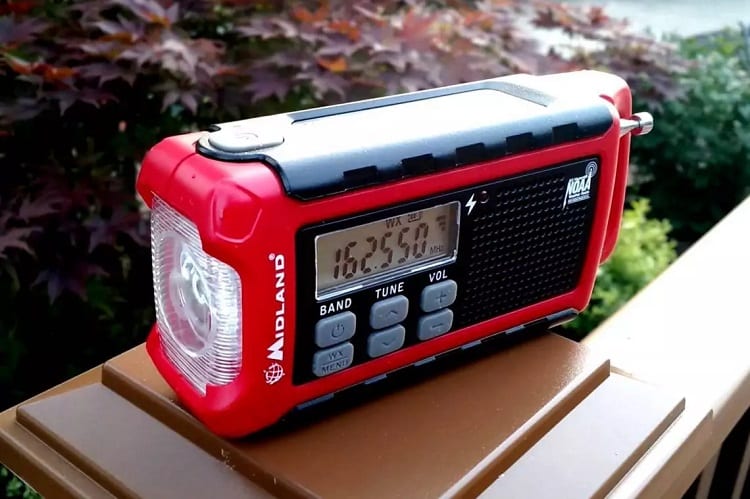 You want the best emergency radio on the market, but that's very subjective. Best for who? For me, or for you?
It all depends on what you want to achieve. This is usually the order in which people prioritize their emergency radio needs.
1. Budget
If you can't afford it, it's not on your radar. The first bottleneck is your budget and how much you're willing or able to spend, which will drastically limit your options.
It's good to have a wide budget since this is such a necessary piece of your emergency gear, but you shouldn't blow your entire prepper budget on this one item, either.
2. Quality
This is relative to budget. The next bottleneck is looking at your budget and saying, can I afford the high-end of it? What kind of quality does that buy me? How does this compare to top-tier models with no price limit?
Comparing quality between budget-friendly and expensive emergency radios will show some stark production quality differences, and at that point you can decide if you need to reevaluate your budget or not.
3. Current Need
Do you need this right now? Do you have an emergency radio already, but you're looking for an upgrade?
After assessing what you can spend and what you can expect, you have to stop and decide if this is partially an impulse purchase or if you're able to hold out for a while, come back to this guide, and get a more expensive emergency radio that meets your needs.
Once you assess this, you can go down the list from the top again now that there are new priorities.
Can Emergency Radios Pick Up HAM Radio Signals?
You can have the best solar radio, the best long-range radio, or any other category you want, but if it's classified as an emergency radio, it only operates on the emergency broadcast channels. Amateur radio (HAM radio) uses a completely different band of frequencies.
No, you cannot pick up amateur radio signals on an emergency radio. Even if your emergency radio has two-way communication, you're on an entirely different system than HAM radio.
How Long Does Cranked-Up Radio Last?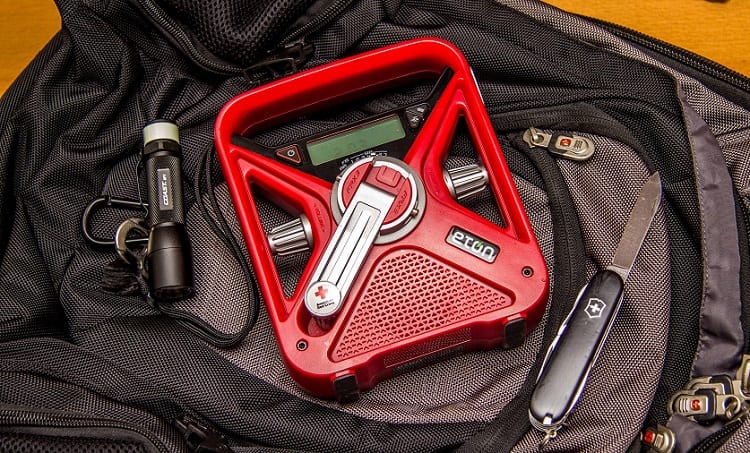 It depends on the radio and its total battery capacity. On average, one minute of hand cranking will last for about five minutes worth of radio battery time, and about two minutes of cell phone recharge use.
That could be a cell phone, or basically anything with a sub-20000mAh lithium-ion battery. Most larger batteries may try to draw power more quickly and lose some in the transition.
Let's say that you're getting a hand crank radio that has a total of an eight-hour battery life. If you want a full eight hours of radio use, that means you would have to take the 480 minutes in eight hours, divide by the five-minute intervals you would be recharging it at, and you would end up with 96.
That's how many minutes of continuous cranking it would take to get your battery back up to full (radio use).
Is that a viable option?
Well, it's faster than waiting on a solar panel, that's for sure. Hand crank radios are viable solutions, because if your radio goes out in the middle of the night, you still have a way to generate that electricity you need.
Keep in mind that you can't be 100% perfectly efficient or create a 100% perfect flow of electricity, so times will vary.
The other way we can look at this question is how long will a cranked-up radio actually physically last?
You'll find that with moderate use, you can easily get a decade out of most hand crank radios. The first thing to typically give out is the hand crank itself.
Overuse (or rather, using it for its intended purpose fairly often) can definitely wear out the crank. The good news is that some manufacturers include a second crank with your purchase.
If not, you can always buy an additional crank and gear and replace it yourself (it only takes about ten minutes in total). If the crank stressed out the inverter, which transfers kinetic energy into electrical energy, then that's a whole different problem and you might be better off replacing the entire radio.
What Causes Bad Radio Reception?
There are a number of things. If you're testing your emergency radio at home before bringing it out into the field, you might encounter a few of these issues more prominently. It doesn't mean your radio is broken; you just have to test it elsewhere.
Antenna Connection
If the antenna is damaged, or the wiring on the inside is damaged, it won't work properly. If the wiring is loose at best, you could hear your connection fade in and out, or start and stop abruptly depending on the severity of the connection issue.
Your reception has so many outside factors that we're going to discuss, but if your reception is doing this in multiple areas and various scenarios, your internal wiring might be loose.
Old Equipment
You might simply need a signal booster. There could be half-a-dozen problems with your radio, most of which too small to really bring attention to.
Instead of replacing your radio, simply purchase a signal booster. These aren't magic cure-alls for your radio reception, but in most situations, they will help you out to get that clear, static-free line.
Radio Interference
More powerful signals could be "jamming the lines", so to speak. If you're operating on a low frequency, someone with a higher powered radio could be boosting their power but using a low frequency (common in amateurs that don't really know their way around a radio).
In SHTF situations, this could be that someone bought the most powerful, expensive emergency radio they could, and are using it for short-range signals.
Horrible Weather
It has nothing to do with rain, or snow, or wind—it's all about atmospheric pressure. Having bad weather is generally a result of a high-pressure system; it's not the cause.
All that pressure actually makes your radio signals travel farther than you wanted, oddly enough, as a result of co-channel interference. This may also be referred to as tropospheric ducting.
Emergency Radios Could Be a Lifesaver
An emergency radio is your lifeline during a SHTF situation. As your one way to communicate with the outside world, receive news updates, and (God forbid) you need to know, it can even tell you where invading forces are stationed so you know where to avoid.
It's one of the first things mentioned in any bug out bag or emergency preparedness kit for a reason. We've found the best of the best for you to choose from, now you just have to make your pick, and rest assured knowing that you're not going to be caught with your pants down in a catastrophic disaster.
---