When the chips fall where they may, a lot of things can happen.
One of the biggest threats we've ever faced in the United States is a volley of (thwarted) attempts to disrupt or eliminate power grids through cyber attacks. It's wholly possible that we could encounter power grid failure as the result of a foreign attack, and if that happens, what are you going to do about it?
You're going to be prepared.
We've taken a look at the best LED lantern on the market specifically for survival purposes, and the best LED camping lantern (as well as a few alternatives) to give you options whether you bug out or hunker down.
Visibility and reliable lighting is important no matter how you look at it, so let's get you situated with the best LED lanterns designed for long-term, sustainable use.
Best LED Lanterns – Reviews & Buying guide for 2022
Best Overall: Vont 4 Pack LED Camping Lantern
Vont stole our hearts with this incredible deal. Not only do you get some of the most powerful LEDs we've ever seen in any lantern before, but you get four lanterns in one pack.
For the price of this pack, you could barely get two rivaling LED lanterns; they really turned the dial up on the value here.
To kick things off, you get an incredible 90-hour battery life for a single charge, which mops the floor with just about any other LED lantern that we've ever seen.
The brightness here is incredible, and it's adjustable (sort of) in five different ways. This is the only truly collapsible LED lantern, and it works by turning on the LEDs and then lowering the primary chamber into the rest of the casing.
The more you lower it, the less LEDs can shine through, mitigating the total amount of light.
The only issue here is that the bottom LEDs in the chamber don't turn off, so you're still wasting energy even if you need the light down low. Imagine what they could do with the battery capacity if they changed this; we would see 100+ hour battery lifespans.
Hang your Vont lanterns by the folding metal handles. These work well for rigid placement, and if you position them right, you don't have to worry about them moving. It's better than slowly waiting for a lanyard to come undone and drop the lantern on the ground.
One of the top things that we tell you to look for in any bug out gear is the weight. If something is too heavy then it needs to be left at home, because every single ounce counts when you're prepping and surviving.
Vont made this lantern remarkable lightweight at just ten ounces, which is really mind-boggling when you think about it.
A lot of points are spot-on, including the waterproofing feature to help prevent light damage from rain. While you wouldn't want to submerge this lantern, it will assist you through basic wear and tear and harsh weather.
Part of that resistance is thanks to the military-grade materials used in their inspired design, which also helps against cracks and damages if you do happen to drop this by accident.
Vont also includes a lifetime warranty on all four individual lanterns, and it's applied directly through them—no third-party warranty providers to deal with here.
They hand-craft every single lantern as a smaller company, and make sure it passes rigorous quality assurance standards before ever being shipped out to you.
Battery: AA Batteries
Capacity: 90 Hours
Weight: 10 oz
Runner up: LE LED Battery Powered Camping Lantern
Saving money and still getting the best quality makes everyone happy, and LE wanted to bring their expertise and immense quality to you without costing an arm and a leg.
In this pack, you get two LED camping lanterns that are designed to be used in emergency situations such as power outages, floods, and unforetold emergencies.
With four light modes up to 1000 lumens, you have tons of power to play with. From a soft, warm white of 300 lumens and up, you'll be able to adjust your brightness for the visibility that you need.
Because this lantern has a 360° output, these are best used in camping scenarios and in the middle of large rooms to help illuminate the entire space.
We ranked this as the best LED lantern for power outages because of those light settings. You can keep it low and slow if you're trying to call it quits for the night, and maintain a low profile in survival-based situations.
Apart from that, it's also designed with a fairly long battery life. Two for the price of one just extends that battery life even further if you only use one at a time.
Remove the cap to turn your standing lantern into a hanging light. You can hang this on the interior of your tent, or you can prop it up to shine light wherever you need it to. This is a nice little added function, but nothing major.
One issue is that replacing the batteries is a bit of a pain based on where the battery compartment is located. It's going to take some time to pop that plate off to swap out your batteries.
Operation is pretty simple, but because it can be a little bit bulky, you might have a difficult time finding the right spot to put this in your bug out bag. It's recommended to hang if off of your bag instead (which helps with easy access).
There's no warranty or return policy here, which was a bit concerning at first until we contacted customer service.
Should you need assistance, they are there to help you out over the phone, but nothing more. It's a solid LED lantern with tons of different uses, and based on what we received, they're not going to fail on you anytime soon.
Battery: D Batteries
Capacity: 25 Hours
Weight: Under 1 lb
Alternative: AYL Starlight 700 Survival LED Lantern
AYL isn't the first brand that comes to mind when you think of survival or emergency lanterns, but the proof is in the pudding: they made one of the longest-lasting lanterns on the market today.
To start off on a high note, AYL's best LED lantern for camping has an alarming 144 hours of maximum battery life.
That's insane. Yes, you have to be on the optimal settings for that to work, but that's more time than you're going to get with most camping lanterns out there.
You have to flip the brightness to a lower setting to get that kind of battery life, but if you need it to be light and bright, don't worry: you can crank this up to 1300 lumens to illuminate everything in your path.
Designed for hiking, but beloved by survivalists, this waterproof camping lantern has a surprising amount of shock resistance. I wouldn't say that it's more durable or physically long-lasting than the top pick on our list, but it gets the job done without giving out on you.
To really burn this lantern out, you'd have to run it for 100,000 hours on the lowest settings. For s0moe context, if you used this 12 hours a day every day, that's 22.8 years of continuous operation. You're looking at the last LED lantern that you'll possibly ever need to buy.
What it does lack is a number of modes. You can have low or high with no go-between, so you're either holding blinding light in the palm of your hands, or a duller lantern that's better for small, close quarter areas.
Battery: D Batteries
Capacity: Up to 144 Hours
Weight: 14.6 oz
Alternative: 4 Pack of Solar Powered LED Camping Lanterns
Who wants to carry D batteries around with them all the time?
Very few people. Tansoren made some of the best rechargeable LED lanterns on the market, and they're far more durable than you would expect.
To kick things off, let's talk about the value you get here. There are four lanterns for a ridiculously low price (that's the power of buying in bulk).
Each one comes with a durable metal handle, and it built inside of a retractable casing that allows you to sink the main light chamber down into the chassis when you stop using it.
That sounds similar to one of the other lanterns we reviewed, only this doesn't change light settings as it goes down. You absolutely have to have this completely open if you want to get formidable levels of light out of it.
The LEDs have a nice bright white glow to them instead of that faded blue we see in a lot of cheaper LEDs, so you're getting clearer light that doesn't feel filtered out.
The best thing about this is that it comes with a small solar panel on the top of the lantern. The bad thing is that it doesn't charge the internal battery because, well… there is no internal battery.
You have to use AA's to power it, but based on the marketing material available, it looked like you would be able to use the solar panel to power this in the first place.
What the solar panel is used for is an emergency USB charging hub. It's nothing crazy, but you'll be able to fill up a newer phone battery and keep that handy tool charged while you're moving from campsite to campsite.
If you're just here to take this camping, that's okay too – you'll never be left without your phone for emergency situations.
Tansoren made the base of these lanterns magnetic, so you can attach them to the roof of your car or place them down on a metal picnic table and they will stay in place. The magnetic base is powerful, which is both good and bad.
It stays steady even when the wind blows and adheres to the metal surface, but because of the use of four magnets, it can be a little testing to actually pull off of the surface of your choosing. Still, it's a useful utility feature.
Is this the best LED lantern camping experts will fall head over heels for? Not exactly, but it does get the job done and it's durable enough. Tansoren doesn't provide warranty information, which is a bit concerning, but it's doubtful that you'll ever have to call upon them for it.
Battery: AA Batteries
Capacity: 40 Hours
Weight: 3.1 lbs
Alternative: Ezorkas 2 Pack of LED Camping Lanterns
Last but not least on the list is Ezorkas, a relatively unknown small electronics manufacturer brand. We decided to give them a shot during testing, and it's a good thing we did.
You get two powerful LED lanterns for a solid price, and the thing is these best LED camp lanterns are actually designed for all situations: hurricane preparedness, emergencies, outages, hiking, and more.
Why is that so important?
Because you might have noticed that a lot of LED lanterns are designed just for camping and don't take other features or uses in mind. Ezorkas gave an SOS light mode to this lantern so you can signal for help in the event of a flood or being stranded.
You also have other lighting modes available including flashlight, and warning lights. Brightness control is to a minimum, but it gets the job done either way.
One key takeaway here is that Ezorkas is not unique in many of its features. The chamber is retractable, the handle is metal wire, and those are some themes we see in other lanterns.
However, it's okay to do something that's been done before as long as you find a way to give it justice. Ezorkas made this ultralight and compact, so even if it isn't hanging off the back of your backpack, you'll still be able to store it in your bag with little to no worry.
Ezorkas kept with the theme of having a magnetic base on the bottom. This helps you stick a lantern to your car when you're pumping up a tire or trying to spot something under the hood, but it also comes in handy for plenty of situations.
So what made Ezorkas lanterns stand out more than the dozens of others that could have made it onto this list?
The length of the battery. 35+ hours in this price range is pretty insane, especially when you consider the fact that you get tow lanterns in one. If you play it right, you can have 70+ hours of light between both lanterns for three days of illumination. In SHTF situations, that's big.
Many lantern manufacturers drop the ball when it comes to warranties. Well, Ezorkas didn't do that, but what they did provide is false hope. You have a 24-month guarantee, but that's only on customer service.
After two years, they don't have to help you out over the phone anymore. Most brands will still do what they can to help you over the phone even if your warranty is expired.
Battery: Rechargeable
Capacity: 35+ Hours
Weight: Under 2 lbs
LED Lantern Buying Guide and FAQ
What to Look for in LED Lanterns
You want the best camping lantern LED, right?
You need to know what to look for before you commit to one. Let's break down different features so that you can prioritize what you need the most.
Average Battery Life: This is usually on the medium or average settings. This will tell you how many hours the battery lasts for before it goes out or needs to be recharged. It's important to know that with this, most lanterns will start to give a dim glow when there's only a few hours of battery left, so it's always good to account for a few less hours than what the manufacturer states.
Durability: LED lanterns don't need to meet specific material requirements, but you should know ahead of time if a single slip is going to destroy the entire thing, or if you can give it a bit of tough love without the light giving up on you.
Dimensions: Every tenth of an inch, every gram of weight, every spot that it takes up—that's what we have to think about when we develop our bug out bags. If not, then we're squandering viable space that could hold more important items.
Weight: This is another aspect that you have to take into consideration, just like dimensions. If an LED lantern is a little bit bulky, but it's also heavy, you might have to consider going for a different one. Keep carry weight to a minimum where and when you can.
Lumens (Brightness): We talk more about this in-depth, but basically, the more lumens you have, the brighter your LED lantern is. The brighter your lantern is, the more money it's going to cost you upfront. If it has adjustable brightness features (which you definitely want), that's also going to drive the price up.
How Many Lumens do You Need for a Lantern?
Lanterns start out at around 50 lumens, and work up to crazy heights of about 650 or 700 lumens. So, what do you need?
It's complicated. If you had one of these for an emergency like a power outage, I'd say to just get one as bright as you want and filter it through a sheet or something so you don't get a headache. But we're talking about prepping, here: for serious situations, having 700 lumens could be a bad thing.
The more lumens you have, the more powerful your lantern is, and the more you'll be able to see. For a bug out bag, that might not be the best thing. You'll become more visible while trying to move stealthily, and draw more attention to yourself.
Having the potential for a high lumen output is going to be good, and what I mean by that is having adjustable settings.
If you can adjust your settings to use low light during travel, and high level of light in adverse weather situations (heavy fog, snow, those sorts of things), that would be your best bet. This also helps you save on energy so you can actually use your lantern for longer durations at a later date.
Can I Leave LED Lights on all Night?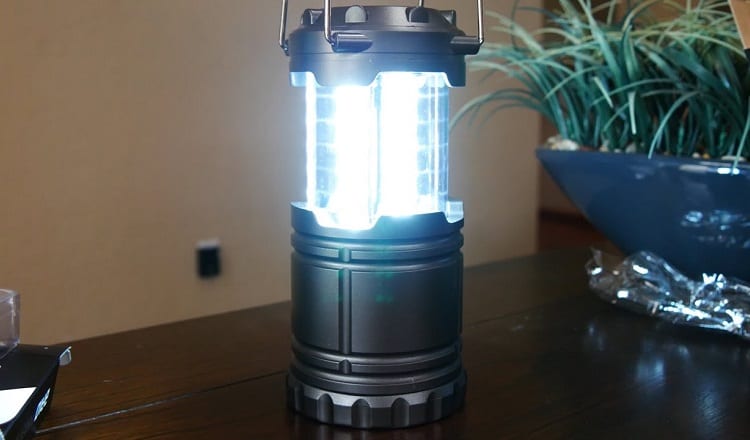 You can, but you shouldn't. At the end of the day, especially in our theme of prepping here on this site, you're trying to be concertvative with your resources.
You might be gathering energy for your LED lantern from solar panels or through other methods that aren't as readily available as the 110V socket in your wall.
Energy is precious. It should be treated as such. Even if you have the best LED lantern for power outage or blackout uses, you don't need to leave it on all through the night.
In a SHTF situation, your lights should be out once you're safe to avoid drawing attention. In a blackout at home or during a storm, you can leave your lights on, but you should still try to turn them off if you can remember to save energy.
There's no real consequence to leaving your LEDs on all night. The bulbs will last for less time (although their lifespan is crazy as we'll see later on in this guide), and they're not going to catch fire or melt. It's safe, just not wise to do.
Can LED Bulbs Catch Fire or Overheat?
LED bulbs heat up, but they don't really overheat. Not on their own from being used. I'll explain.
LED bulbs don't use incandescent lighting. We know incandescent lights as old-fashioned light bulbs that have been outmoded over the years. When you turn on an incandescent bulb, it emits heat through infrared heating that penetrates the filament of the bulb.
Basically, incandescents get hot. You can actually find them being used in food service to heat food to the point of cooking, or to maintain a temperature like in a hot holding unit in fast food restaurants.
You can even find these same hot holding units that maintain a temperature on pre-cooked chickens in supermarkets all across the United States.
Because incandescents don't have a heat sink, the energy comes out from the bulb and produces immediate heat. You can turn a bulb on, and in seconds feel the entire exterior glow with warmth. It doesn't take long. All that heat, which is a byproduct, ends up coming out through the glass of the bulb.
But with an LED, it produces more light and gives off significantly less heat. In most applications, an LED will have about 50% of the same heat an incandescent bulb outputs, or even lower depending on the application.
There's a heat sink in the base of every LED bulb that maintains a solid temperature throughout the bulb's life.
An LED bulb will still feel warm or hot to the touch, but that's because where energy is being transformed into an alternate state, you will have some form of reaction. It's unavoidable, but greatly mitigated.
This is why small LEDs can produce bright light while being stored in confined spaces, like the green lights on your internet modem. They're not throwing off heat even if they are warm to the touch, and with less power they can produce more light.
How Long do LED Lanterns Last?
This depends on the manufacturer and the quality of the LEDs they include in their lanterns, but get ready for some pretty shocking numbers.
Up to 25,000 hours on average or medium-level settings on most LED lanterns. This is equivalent to 5.7 years of using this lantern every single night, for 12 straight hours of operation.
Up to 40,000 hours for higher-quality brands. This is equivalent to 9.1 years of continuous use, every single night, for 12 straight hours each night.
Up to 50,000 hours for high-quality LED lanterns on lower settings with more conservative usage. You can easily make this last for 17.1 years if you use lower settings for up to eight hours per night, every night, continuously for this stretch of time.
You know what the amazing thing is?
I don't think any of us are ever going to burn these out. It seems a bit perfect that these numbers are around flat numbers spaced by thousands, doesn't it?
There aren't lab experiments where they just run an LED lantern for literal years until it burns out to give you that piece of information. It's based on the durability and average life of LEDs, the quality that they're created with, and how they're placed. Bigger brands tend to make better LEDs, it's as simple as that.
So what are the real numbers waiting in the winds?
Most people never really find out, because as long as you don't leave it on for days on end, you're not going to burn through your LED lantern easily. We talked about how LEDs don't produce heat the same way that incandescents do, and so they don't melt or catch fire.
General wear and tear, and the idea that "everything breaks at some point" is what appears to drive these numbers more than anything else. Can you trust that your LED lantern will last for that long?
It's extremely likely. I personally have an LED lantern that's been in use for 11 years, and I don't anticipate it running out anytime soon.
How to Recharge LED Lanterns?
A rechargeable LED lantern has a lithium-ion battery inside. That can be recharged through a USB cable hookup, but most commonly, people will use personal 5V solar panels in situations like these.
You can hook up small solar panels, which may or may not come with inverters, to recharge your LED lanterns. These are certainly a lot more practical for long-term use in SHTF situations for a few reasons:
These panels can last for up to thirty years depending on the brand you choose. Most solar panels still pull in energy even when they "expire", you just end up with less of it on a declining percentage-based scale. Think of that: three decades worth of use versus the twenty to thirty hours of use you'll get from some disposable batteries.
These panels can last for up to thirty years depending on the brand you choose. Most solar panels still pull in energy even when they "expire", you just end up with less of it on a declining percentage-based scale. Think of that: three decades worth of use versus the twenty to thirty hours of use you'll get from some disposable batteries.
These panels can last for up to thirty years depending on the brand you choose. Most solar panels still pull in energy even when they "expire", you just end up with less of it on a declining percentage-based scale. Think of that: three decades worth of use versus the twenty to thirty hours of use you'll get from some disposable batteries.
I'm not saying that solar panels are the only way to charge LED lanterns, but they're infinitely useful if you're in a situation where you don't know how long it'll be before you're in a home again, or the power grid is back on.
You can use a USB charger to a power bank, solar panels, and in some cases, LED lanterns will have batteries for emergency operation if you can't recharge a lithium-ion internal battery.
Lighting Up the Night
Your lighting situation could determine a lot more than you think.
No visibility during a potential home invasion or attack (during very extreme SHTF situations and months of a decentralized government system), or just not being able to see where you're going if you have to bug out at night, could be huge problems.
Having access to reliable, long-lasting light is a matter of safety and survival. Failing to have something this essential means you're not ready to pack up your bug out bag—go for the longest-lasting LED lanterns you can find, and be prepared for come-what-may.