Surprise! The grid collapsed, and you need to communicate locally. Good thing you got yourself a MURS radio because you didn't need a license to use one. Whenever you plan on being outside and need a two-way radio with maximum transmission power, MURS is great because that's where VHF frequencies work the best.
What Are MURS Radios?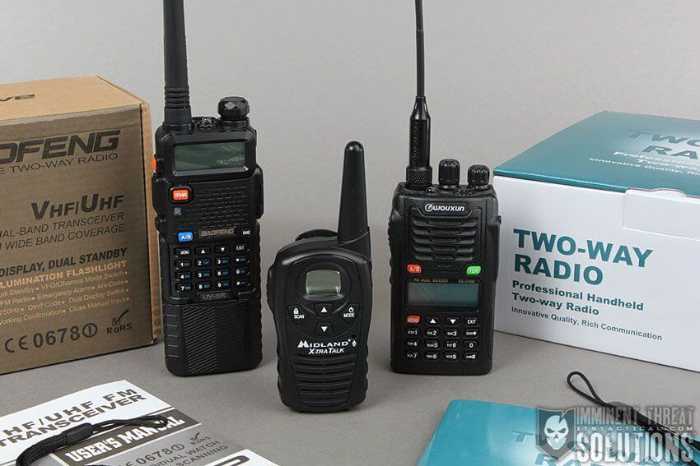 MURS stands for Multi-Use Radio Service. The MURS two-way radio operates using five channels in the VHF spectrum. The service was modified by the U.S. Federal Communications Commission in 2000 to allow individuals to use the handheld MURs radios without an FCC license.
The Five MURS Frequency Channels:
The Multi-Use Radio Service (MURS) uses channels in the 151 – 154 MHz spectrum range.
151.820 MHz with Authorized Bandwidth of 11.25kHz
151.880 MHz with Authorized Bandwidth of 11.25kHZ
151.940 MHz with Authorized Bandwidth of 11.25kHZ
154.570 MHz (business band) with Authorized Bandwidth of 20.00kHZ
154.600 MHz (business band) with Authorized Bandwidth of 20.00kHZ
Do You Need a License to Operate a MURS Radio?
In short, No! Anyone can use a MURS radio because they are specifically made for MURS frequencies and do not require an FCC license. The FCC formally defines it as "a private, two-way, short-distance voice or data communications service for personal or business activities of the general public."
Who Uses MURS Radios?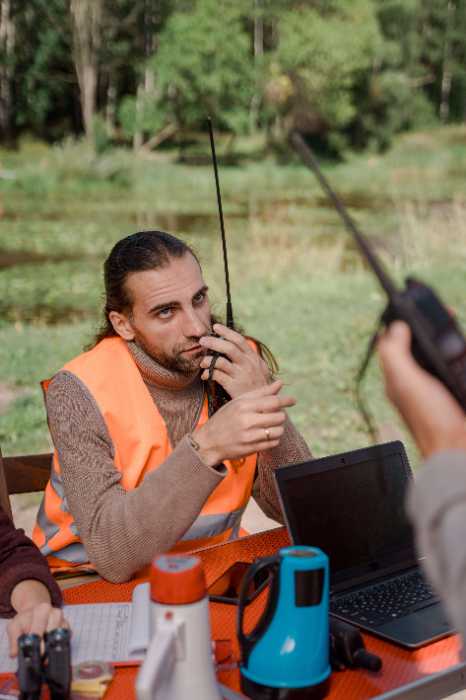 These days, MURS radio are commonly used by:
preppers
hunters
survival experts
outdoorsy folks
families
neighborhood watch groups
local businesses
and many others rely on MURS radios to communicate!
MURS radios do not share the same channels used by store brought children's radios or common walkie-talkies. The radios provide better clarity and range for short-range communications than traditional FRS walkie-talkies (Family Radio Service).
There are several restrictions to using MURS. The radio must be limited to 2 watts of transmitting power. MURS stations may not be connected to the public telephone network. Radio repeaters are not allowed. A MURS antenna cannot be more than 60 feet above ground or 20 feet above its mounting structure.
What Are MURS Radios Good For?
MURS radios can be used to communicate for relatively short distances. In situations where communication with a smartphone or device is impossible, a MURS radio could come in real handy. The range of MURS radios depends on the terrain and the antenna. The transmitter power restrictions keep communications distances fairly short. Under ideal conditions, a hand-held unit may reach between 2 and 3 miles. Some users have reported ranges up to 10 miles, but these are rare occurrences. A base unit's antenna may enable the unit to transmit up to 20 miles.
Is MURS Better Than FRS for Radios?
MURS offers a much greater range and better clarity than FRS for communications in rural areas. This makes it ideal for outdoor activities, such as camping, where antennas can be used to maintain contact with other campers or caravans. However, FRS radios' UHF (Ultra High Frequency) signal tends to be more suited to urban areas.
Where Can You Use MURS radios?
MURS stations are allowed to operate anywhere a CB station is allowed. This includes within the United States and over any area of the world where the FCC regulates radio services. MURS stations are not allowed to operate within the territorial limits of countries outside the United States or that are regulated by a non-FCC agency. You cannot use a MURS radio on an airplane.
MURS radios are good for when there is a weak signal for cellphones or wi-fi and you need reliable communication in order to reach someone. MURS radios are quite tough and can take a beating. This is why they're such good devices in case of an emergency and should be part of every prepper's arsenal.
Best Recommended Uses for MURS radios
As mentioned above, any place where cell phones are not permitted or not feasible due to safety or practicality should consider the prompt and reliable communication a MURS radio provides. Let's list out some common uses for MURS radios that you've probably noticed or seen before in your past.
Warehouse settings for employees where cell phones can be a distracting hazard in a fast-paced environment with heavy equipment and machinery moving.
Construction sites and heavy machinery when you need to quickly and reliably communicate during dangerous tasks and procedures.
Schoolyard employees like guards and groundskeepers.
Farmworkers and ranch workers who have lot of land but not a lot of cellphones.
Hikers or Campers who like to go into areas with weak cellphone coverage.
Features to Look for When Shopping for a MURS Radio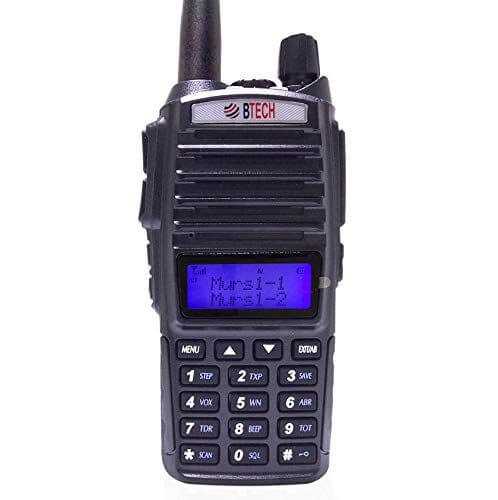 Photo courtesy of https://www.pinterest.com/pin/891149844991154265/
Frequencies
There are several features to consider when looking for a MURS radio. The number of frequencies available is a major consideration. More expensive units are built to utilize all five MURS frequencies. Less expensive units may only utilize one frequency.
Optional Bands
Some radios offer bands other than the 5 MURS frequencies. Some of these bands will require a license to operate. If you do not plan on licensing your radios, be careful not to buy a set with services other than MURS.
Battery Life
A radio is only useful when it has power. Battery life costs money, but it makes the radio more useful. Find the radio with the most battery you are willing to pay for. Look for features like multiple batteries, quick chargers, power ports, and cords for in-vehicle use. All of these power features will make your radio much more helpful.
Transmission Power
Not all MURS radios come with the full 2 watts of transmission power. Transmitters of 500 milliwatts or one watt are not uncommon. Some models do have variable transmission power settings. If you know you will be a short distance from whomever you need to talk to, a reduced power setting will extend battery life. But it is optimal to have the 2-watt option when you need it.
Speaker and Microphone Quality
The clarity of the MURS system is lost if the radio has a poor mic or weak speaker. Compare speaker power ratings. The volume control can always be turned down if the radio is too loud. A lower volume setting will also help conserve battery life. But, a poor speaker that must always be turned up all the way will shorten battery life. Some microphones come with noise cancellation features. In noisy or windy settings, this feature will be a great asset.
Usability
Sometimes too many features can be counterproductive. Easy-to-read dials and screens make a radio more user-friendly. You don't want to be confused by too many buttons and knobs in an emergency. Purchase a radio that you and your crew can be comfortable using. If you need a premium MURS radio with all the bells and whistles, great. If you don't need them, don't pay for them. An excellent basic radio is more useful than a fancy and confusing one.
Water and Dust Resistance
If you plan to camp, hunt, or live off-grid with your radio, look for water-resistant construction. Most electronics are not water-proof and cannot be submerged in water. But, a radio intended for outdoor use should be water-resistant. That means a little rain or a brief encounter with a wet bush should not cause any damage. A water-resistant design will also keep dust at bay.
General Construction
Look for a radio that is well built. Do some research. Find the brands with a reputation for rugged reliability. Reviews from other users can help you decide which radio to buy.
Extra Features
Here are some extra features that you can look for if needed:
Transmit FM radio compatible
LED flashlight scanning modes
Hands-free voice activation
Independent PTT side-keys
NOAA weather channels
Programmable buttons
Visual and vibrating alerts
VOX voice-activated transmission
Dual monitor and dual scan – listen to two channels simultaneously
Earpiece kit
Last Words
If you spend a lot of time outdoors and out of cell phone range, a MURS radio may be a good investment for you and those you spend time with. Being in touch when working alone, hiking, camping, or hunting provides a measure of safety and peace of mind. A good MURS radio will help you keep in touch without breaking the bank or requiring permits and licenses. Decide on the features you need, set a budget, and do some research. There are a lot of radios out there, and one is sure to meet your needs and provide years of service.