For many years I have carried a multi tool. Years ago I started by carrying the first Leatherman that came out.  I found it useful and carried it for many years.  Later I encounter the Leatherman Wave and found that I liked it and have been carrying it ever since.
It is a great tool, each of the tools are functional and sturdy.  The Wave has the most commonly used tools on the outside and readily accessible.  This also means that the handiest blades and the saw are larger than those on other tools.   Because the blades are on the outside you can open them with one hand.  Two things that I particularly like are the saw and the needle nose pliers.
The wave multi tool has the following tools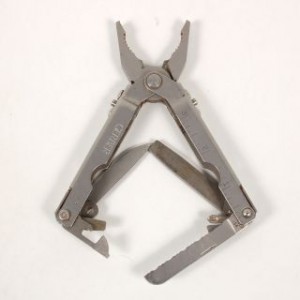 Needle nose pliers
Regular pliers
Wire cutters
Hard-wire cutters
420HC knife
420HC serrated knife
Saw
Scissors
Wood/metal file
Diamond-coated file
Large bit driver
Small bit driver
Medium screwdriver
8-inch (19-cm) ruler
Bottle opener
Can opener
Wire stripper
Now after carrying one multi tool for many years I noticed that I often needed something to hold the other end of the bolt when loosening a nut.  I had an older Gerber Multi tool with different shaped pliers.  So I though what about if I carried both.  So for the last couple of years I have carried both and have found that they complement each other very well.  The Gerber multi tool is well manufactured and has held up well.
I have found that having the two different shaped pliers is a big advantage.  It seems like one always works better than the other.  Having both multi tools, I am able to loosen things that I would be unable to do with just one.  It seems like I use one or both tools everyday.  They save me many steps and are always with me.  I will always carry both from now on.
Howard