Every year starting about now I gather free food.  Just today, I was out gathering wild plums.  On one of the trails that I regularly hike, there are several wild plum trees.  There are both yellow and red plums and they are delicious.  They are a bit smaller than the plums you are used to and not quite as sweet.  The yellow ones are sweeter than the reds.
Right next to the plums trees are wild grapes, they will be ready to pick later in the year.  There are also many blackberries in the same area.  I have never seen anyone other than myself pick them and lots of people walk by them.  The wild plums make great jams.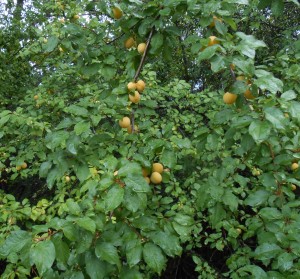 This is just one example there is free food all over the place, you just have to stop and look.  I know of a couple of wild fig trees that produce lots of fruit and even a peach tree that never gets picked.  Olive trees grow wild around here, but of course they won't be ready for some time.
There is wild mustard, mallow and lambs quarter sprouting out all over.  I see untended fruit trees on many pieces of property and if you talk to the owners they will often let you have the fruit.  I rarely see anyone else who is interested in collecting these plants.  Although I have seen people who question my sanity when I am picking up plants and munching on the leaves.  I think some of them expect me to fall over dead.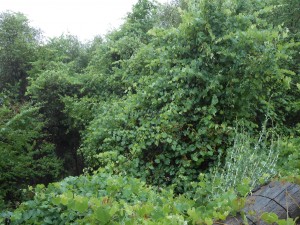 There are always people who over plant their gardens and suddenly wonder what to do with the extra bushel of tomatoes they have grown. Many people who are not preppers are happy to give them away.
We use some of the food and some we preserve for later.  But I always have fun this time of the year, seeing what I can find for nothing.
Howard