Yesterday I went down to the local Church of Jesus Christ of Latter Day Saints (Mormon) Home Storage Center.  As many of you know the Mormon's have encouraged their members to store at least a year's supply of food and other necessities of life for many years.  Originally, they had dry pack canneries located in many states where you could go and pack food yourself.  Because of government regulation, they have had to close most of the dry pack canneries down and have replaced them with Home Storage Centers.
The majority of the products they previously carried are now available in #10 cans, or in extremely heavy Mylar bags.  Several products are not yet available prepackaged, but are sold in bulk.  You can still get one-gallon Mylar bags and oxygen absorbers through their online store and package them yourselves.
In my area, the center is open two days a week and the public is welcome.  The gentleman that was working there said that about 50% of their customers are non-members.
Here is a link to their Home Storage Center locator. Centers are located all over the US and some in Canada.
The following is a link to their order form and price list for the Home Storage Centers, as you can see the prices are quite good.  Notice the column on the left that shows the storage life in years.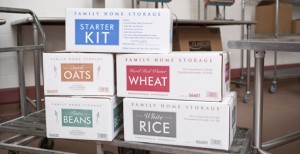 If there is no center near you can order though their online store , but because of the cost of shipping the prices are higher.  Here is a link to their online store.   One word of caution, the packages will not be in a plain label, but it will show what is in them.
If you have a Home Storage Center within driving distance of you, I suggest you go to the center to make your purchases.  If you pay in cash no one will ask for your name or other information.
Howard