In my preps I have some sealed lead acid batteries, both 100 amp gel cells and some 7.5 amp batteries made into 12-volt battery packs.  Each pack contains two 7.5 amp 12 volt batteries.  These can be charged from the electric system in your home, vechicle or by solar panels.  See A Simple Way to Charge Your Homemade 12 Volt Battery Packs.
Several times a year I get the batteries out and check everything and make sure they are fully charged.  Sealed lead acid batteries are a good choice for many uses; they are rugged, will not leak, easily rechargeable, and offers a good amount of energy in a convenient form.  However, like most batteries they will slowly self-discharge over time.
To tell when your battery is fully charged, use a voltmeter to measure the battery voltage.  Look for a reading around 12.5 volts give or take a couple tenths of a volt depending upon the temperature of the battery.  If the battery was just removed from a charger, the reading may be high and will take a few minutes to drop to the open cell voltage.  A discharged battery will read lower than this, usually around or just below 12 volts with no load on it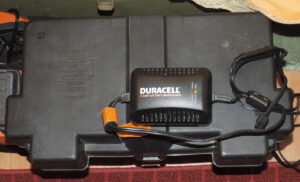 I use three different types of chargers, my 100-amp gel cells are on a Duracell 2 amp charger which can be left on all the time.  This is a maintenance charger, when the battery is fully charged; it will then reduce the voltage it supplies to the battery.  This keeps the battery from overcharging and overheating, the charger can be left on all the time.
For my battery packs, I originally started using wall warts.  The problem with these is that you can overcharge the battery packs.  So you can't leave them on indefinitely.  Other than that, they work well and usually can be found for nothing.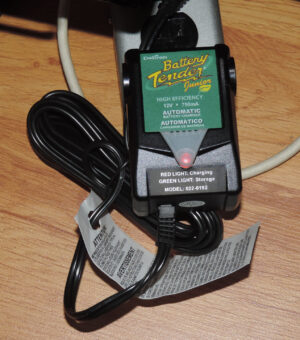 The other charger that I have started using with the battery packs is the Delran Battery Tender Jr.  This can be left on the batteries indefinitely, since it is a maintenance charger.  As a safety precaution when I recharge the battery packs, I always make sure that the lids are open and they are vented.  No lead acid batteries should be charged in a sealed space
The lower maintaining voltage is often referred to as "float" charge, so if you are purchasing a maintenance charger make sure that it has a float setting.  A good battery charger will shift into the float mode automatically, which will not damage the battery if left connected.
Remember a battery should not be allowed to go below 1/2 its rated voltage, or 6 volts for a 12 volts battery. This is the reason that seal lead acid  batteries should be stored charged, as self discharge will eventually completely discharge the battery and damage it. Thus these batteries should always be charged after use and charged every few months if stored unused for extended periods.
Howard