Many of us store large amounts of whole wheat, what today people call wheat berries.  Now most of us don't cook with this on a regular basis.  So today, I want to talk about cooking with whole wheat.
Whole wheat has some real advantages for storage.  If properly packaged and left unopened, it has an optimum shelf life of 30 years or more. However, once open and ground into flour, wheat starts to loses its nutrients within a few days so only grind small amounts at a time.  I don't recommend storing whole-wheat flour for long-term storage.
Wheat berries are easy to cook you can make a simple cereal using the following recipes.
In a pot with a fairly tight lid, combine 3 cups of water, and 1 cup of wheat. Bring to a boil. Allow to simmer ½ hour.  Turn off the heat and allow the wheat to stand 8-12 hours.  Drain any remaining liquid.  It is now ready to eat.
Thermos cooked: Put wheat and 2½ cups boiling water in a quart-sized thermos. Screw the top lightly and leave until morning.
Slow cooker method: Simmer ingredients on high for approximately 2-3 hours. Turn off the slow cooker and let it sit overnight untouched
If you plan on doing baking you will definitely need a hand-crank grain mill.  No matter which kind of mill you buy, make sure it will grind many kinds of grains and legumes, including popcorn and dried beans.  I recommend the Country Living Grain Mill  or The Wonder Mill Junior
There are literally hundreds of ways to use wheat in your diet, everything from pancakes, bread to meat substitutes.  Here is an example.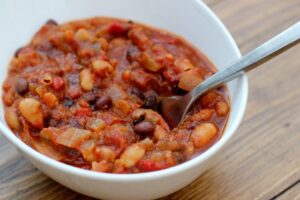 Wheat and Bean Chili
1 cup uncooked dry beans
1 cup uncooked wheat
1 quart water
1 onion, chopped
1 lb. ground beef
1 clove garlic
2 tsp. canola or olive oil
1 large can (46 oz.) tomato juice
1 (15 oz.) can Mexican-flavored stewed tomatoes
1 tsp. chili powder
Salt and paprika to taste
2 tsp. brown sugar
½ tsp. cumin
Cook wheat and beans together in one quart of water (may be soaked overnight before cooking).  Cook until almost tender.  In a separate pan, sauté meat, onions and garlic in canola or olive oil.  Drain the oil off and add to beans. Then add the other ingredients. Simmer for 1 hour. Season to taste.
Optional fresh tomatoes may be added in place of canned stewed tomatoes. Use about 8 skinned tomatoes. Adjust spices for flavor.
This recipe can be made without the meat, and will still provide you with good protein.
There are hundreds of good recipes that can be made using whole grain as a main ingredient.  Start practicing.
Howard