[/caption]
Yesterday my wife decided to bake a cake in the Global Sun Solar Oven.  Because of time, she started with a cake mix which is very unusual for her, she normal makes everything from scratch.  The mix was for a simple bund cake.  She put the mix in two loaf pans.  The recipe on the box called for cooking the cake for 38-43 minutes at 325 degrees.
The weather was partly overcast, not the best day for solar cooking.  She set the oven out at 0955 hours to warm up.  By 1025 hours, the temperature was up to slightly below 300 degrees.  At 1110 hours, she repositioned the oven to align with the sun.  She removed the cake from the oven at 1150 hours, perfectly cooked with one exception.  During the cooking time the temperature varied between 275 and 300 degrees.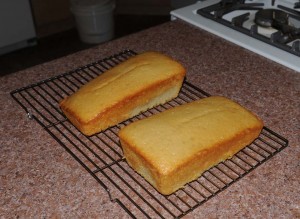 The Sun oven has a self-leveling rack that normally works well.  It swings and levels the pans from front to back.  However with uneven ground you can defeat this device.  The ground she set the oven on was tilted at a odd angle and the cakes cooked lopsided.  This was operator error and part of the learning curve.
She is very pleased with the Sun oven.  This summer we will post more on using solar ovens,  we intent to cook regularly with one.
Howard