[/caption]
Recently my wife opened a couple of Mylar bags containing dried apple slices and oxygen absorbers.  I packed these in 1999.  The dried apple slices were obtained from the LDS cannery.  Periodically we open a bag and use them so as to rotate our preps.
My wife makes apple pies and cobblers from them, I love to eat them dry or just soaked in a little water.  The apples seem to store well.  The ones we opened recently were 14 years old.  The first bag was different from any we had opened in the past.  The apples were quiet brown and very hard.  We think that the seal on the Mylar bag had failed sometime in the past.  They tasted fine so we went ahead and used them.
The big difference that we found other than the color was that you had to soak them longer than normal.  On the first batch, my wife soaked them for an hour and then made an apple pie.  It was ok, but a little dry and not quite up to her normal standard.  She then used the rest in a cobbler and with addition soaking time they tasted great.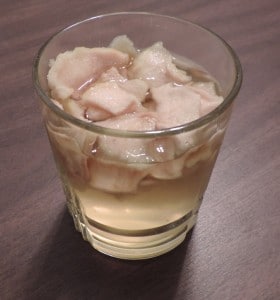 The second bag that we opened had an intact seal and was almost white in appearance and looked great.  These rehydrated normally.  From our experience with the apples, the biggest mistake that you can make is not giving them enough time to rehydrate.  I like to give them at least an hour in the water and if they are a dark brown go longer.  A little extra time in the water won't hurt them.
For pies, my wife uses the same recipe she uses with fresh apples.  Mixed with other fruits the rehydrated dried apples make great cobbler. When properly stored and rehydrated, you cannot tell them from fresh when cooked, and they delicious right out of the can.
Howard