Minimize smoke and odor while using a Dutch oven
There are several ways in which you can cook on a Dutch oven, but a common one is to use charcoal. This minimizes smoke and odors. Cooking with wood produces more smoke and requires a substantial amount of wood to create the coals you need.  
The charcoal is normally placed both on top of and underneath the Dutch oven.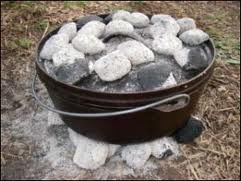 A general rule of thumb to produce approximately 350° of heat is to take the diameter of the Dutch oven and double the number. You then use that many total briquettes.  For a 12″ Dutch oven, you would use 24 briquettes or for a 14″ oven, you would use 28 briquettes, and so on.
This rule of thumb does not work for all makes of ovens, for example unusually deep ones!
Lodge Cast Iron Cooking Chart
The following chart is put out by Lodge Cast Iron giving their recommendation for the number of briquettes required on both the top and the bottom of the dutch oven to reach a specific temperature.
Oven Size
(Coals needed Top/Bottom)
325°
350°
375°
400°
425°
450°
8″ Oven
10/5
11/5
11/6
12/6
13/6
14/6
10″ Oven
13/6
14/7
16/7
17/8
18/9
19/10
12″ Oven
16/7
17/8
18/9
19/10
21/10
22/11
14″ Oven
20/10
21/11
22/12
24/12
25/13
26/14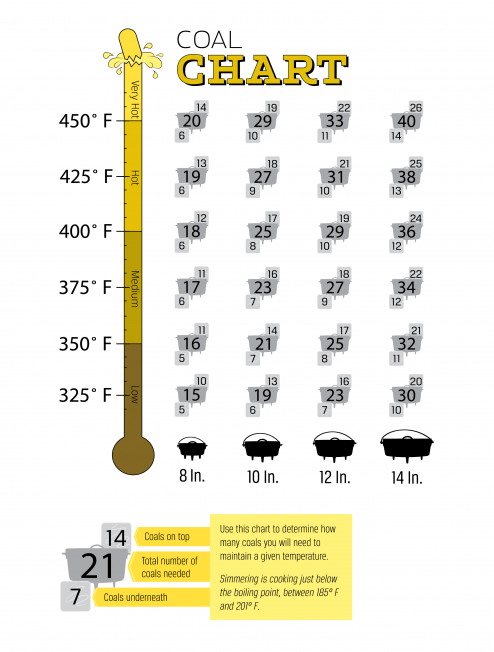 Environmental factors as air temperature, humidity, altitude, and wind speed will all influence the amount of heat generated by the briquettes. Windy conditions will cause briquettes to burn faster.
Charcoal briquettes placed under the oven should be arranged in a circular pattern near the edge of the oven.  Charcoals placed on the lid should be in a checkerboard pattern. Avoid hot spots by not bunching the briquettes.
To simmer foods such as soups, stews, and chili's; place 1/3 of the total briquettes on the lid and 2/3 under the oven.
To bake foods such as breads and rolls, biscuits, cakes, pies and cobblers (rising); place 2/3 of the total briquettes on the lid and 1/3 underneath the oven.
To roast foods such as meats, poultry, casseroles, quiche, vegetables, and cobblers use an even distribution of briquettes on the lid and underneath the oven.
Like anything else worth doing this takes practice. Try it now don't wait until it is too late.
One thing you need to be careful of is how you store your charcoal, over the years there have been many claims of wet charcoal spontaneously igniting as it dries. However, this is not a concern when you are only storing one or two bags. 
If you are storing a substantial number of bags in a pile, I would be careful to keep them dry.