Today I am sitting here listening to my emergency radio.  After trying several, the one I own is the Kaito Voyager KA500.  
This a perfect radio for everyday use, emergencies and disasters, it comes with all the features that you need in any emergency situation.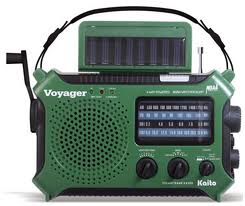 Right now the radio is running on solar power.  The radio has several alternate power sources: solar, hand crank, batteries, USB cable, a built-in rechargeable battery pack and an AC adapter.  I have never put batteries in the radio.  I have had it for years and have always ran it off solar. 
The solar works well during the day and it charges the built-in battery for nights.  I have tried the hand crank on a few occasions and found it easy to use.
Other features include an adjustable solar panel.  The solar panel tilts so that it can get the most energy during the day.  The bottom of the solar panel is a 5 LED reading lamp that you can use in poorly lit conditions. 
On the end of the radio there is a LED that can be used as a flashlight or can be a red flashing emergency signal.
The radio bands include AM, FM, two shortwave bands and seven weather bands. The radio is NOAA (National Oceanic and Atmospheric Administration) equipped. 
This means that the radio can be set to the weather band for your area and when set on NOAA alert will remain on standby.  If a weather warning is given for storms or tornados the radio will come off standby and sound an alert.  This can save your lives by giving you the earliest possible warning.
The radio comes with a bag of adapters so that you can use it to charge your cell phone, which can be incredibly important in a major emergency.
The following are the specifications from the Kaito Electronics website.
6 Ways of Power
Dynamo Cranking Power: 120 turns per minute of cranking will power the built in Ni-MH battery pack with strong current and voltage.
Solar Panel Power: Under the direct sunlight, the solar panel will power the radio without a problem.
AA Batteries: You can use 3 normal AA batteries to run the radio for maximum reception.
A built-in Rechargeable battery pack.
AC adapter charge from the 3.5 mm jack. (Optional)
Charge from a computer via USB port.
Lighting
5 LED reading lamp for camping and emergency use.
White LED flashlight
Red LED blinking for emergency alert.
Radio Reception
AM: 520-1710 KHz
FM: 87.00- 108.00 MHz
SW1: 3.20-9.00MHz
SW2: 9.00- 22.00MHz
Weather Band: 7 standard bands for all stations, PLL crystal control circuit for stable reception
Weather Alert: To be activated by weather alert signals.
I have had this radio for several years and have been very happy with it.  The alternate power features and the NOAA weather alerts could save your life.  I recommend it.
If you're looking to buy one like this, I found a good price on Amazon.