I am always interested in various types of food products that our ancestors, made and used for survival rations. Recently I ran across Erbswurst which was developed in 1867 in Prussia and was soon adopted by the Prussian, later the German army as an iron ration. Erbswurst is a sausage made from fat, dried bacon and pea flour that could be quickly rehydrated in a mess tin into a soup.
Erbswurst loosely translates into pea sausage. This name is a good description. It is a foil or wax paper-lined sausage-shaped roll that contains six tablets of compressed split pea soup. The soup is made up of pea flour, bacon, spices, and salt. Each of these tablets was intended to be mixed with ¼ liter (approx. 8 oz) of water and cooked for a short time to produce a nourishing soup. Along with the soup, they were issued a round biscuit that was similar to hardtack.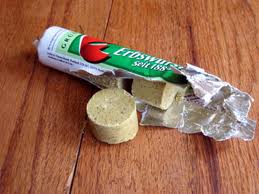 Erbswurst was used up until world war one by the German Army and is still produced in Germany by the Knorr Company.
I found a recipe for Erbswurst and will try it in a few days. It appears to be quite simple to make. According to all the information I can discover, it keeps quite well.
Here is the recipe for Erbswurst
| | | |
| --- | --- | --- |
| Meats | Metric | US |
| Fresh pork belly or smoked bacon | 350 g | 0.77 lb |
| Hard fat | 250 g | 0.55 lb |
| Pea flour | 400 g | 0.88 lb |
Ingredients per 1000g (1 kg) of meat
| | | |
| --- | --- | --- |
| Salt | 18 g | 3 tsp |
| Pepper | 2.0 g | 1 tsp |
| Marjoram | 1.0 g | 1/2 tsp |
| Nutmeg | 0.3 g | 1/4 tsp |
| Thyme | 0.3 g | 1/4 tsp |
| Onion | 30 g | 1/2 onion |
Instructions
Dice the fresh pork belly or smoked bacon into 1/4″ (5 mm) cubes.
Dice the hard fat (or fat trimmings) into 1/4″ (5 mm) cubes.
Chop the onion finely.
Fry both belly and fat cubes until golden, stirring often.
Fry the onions in some fat until gold. Don't let it get brown or it will taste bitter.
Heat up a pot on a low fire and start adding pea flour stirring continuously. Add all spices, keep on stirring.
Add all meats, fat included, stir together and keep the mass warm otherwise it will harden.
Stuff firmly into 40 mm sausage casings making 8″ (20 cm) straight links.
There is no need for any additional cooking. It will dry hard.
If any of you are familiar with Erbswurst, let us know about your experiences.  If you want to buy some manufactured by the Knorr Company, it is available on the internet.