The other day someone gave me a case of white navy beans that were packaged by Neo-Life foods.  The date on the cans was 4/28/1970.  Neo-life was a good company and packaged their food well and used nitrogen packaging.  The old beans looked in good shape, so we decided to eat some of them.
The first thing that was done was to see if they would still sprout.  This was unsuccessful they would not sprout reliably.  My wife then decided to cook some as an expertiment; since they seemed very hard, she cooked them with two different methods.
Both methods start out the same way.  She brought three cups of water to a low boil in two different pans. A cup of the old beans was then added to each pan.  The heat was turned off.  She added a teaspoon of baking soda to one and none to the other. Both pans of beans allowed to soak for one hour.
At the end of the hour, both pans of old beans were then cooked for three hours.  At the end of three hours, the beans in the pan with the baking soda were nice and soft and edible.  The beans in the other pan could be used for buckshot.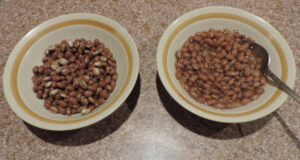 Here is a link to a post my wife made on this subject. Softening Old Beans Can be Simple In the post, she mentioned starting out with 3/8 of a teaspoon of baking soda and then increasing it if needed.  In this case, the beans were so old and hard she started out with a teaspoon full.  Now these beans may not have all the nutrition of fresh ones, but they will provide you with calories and fill your belly.
If you have beans in your storage you need to store extra baking soda.  Having baking soda on hand can be the difference between throwing out old beans or using them.   Baking soda is cheap, store extra.
Howard