The area where I live was once a large olive growing area.  As the olive farmers have moved lots of the trees have continued to thrive.  There are olives all over the place and mostly they end up on the ground.  With a bit of effort it is possible to get free olives just for the picking.  In the past, I have preserved olives in a lye solution and they have been nice.
However, for some time I have wanted to experiment with preserving some in brine.  Lye may not always be available.  Now fermenting them in brine takes longer than the lye methods, but they store just as well.
Start out by checking your olives to make sure there are no damaged ones and that they are clean.  Now sort your olives by size.  A batch will cure evenly if they are all about the same size.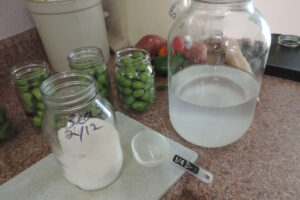 Now take a rolling pin or a flat board and whack each olive to just break the skin.  The idea is to just break the skin and not to break the pits or remove them.  This lets the olive cure quicker and the brine can penetrate the olives.  This lets the fermentation take place and converts the sugars to lactic and acetic acids.  The fermentation breaks down the chemical bond between the sugars and oleuropein so the bitter taste can leach out into the brine.  The oleuropein is what gives olive their bitter taste.
Next, mix your brine, using 3/4 cup of pickling or non-iodized salt to a gallon of water.  Put the olives in jars and cover them with the brine solution.  Make sure the olives are completely submerged.  We used a small clean rock wrapped in parchment paper to weight the olives down.  Now put the lids on, but leave them loose.  Put the filled container in an area with a temperature between 60 to 80° F.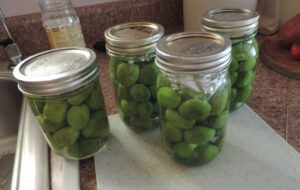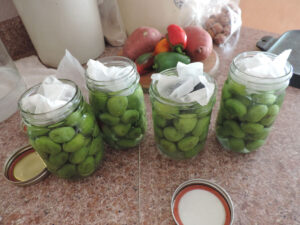 In seven days take them out and change the brine solution.  This time use a stronger solution of a 1 ½ cups of salt to a gallon of water. Tighten the lids firmly.   Place back in storage.
At the end of a month, you want to change the brine again.  This will help to reduce the bitterness.  This time your brine solution will be 1 ½ cups of salt and added seasonings.  This can include hot peppers, garlic or various herbs.  Now place back into storage for another 2 to 4 months depending on your taste.  Open and eat.  I will let you know in a few months how mine come out.
Howard