I have done a lot of research on Faraday Cages and feel like I am finally beginning to understand them. A Faraday Cage is designed to protect electronics from EMP (electromagnetic pulse) that can be created by high altitude nuclear explosions or solar storms. See previous posts on EMP. Some simple examples of Faraday cages are shown below.
A booster bag (shopping bag lined with aluminum foil) acts as a Faraday cage. It is often used by shoplifters to steal RFID-tagged (radio-frequency identification) items.
The cooking chamber of a microwave oven is a Faraday cage, made to contain the RF (radio-frequency) signals of the cavity magnetron which cooks the food.
The other day I made a couple of small ones to protect a few small radios and other items. I started out by removing all the batteries to protect the radios from corrosion caused be battery leakage. Then I removed any antennas that were removable, without damaging the equipment.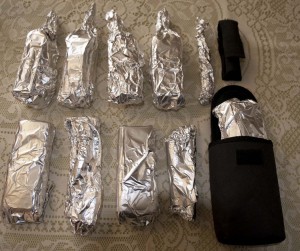 Next the radios were placed individually in zip lock plastic bags which were then closed.  The radios were then wrapped in aluminum foil.  Be careful to completely cover the radios leaving no gaps in the foil.
Next I took two 50 cal ammo cans and lined them with styrofoam. The foil packages were sealed in one gallon size zip lock bags and placed in the ammo cans. A piece of styrofoam was then placed over the package so that the radios were completely insulated from the metal of the can.

Based on my research I do not feel that this needs to be grounded and will effectively protect the enclosed items.