In general, when I look for a recipe, I want it easy to read with few ingredients and for it to taste good. Nutrition of course is important, so I look for ones that have vegetables and seeds in them. Raisin bread is one of my favorites, but of course you have to consider calories. My husband and I have been trying to watch what we eat and portion control our meals. Believe me, it's very hard. We only bake in our house now when we have the grandchildren and guests for dinner or a church event. Nothing comes back home.
There are a lot of recipes for whole wheat bread, rolls and cookies, etc. in recipe books, but not many on dehydrated foods (DH) foods. Some of you may have some dehydrated fruits and vegetables but no idea what to do with them. I have to admit, I was totally a novice to all this before I married my husband. Of course I knew we needed to store food and why. Most of what I cooked was fresh food and bought at the store. I have learned a lot about cooking DH food and am having fun with it. Below you will find a few things to help with DH foods.
I have been drying fruits and vegetables when I find them on sale. Here are some of the things I have tried:
DH Green onions;   ½ cup DH onions, chopped or sliced
1 ½ cup water   Rinse, cover with water and allow to stand 10-15 minutes.
They will expand to double the amount used. If you are making soup, stews, potatoes or eggs, you can add dry onions to the mixture.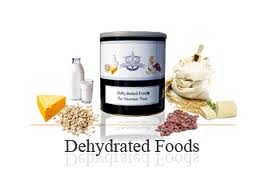 DH Green pepper; reconstitution is 2 TB green pepper + ½ cup water or ¼ cup green pepper +1 cup water.
DH Corn;  soak 1 cup corn in 2 ½ cups water for 1 hour. Add 1 tsp sugar, ½ tsp salt, a dash of pepper, 2TB butter. Simmer 20-30 minutes.
DH Peas;   2/3 cup DH peas, 2 cups water, ½ tsp sugar, salt, pepper margarine to taste. Rinse, add peas to cold water. Bring to boil and simmer about 15-20 minutes or until tender. Season to taste.
If there are any products or recipes you would like to know more about, please let me know.
Preparedness Mom