A while back, I wrote a post on trapping and mentioned that I would show you how I make my snares. Now, first I want to mention that before you use snares check the Fish and Game regulations in your area. In many places they are illegal to use snare traps without special permits. Make sure it's okay for you to use a snare trap in your area.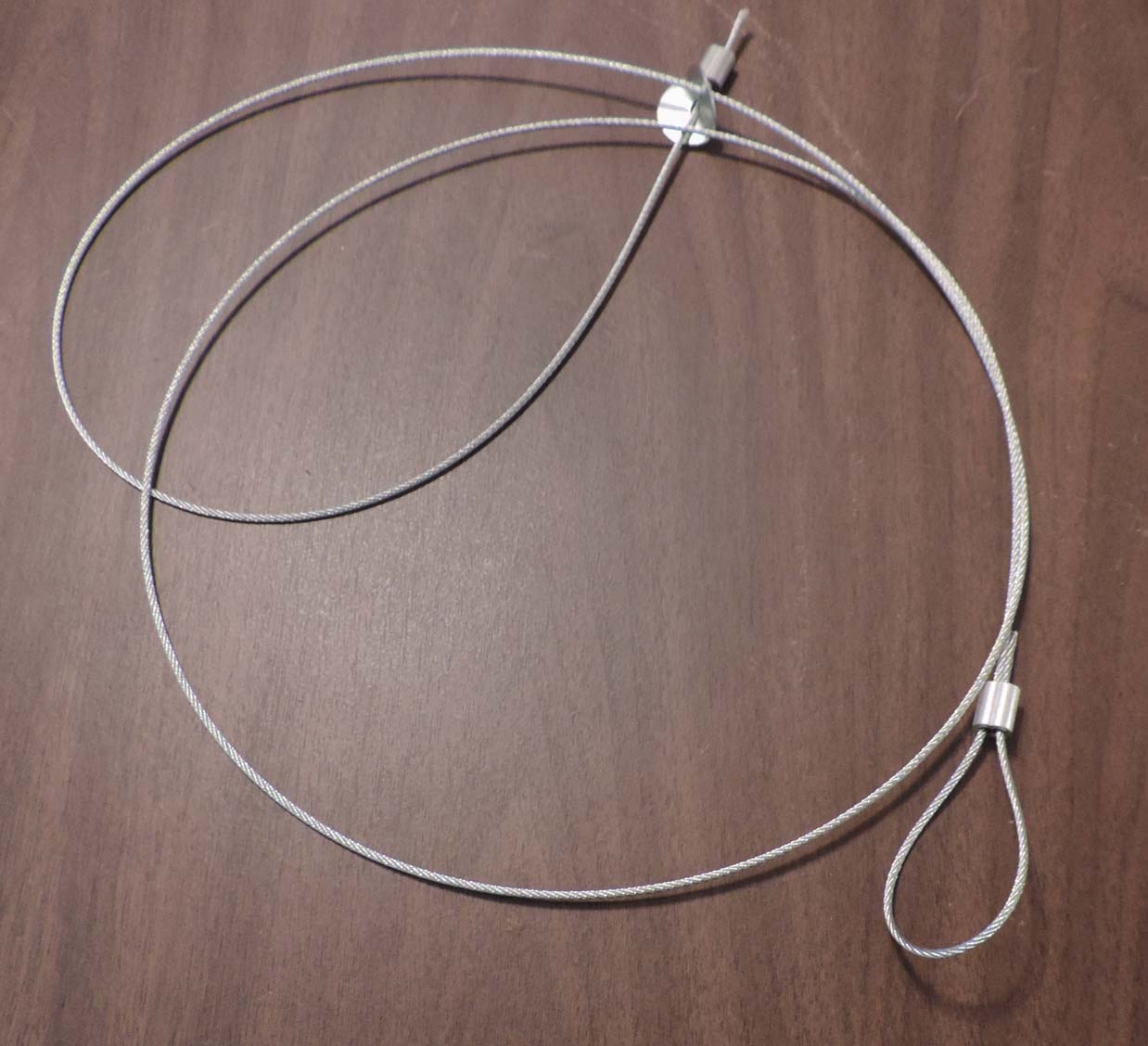 Whether you're making a specific snare like a rabbit snare, survival snares, a trigger spring snare, or just a basic snare, knowing how to make a snare is one of those basic survival skills that can really make a difference in a survival situation. It's a great DIY way to catch wild game.
Today I am making a snare trap out of 3/32 cable. This is a good snare for coyote sized game. Here's what you need to know about how to make a snare.
How to Make a Snare: Step by Step
What You Will Need
To make the snare trap, you need about six feet of snare cable, a washer, one ferrule, and a cable stop. For tools, you will need a drill and bit, a hammer, a good pair of wire cutters, and possible a pair of needle nose pliers. Everything you need can easily be purchased at the hardware store.
Step One: Prepping Your Cable
Start by cutting your snare cable into an approximately six-foot length. You will then loop the cable back through a ferrule to make a small snare loop about 2-3 inches in size, in the place of a snare swivel head.
Here are all the materials you will need to build your snare
Step Two: Pull the Cable Through The Washer
Next, take your washer and drill a second hole in it just big enough for the snare wire to slide freely through. Then bend the washer in half to about a 70-degree angle, with the second hole at about 90 degrees to the bend. If you do this right, you won't need a snare support collar.
The cable ran though the ferrule to make the small loop.
The washer after the hole has been drilled in it and bent
Step Three: Looping The Cable Through
Now take the washer and slide the cable through the hole that you drilled. Loop the cable back and run it through the hole in middle of the washer. Now put the cable end on to prevent the cable from pulling loose.
Here you can see how the cables goes through the washer
Step Four: You're Finished!
This should complete your snare trap. Now you know how to make a snare. To use the snare, loop the cable around a small young tree or post and run the working end through the small loop.
This will secure the cable now go ahead and set the working end up in your game trail. When the working loop tightens, it not will release and allow your game to get free.
Practice Makes Perfect
This is a reliable snare trap that will work well, but like anything else, it has a learning curve. The more you practice, the greater your chances at successful snare making.
How to Make a Fish Snare Trap
Looking to trap fish specifically? There are many types of snare traps, and you'll want to make a fish snare trap.
Try a Fish Snare Trap
A fish snare trap is an effective way to capture fish without the use of bait. This type of trap uses a wire or cord that is bent into a loop. The loop is then placed in the water with the baited end sticking up out of the water. When a fish swims by and and the fish's mouth locks around the bait, the wire will tighten around the fish's body, trapping it.
Materials You Will Need
You can make a fish snare trap with just a few simple materials. All you need is some wire or cord, a pair of pliers, and something to use as bait. You can use almost anything as bait, but small pieces of fish or worms work well.
How to Make a Snare For Fish
To make the trap, start by bending the wire or fishing line into a loop. The size of the loop will depend on the size of the fish you're hoping to catch. Make the loop large enough so that it can easily fit over the fish's head.
Next, tie a knot in the end of the wire or cord to secure the loop. Then, use the pliers to twist the wire or cord around itself several times. This will help to keep the trap from coming undone.
Finally, baited end of the trap sticking up out of the water. You can weight the trap down with a rock or stick as an anchor point if you need to, but this isn't always necessary.
Now, We Wait
Now, all you need to do is wait for a fish to swim by and take the bait. When it does, the wire or cord will tighten around its body and trap it. You can then remove the trap from the water and enjoy your catch!
How to Make A Snare FAQs
Q: What is a survival snare?
A: A survival snare is a device used to capture and/or kill small game animals for food or self-defense. It is typically a noose made of wire, cord, or string that is set up in an area where game animals are known to travel. The noose is baited with a lure, such as a piece of food, and when the animal steps into the noose it is tightened around their neck, choking or strangling them.
Q: Why would I want to make trapping snares?
A: There are many reasons why you might want to make a survival snare. Perhaps you are stranded in the wilderness and need to catch food to eat. Or maybe you are being hunted by a predator and need to defend yourself. In any case, a well-made snare can be a lifesaver.
Q: What if I don't have any wire, cord, or string?
A: If you don't have any wire, cord, or string, you can try to fashion a noose out of grass, vines, or bark to make trapping snares. However, these materials are not as strong as wire, cord, or string, so your snare may not be as effective.
Q: What kind of bait should I use?
A: The best bait to use depends on the animal you are trying to catch. For example, if you are trying to catch a rabbit, you might use a piece of carrot or other vegetables. If you are trying to catch a fish, you might use a worm or piece of raw meat. Experiment and see what works best in your situation.
Do you have any other tips for how to make a snare? What general advice do you have about survival snares? Let us know in the comments!