I have spent good part of a day trying out a Wonder Mill Junior.  Now I already have a Country Living Mill that sells for over four hundred dollars and it is a good mill.  However, the Wonder Mill which sells for between $220 to 260 is a pretty close second for a lot less money.  And the Wonder Mill comes with a table-mounting bracket that cost extra with the Country Living Grain Mill.
The Wonder Mill is all-metal, there is no plastic, the body is made of high grade aluminum.  It is easy to set up and the grinding wheels or burrs can be change with minimal effort.  It comes with two sets, one is stainless steel, and the other is stone.
I found that the stainless steel ones works great for cracking and grinding corn and beans.  I have been told that it will grind nuts and make peanut butter; however, I have not tried it.  The knob at the center of the burr lets you set the tension that determines how fine your grind is.  The tighter the knob is the harder the grinder is to operate.  I found that it is not a good idea to try to make fine ground flour with the steel burrs.
The stone burrs on the other hand made excellent fine ground flour.  With the tension set right the handle could be turned at a good rate of speed.  Now I am not saying it wouldn't be a bit of work, your arms will gain in strength if you have to use this everyday.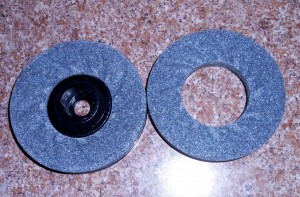 I found that if you adjust the knob to the right fineness, you can often back off a turn or two and the flour will not be any coarser.  While using it I ran pinto beans, whole rye and whole wheat through the mill.  The beans were surprising easy; it made a nice bean flower.  A fine flour was made by the rye and wheat.
Overall, the grinder is strong; you would have to work to break something.  It is easy to clean, you can wash it out under a water tap, and there is nothing to rust.  It makes a good grade of flour.  You can convert it to motor driven.  The price is excellent for what you receive.
Howard