[/caption]
Yesterday I spent about an hour and half converting a Honda Eu2000 generator to tri fuel (runs on natural gas, propane or gasoline).  A while back, I had ordered a conversion kit from Central Maine Diesel.  The kits cost about $179.00 plus a core charge unless you send them your carburetor. In my case since the generator was new and had barely been run I decided to pay the core charge and keep the carburetor for a spare.
I am not a mechanic and the instructions were not the best.  They consisted of 3 or 4 pictures with a few notes.  A friend helped me and we found it surprisingly easy to complete.  The Honda is a dream to work on and we only had to remove two nuts and a bolt to remove the carburetor. The hardest thing was organizing all the hoses.  We did have to drill holes in the generators outside case to mount the regulator and run the hose to it.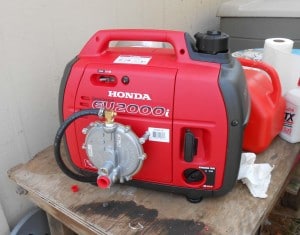 Upon completion, the generator fired right up.  It runs beautifully.  In an emergency, this greatly expands the availability of fuels.  If any of you are thinking of making this conversion, I would not hesitate to recommend you do it yourself.  It is cheaper than having someone else do it.  There are several brands of kits for sale on the internet; the only one I have had any experience with is the one from Central Maine Diesel.  I can recommend it because I know it works.  Warning they are very backlogged and if you want one get your order in early.
Howard