Here are some more wartime and depression recipes to add to your collection.  These are recipes that you can probably prepare with foods that you have in your storage.  One thing that I like about these old wartime and depression recipes is that they use almost no canned ingredients and they can be made from scratch.
Mock Sausage
Lima beans, dried, ½ cup
Bread crumbs, ⅓ cup
Butter, 3 tablespoons
Egg, 1
Pepper, few grains
Salt, ¼ teaspoon
Sage, ½ to ¾ teaspoon
Pick over and wash beans, cover with water, and let soak overnight. Drain; cook in boiling salted water until tender, about one and one-half hours. Force through a strainer, add remaining ingredients. Shape into form of sausages, roll in crumbs, egg, and crumbs again. Sauté in fat until brown. It requires about two-thirds cup crumbs and one-half egg for dipping sausage. May be garnished with fried apples.
Kidney Bean Stew
Kidney beans, 1 cup
Onion, 1 small
Rice, 2 tablespoons
Canned tomatoes, 2 cups
Fat or drippings, 2 tablespoons
Flour, 2 tablespoons
Salt and pepper to taste
Soak beans overnight in cold water to cover. In the morning place beans over fire, adding water to cover if necessary. Add onion, rice and tomatoes and cook slowly until beans are soft. If too thick, add water. Mix flour and fat, and use to thicken stew.
Vegetable Roll with Potato Pastry
Ingredients for pastry:
4oz mashed and sieved potato
1/2 teaspoon of salt
8oz plain flour
3oz fat
2 tablespoons of baking powder
Sieve dry ingredients together.
Rub fat into flour and gently mix in potato.
Add just enough water to make a fairly dry dough.
Knead well.
Ingredients for filling:
11/2 cups of any mixed boiled vegetables, diced
1 pint thick gravy
Salt and pepper
A little chopped parsley
Take 1/2lb of potato pastry and roll out on a floured board.
Moisten the vegetable mixture with a little of the gravy.
Spread vegetables on to pastry leaving 1 inch all the way round.
Season to taste with salt and pepper.
Roll up and seal well at the edges so that gravy cannot seep out.
Place on a well greased baking tin with the seal underneath.
Brush with milk.
Bake in a moderately hot oven for 35-45 minutes. 
CORNMEAL RAGGED ROBINS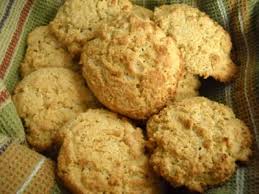 1½ cups cornmeal
1 cup bread flour
1½ teaspoons salt
1⅓ cups fresh or powdered milk
2½ teaspoons cream of tartar
4 tablespoons fat
1¼ teaspoons soda
Sift dry ingredients. Cut in the fat. Add liquid and drop by spoonfuls on greased baking sheet. Bake in hot oven 12 to 15 minutes. These may be rolled and cut same as baking po
OATMEAL BREAD
2 cups rolled oats
2 cups boiling water
⅓ cup molasses
1 yeast cake
¾ cup lukewarm water
1 tablespoon salt
2 tablespoons fat (melted)
About 6 cups bread flour
Scald the rolled oats with the boiling water and let stand until cool. Dissolve the yeast in the lukewarm water and add to the first mixture when cool. Add the molasses, salt and melted fat. Stir in enough bread flour to knead. Turn on a floured board. Knead lightly. Return to bowl and let rise until double in bulk. Knead and shape in loaves and let rise until double again. Bake in a moderate oven 45 minutes.
POTATO BISCUIT
1 cup mashed lightly packed potato
2 tablespoons fat
1 cup whole wheat flour
1 teaspoons baking powder
1 teaspoon salt
About ½ cup milk or water in which potatoes were cooked
Add melted fat to mashed potato. Mix and sift flour, baking powder and salt and add to potato mixture, add enough of the milk to make a soft dough. Roll out ½ inch thick, cut with a biscuit cutter and bake in a quick oven for 15 minutes. (If bread flour is used in place of whole wheat, the biscuits are slightly lighter and flakier in texture.)
Granted these wartime and depression recipes are not what we are used to eating, but they largely used products that we can either store or grow.  They are fairly simple and you can make a lot of variations of many of them.
Howard