One thing that I have been concerned about is the fact that we are no longer maintaining much of our infrastructure properly.  Just look at the problems with water systems, levees, bridges and highways that have occurred over the last few years.  While these failures are all bad the one that concerns me the most are the water system failures.  While there have been numerous small failures, two large ones have recently came to light that bring the problem into focus and show why you need your own water filters.
In 2011, the state took over control in Flint after a budget emergency.  State officials made the decision to switch the city's water system from Lake Huron to the Flint River in an effort to save money.  This was supposed to be temporary while a new water source from Lake Huron was developed.
The Flint River had a reputation for being dirty and full of chemicals before the change. After the change, residents complained their water looked, smelled and tasted funny.
Tests performed by a University revealed that the water was highly corrosive.  Since much of the waters piping system was old lead piping, this caused them to corrode.  This released lead into the water system and many residents have been found to have a high concentration of lead in their system.
In Sacramento Ca., residents were exposed to carcinogens in their drinking water for over a year.  In 2013 and 2014, the City of Sacramento tested a new chemical at its main water treatment plant, and the subsequent investigation found the substances that formed in the city's drinking water system could cause cancer.  The chemical called aluminum chlorohydrate, or ACH, almost immediately sent up warning signs that something was seriously wrong, and even though those red flags continued for an entire year, the city didn't stop and didn't warn people about a hazard.
People in Sacramento were never notified about the dangers or given the choice to use bottled water, even though the city had all kinds of data showing they had a serious problem.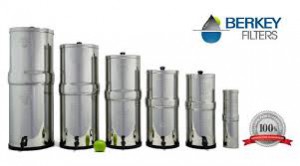 These infrastructure failures, I feel are just the beginning.  You will see more in the future.  Personally, I filter all my drinking water and suggest that you consider doing the same.   At this time, I feel that we have to take personal responsibly for our own heath and protection.
In my home, I run all our drinking and cooking water through a Seagull Water Filter.  However there are many good water filters on the market such as the Berkey, the Bucket Berkey An Inexpensive Water Filter the Bucket Berkey and the AquaRain.   With a bit of research you can find many other good choices that connect to your water system.
While we all need good water filters in case of TEOTWAWKI, don't ignore the warning signs that we are already seeing.  If you are on a municipal water system or have a questionable water source, don't wait until it is too late, take the responsibility for your drinking water now.
Howard