Choosing a knife is a very personal thing. A lot depends on why you want it. Even through a knife is very versatile, the design and size of a knife can affect its performance. One of the most experience hunters I know, field dresses out all his game from elk to birds with a small inexpensive 2 ½ inch bladed pocket knife. He claims larger knives are too cumbersome.
Personal if I am going out in the woods for any period of time I will carry a larger sheath knife (normally an old Marine Corp K-bar) and a folding knife at the very least.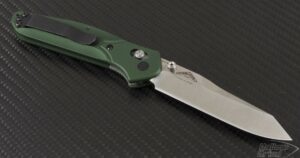 Here is a few simple guidelines will help you determine what type of knife is right for you.
Fixed blade or folder, a fixed blade is normally bigger and stronger.  A folder is lighter and easier to carry concealed in many situations.  In some states, a fixed blade may be illegal to carry concealed.
What do you plan to use the knife for?  This will help you to determine the size that is required.  It has been my experience that many people choose a larger knife than they need.  You can clean and skin an elk with a 4-inch folding blade.  A large knife is better if you are clearing brush, batoning, cutting firewood or defending yourself.
Stay away from the cheap Rambo knives with the hollow handle.  It is best if your sheath knife has a solid one-piece tang.
Check the grip it should not be made of a material that will become slippery when wet or bloody.
A straight blade knife works better for chopping wood and is easier to sharpen.  A good smooth stone can even be used to sharpen a straight blade, whereas a serrated edge almost always takes a special sharpener.
A strong blade has good edge retention, is resistant to rust and sharpens well. I like carbon steel, because while it is more subject to rust, it is much easier to sharpen in the field and with a bit of care can be kept rust free.
If you choose a folding knife, be sure you can open it one handed.
Buy a good US brand if possible.  There are some good foreign knifes, but beware of the cheap Chinese and Pakistani ones.
You don't need to spend a million dollars to get a good knife, but don't go to cheap.  Good serviceable knifes can be found for under $75.00. If you are broke you can't go wrong with a Mora, Your Best Choice For a Reasonably Price Knife
It should be either a fixed blade or locked in the open position.
It should serve the intended purpose
Now that I have given you my guidelines, I am going to say that I have never found one knife that is perfect for everything. In my bug out bag, I have an old issue Ka-bar. In my pocket I always have at least two knifes. Whatever knife you chose, take it out and use it. Be sure it will do what you want. It is like any other piece of gear it needs to be well tested.
Howard