[/caption]
The other day one of our reader suggested that we do a blog on the Jarbox.
I first discovered the Jarbox at a Preparedness Store in our area and have been using one for some time.  Initially I felt that they were a little expensive at $19.95, the price varies on the internet. Here is a link to their on-line information: www.jarbox.com
But after thinking about it and since I was giving Preparedness classes in our area and I needed to carry some samples of canned goods to these meetings, I bought one.  I had tried using cardboard boxes, but had to wrap the jars and it was very time-consuming wrapping and unwrapping them for a display.  The Jarbox holds 12 mason jars, either quarts or pints and it's very stable and easy to carry (Of course, with filled jars it's heavy).  So take light samples with you and a couple of fruit or other product. Lol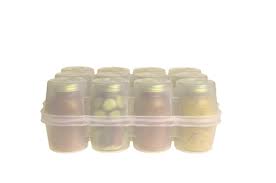 If you live in an earthquake area, you might think about getting some to protect your products, they stack nice and according to the advertisement, you can clip the lid and bottom with wire ties, string or yarn to keep together in any movement conditions.  Also, it's not just for jars you can use them for crocheting threads, live plant display and anything else that fits and needs organizing.  Look them up and see if they will work for you.
I like them but still have most of my canning jars in regular boxes just because of cost.  If I could afford them, I would use more Jarboxes.
Preparedness Mom