I recently received one of the UCO Candle Lanterns from the factory, this is the same one they sell at REI. The reason I know it is the same as the one they sell at REI is the one I received from them is labeled REI.
The Candle Lantern is a good source of light; it will light a two-man tent quite efficiently and provide some heat. It is lightweight and compact and well suited to backpacking, mountaineering, snow camping, and use in a bug out bag. The UCO Candle Lantern can provides up to 9 hours of light and heat from a single candle.
The lightweight aluminum or brass frame holds the glass chimney securely in place and creates a windproof environment for the flame. The glass chimney slides up and down making the candle easy to light. A spring pushes the candle up as it burns, this keeps the flame burning at a constant height. A viewing slot on the side of the lantern allows the user to determine the remaining burn time.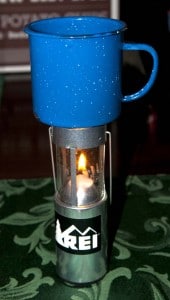 I was able to heat a cup of water almost to a boil by setting it on top of the candle. The candle puts out quite a bit of heat. One problem I had with the candle is when I burned it continually for several hours the wax started to build up on the glass. A second, is that on an extremely hot day, if you leave them in the car the wax can melt and gum up the works. The wax will run down and jam the spring when it hardens. You will then have to disassemble the lantern and clean it up.
Overall, I like the candle lantern and will use mine. It comes with a good handle and chain and is easy to hang up in your tent. It is a good item to have in your bug out bag, especially in the winter, when you need extra light and heat. I recommend it.
Howard