[/caption]
About 15 years ago, I purchased some 5-gallon Swiss Water Bladders.  They are a heavy rubber bladder with a combination cap and faucet.  Over the years I have used them for many things on camping trips.  Because they collapse flat, they take no room in your vehicle when empty.  On arriving at the campsite, I fill one with water and place it in the sun, often on top of my vehicle.  The water heats right up in them.  I have hot water for washing up or bathing.
If you are using stream or lake water I suggest that you mark any used with none filtered water to prevent contamination.  The bladders have a build in screen that will take out sand and bugs.  The bladders are quite strong and I have never had one fail.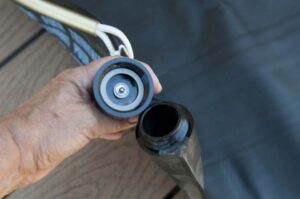 They can be used for anything that you would normally use a five-gallon can.  The shape takes a little getting used to.  I have been told that the reason the Swiss used these rubber bladders instead of metal or plastic cans is because of the Swiss winters.  The water bladder is flexible and you can squeeze it to break up ice.
I have even seen them used for a pillow.  Recently I have notice that several internet companies have them for sale.  Check your prices carefully, there is a big difference between companies.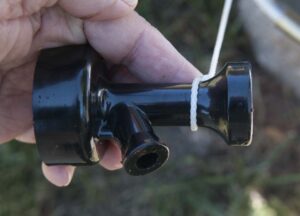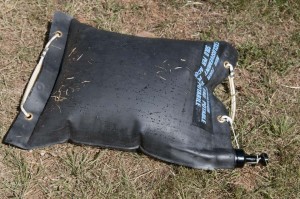 Howard