I have an old hand crank number 10-can sealer I bought about 1982. Since then I have used it to can a lot of food. However what I want to mention here are the other good uses of the cans. For instance, I have canned lots of strike anywhere matches. This protects them against moisture damage. First aid supplies can be canned to protect them from damage. Any small breakable items can be wrapped in padding and sealed in cans.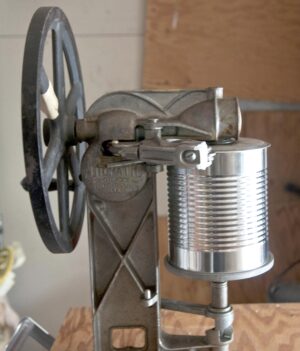 I have not tried it yet but they may work well as faraday cages if you place insulation between the stored item and metal. If you seal food in the cans with a 300cc oxygen absorber you can get good storage life, up to 30 years depending on the food.
The sealer that I own is still being made under the name "All American All-American Master Hand Crank Can Sealer" and can be purchased on the internet in the low $500s.  I realize the price may seem a little high, but take a look at the money you can save if you are canning your own legumes and grains.  If you are lucky enough to live near a LDS cannery, they will normally sell you cans, lids and oxygen absorbers.