After a disaster whether you are bugging out or just scouting around your neighborhood, you will need to carry water. You never know what may happen that will keep you away from home a bit longer than you expect. Now Camelbaks are great, but there are other canteens that I like and that are readily available.
I like the 1 and 2 quart US Military canteens. I have used them for many years without a problem. The two quart is a plastic canteen that is designed to hook on to your gear or be carried with a shoulder strap. The 1 quart can be attached to your gear or carried on a pistol belt. If you can still find them, the older 1-quart stainless steel ones are my favorite, but the new plastic ones are functional. I avoid the older aluminum ones; they always seem to be corroded.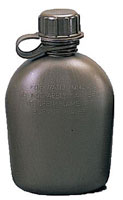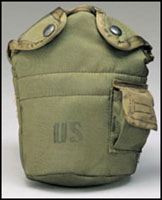 The newer 1 quart canteens come with a good sturdy cover and clips that can be attached to a large variety of belts or straps. The older ones were designed to only work with the pistol belt. A canteen cup and a stove will fit in the cover with the canteen. The cup is extremely handy and can be used for heating hot drinks or cooking. It is made of stainless steel.
The stove is designed to work with military heat tabs but can be used with a variety of fuels. I have used mine with small quantities of hot coals when the wind was blowing and been able to heat up drinks.
If you take care of the military canteens, they will last for years. I have not found any civilian canteens that will outlast the military versions. When you go to purchase one, be sure to get a real US one and not a cheap knock off.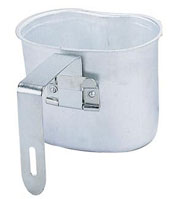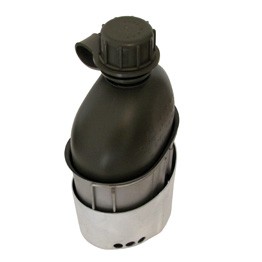 A few tips for using canteens
The 1 Quart is great use for in winter, do not fill it more than 3/4 full because of freezing.
The soft 2-quart military canteens make great pillows. If it's cold, wrap them and if it's hot the cold water will help keep your head cool.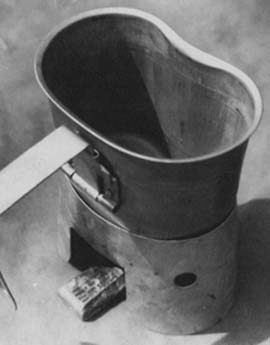 If you just bought a canteen in a garage sale or from a surplus store, always check the inside with a flashlight for any strange residues. I then always wash them out with water and chlorine. Make sure you include the cap and around the threads.
There are other good civilian canteens on the market, but for the price I have never been able to beat the cost of the military surplus ones.
Howard