Lately I have been writing quite a bit about improvised heaters. After a bit of experimenting, the first thing I want to stress is that these heat sources are not going to replace your forced air furnace or even a good wood stove. They are something temporary to keep you alive until you can find a better solution. This morning I have been experiment with cardboard and wax stoves.
Now they are easy to make, but like anything else do it now before you need it. Simple as this stove sounds, there is a bit of a learning curve. The whole idea is that you take a tin can and fill it with rolled up cardboard and then fill with wax. You can use any size can depending on how big a fire you want and how much wax you have.
A company called Kwik Kampfire made some in the past that they claimed would burn for up to 8 hours. Now these were large about 8 inches in diameter and 6 or 7 inches tall. I have two of them that I got many years ago and have never tried. The one thing that I noticed about them was that they left the cardboard protruding well above the wax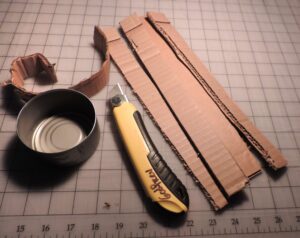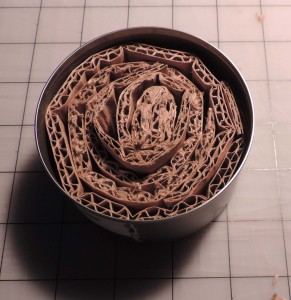 Anyway, back to my experiences with making one.  My first advice is when melting the wax it is best to use a double boiler.  But, don't use your wife's best pans, I found it a pain to clean the wax out after I made this mistake.  Before I do it again, I am going to find old pans in a garage sale.
I used a tuna can and filled it up with rolled cardboard cut into strips. I then melted the wax and filled the can leaving only a small amount of the cardboard sticking out. A tuna can held just over a 1/3rd of a pound of wax.
After it hardened, I took the cardboard and wax stove outside to light. It was a cool day here with wind. Lighting it was more of a challenge than I thought it was going to be. I used a couple of matches trying to get the cardboard that was barely sticking up to light with no success. Final I laid a match down on the top of the cardboard and it stayed lit. The match acted like a wick and as the wax melted, the cardboard finally caught fire.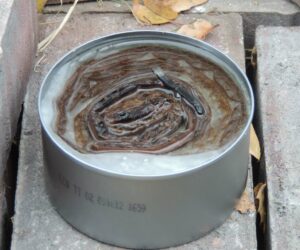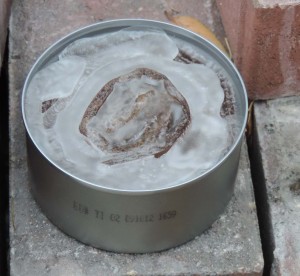 Because of the wind, I had to build a windbreak to get it to burn well. After about twenty minutes, I extinguished the fire by laying a brick across the top of the can. This is much better that blowing on it which may splatter the wax. The things I learned about cardboard and wax stoves are first leave the cardboard sticking up well above the wax so that it acts like a wick and the stove will be easier to light. Second, they have to be protected from wind and rain. Third, find something ahead of time that can be laid across the can to extinguish the fire. You never know when you may have to quickly hide the light.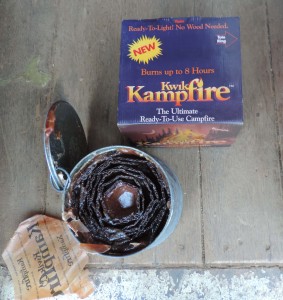 These can be used to heat a small space or to cook your food.  For those of you who are familiar with Sterno, they are very similar.  Make a cardboard and wax stove and try it out yourself.