Everyday carry is a very personal thing; it can depend on where you live, the weather and the laws on concealed carry.  In writing this article I am going to describe what I carry and why.
I probably have too much stuff in my everyday carry.  My wife laughs at me all the time because I wear pants with cargo pockets most of the time and they are usually full of stuff and look baggy. Sometimes I wish it was cool for men to carry a purse or similar bag, so I could carry more junk.  Any suggestions?
Currently I carry both an older Gerber Multi-tool and a Leatherman Wave.  I have carried both for years.  I took a look at the new Gerber's on the internet and the closest I saw to the one I carry is the 600 multi-pliers.  You may wonder why I carry two multi-tools, well it always seems like I am loosening a bolt or nut and need tools to hold both ends.  Also, I have found that the different shapes of the pliers are handy.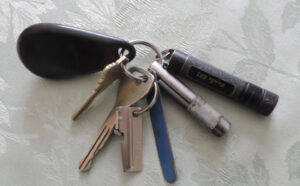 For a knife, I carry a Benchmade Osborne model 530V with the tanto style tip.  This has been a good knife and has held up under some rough usage.  On my key chain are a small magnesium block and a ferrocerrium fire starter, a p38 can opener and a small flashlight, a Fenix E01.
In my other pocket, I carry a small leather pouch that contains two thumb drives of information that is important to me, a spare battery, Chap Stick and Leatherman Micro.  In addition, I usually have a Fenix LD10 and a cell phone with me.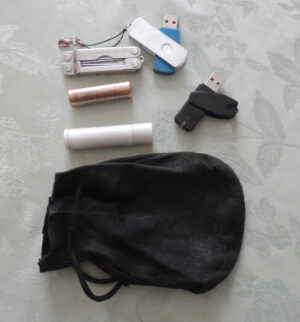 This has worked well for me over the years.  I know it seems like a lot of knives and multi-tools, but I seem to always be using one and the different types and shapes work well.  Never a day goes by that I have not used at least one of them.  If I am going hiking I often slip a Lifestraw or similar water filter in my pocket.  I can usually find surface water, where I hike, if my water bottles run dry.
Hope this gives you some ideas for your everyday carry.
Howard