A while back, I wrote an article about growing and storing Amaranth.
The seeds from this plant are sold in many health food stores because of their health benefits. This is a plant that also grows wild across most of North America. It is also sometimes called pigweed or green amaranth.
This is an annual herb that can reach a height of from two to five feet tall. The leaves are a dull green and are long and pointed with wavy edges. They are rough to the touch. In the early fall they produce a good crop of small black seeds some of which will last on the plant until spring.
The young tender shoots and leaves are very good eating. Once the plant has bloomed, the leaves and stalks may begin to taste bitter, but are still edible. The seeds make a good cereal either raw or cooked. The wild seeds can be cooked the same as the store bought ones mentioned in the previous article. The wild seeds are normally black; store bought may be brown in color.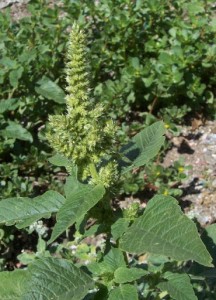 In the early fall the seeds may be stripped from the plants by hand or you can pull the whole plants out of the ground. You can beat the plants with a stick and remove the chaff by tossing the seeds in the air and letting the wind blow the chaff away. If you are lucky, you can get as much as 1 pound of seeds from a single plant. I found some growing across the street from my house.
This is a valuable plant that can be cultivated or found growing wild, and is very high is nutrients. If these grow in your area, they can be a good supplement to your food storage. This is a plant you should investigate.
Howard