There are first aid kits and then there are medical kits.  Most of the premade first aid kits I see on the market are merely collections of a few bandaids and a little antiseptic with a couple of 4 X 4 pads thrown in.  Now the other day I got a real medical kit, one designed by an ER Doctor for serious use. It comes from MedCallAssist.
Since I received it, I have had the chance to show it to a couple people with extensive medical experience.  They could hardly believe what it contained, remarking that it was almost like having a portable emergency room, or as close as you could come in a small pack.  The kit was designed for the remote regions of Alaska and comes with a service that lets you call an ER Doctor for advice during a medical emergency.  There is also a small very concise little book that helps if you do not have phone contact, it is designed to work with the supplies in the kit.
The bag it comes in is a version of the M3 medic's bags.  The bag is well made and they claim is waterproof.  The contents of the kit include various antibiotics and other medications.  In addition it contains staples and super glue for treating wounds.  The only negative comment I heard was that it could contain a few more large bandages.  But once you remove some of the tubes of medication from their boxes and repack them in plastic bags you have room to add extra dressings.  I would add Israeli dressings.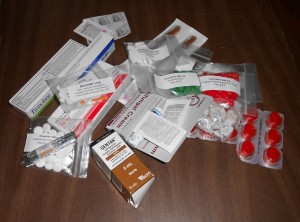 The kit is a bit expensive costing $375 for the basic kit.  This includes being able to call a Doctor for one year.  If you used this for family emergencies instead of going to a local doctor you might even come out ahead over the year.  A lot of Doctor's calls don't take a visit.  It is my understanding that this is often the case in the more remote areas of Alaska.  You have unlimited calls as long as you are subscribed to the Doctors call service.  This service costs $75.00 to renew after the first year.  As long as you have the service, they will provide you with refills for any items in your kit that you use.  Your kits can be customized with items including lidocaine.
See the list of contents of the basic kit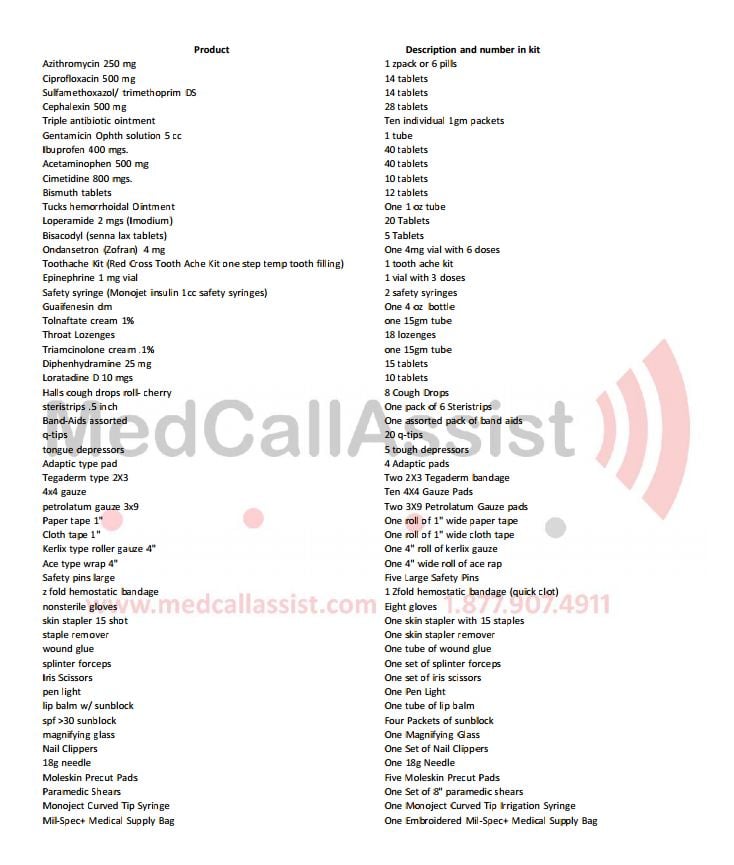 This is by far the best medical kit that I have seen that is commercially available to the public.  Their website is https://www.medcallassist.com/.
Be sure and check that purchasing and processing this kit does not violate your local and state laws
Howard