I have on several occasions suggested that the 275-gallon IBC totes are a good solution for storing water in a location in which you plan to stay during an emergency. These totes and a reliable way to make sure the water is pure enough to drink could save lives. Several people have asked me how to get the water out of these large totes.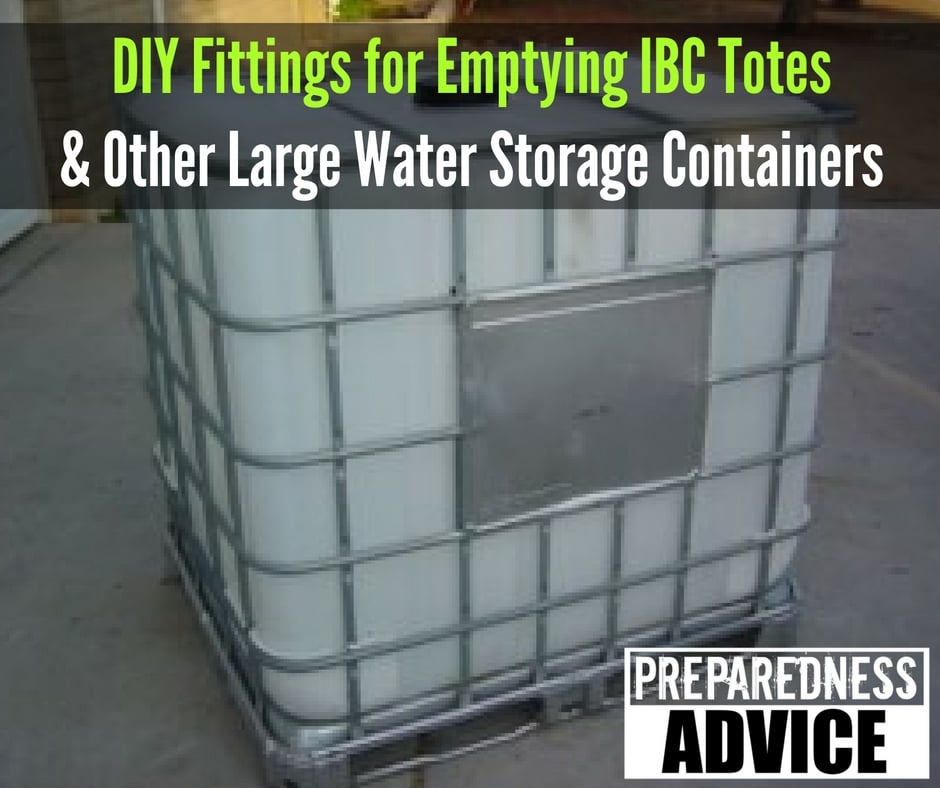 As you may know, the IBC totes have a valve and a spout at the bottom. The valve is plastic, and while it seems to work okay, I wouldn't trust it for everyday use. However, the spout is threaded with standard 2-inch pipe threads, and this makes it possible to create your own fitting for a faucet.
I make a simple fitting consisting of:
2″ Female Adapter, Slip x FPT, PVC Schedule 40
2″ x ¾ Reducer Bushing, SP x FPT, PVC Schedule 40
One ¾ brass faucet with hose bib
You will also need some PVC schedule 40-pipe glue and a roll of Teflon tape. Glue the reducing bushing into the female adapter with PVC glue. Screw the faucet into the reducing bushing using the Teflon tape. When this is ready, screw the whole fitting onto the spout of the IBC tote.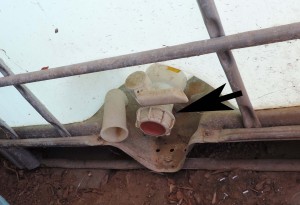 This gives you two valves at the bottom, the built-in plastic one and the faucet. If the plastic valve fails, you still have the faucet. With the faucet, you can control the water flow and connect a garden hose if needed. I always keep a water hose that is approved for domestic water.
You can get them at a good RV supplier. This style of fitting can be used on any large water tank that has threaded fittings at or near the bottom
If you have any questions about the size of the threads, take the ring that holds the cover on the spout to the plumbing supply with you.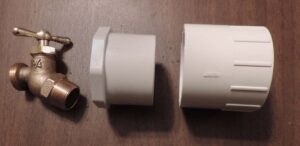 While the IBC totes are heavy, weighing around 2300 pounds when full, they have a small footprint on the ground. They only require a space approximately 48 x 40 inches in size and they can be stacked up to three high. They are 46 inch high, so you can double stack them in many garages.
If you buy them used, just make sure you know what has been stored in them.
Simple Setup
We earn a commission if you click this link and make a purchase at no additional cost to you.